Mercedes-Benz B-Class - Frankfurt Auto Show
by
KBB.com Editors
|
September 20, 2011 11:27 AM
A ground-up redesign, the all-new Mercedes-Benz B-Class takes the automaker's compact-sized platform to a new level of desirability. More contemporary styling, better people packaging and state-of-the-art powertrain technology are matched with class-leading telematics and safety systems to ensure this five-door, front-drive hatchback it's a worthy successor to the eminently successful car it replaces.
Visually, the new B-Class gets a more youthful persona, melding familiar cues with bolder character lines and subtle but effective aero enhancements in a manner that yields an impressive 0.26 coefficient of drag in base configuration and an amazing 0.24 cD when fitted with a yet-to-come ECO Technology package. Marginally longer, lower and wider than its predecessor, the new B-Class gains a healthy 3.5 inches more wheelbase which results in improved passenger and cargo space. M-B claims the fore/aft adjustable folding rear-seat actually offers S-Class level legroom.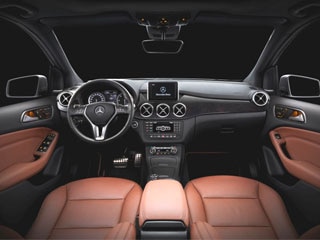 A fundamental part of the B-Class remake was the switch from its original flat-floor "sandwich" platform to the new MFA (Modular Front Architecture) setup that will also be used in other future M-B small vehicles. The change also ushered in a new suspension design, revised electromechanical power steering, upgraded ESP stability system which reportedly give the car better handling and controllability while a new radar-based collision warning system with adaptive Brake Assist aids stopping and includes a new Collision Prevention Assist system that uses audio and visual inputs to warn a distracted driver of an impending impact.
Under its hood, the new B-Class offers both gasoline and diesel four-cylinder engines. The former, available in 122-horspower/1.6-liter or 156-horse/2.0-liter form, are the first in an all-new M270 series that use super-efficient third-generation direct-injection and a stop/start circuit to help bump mileage. The latter, 1.8-liter and 2.0-liter turbocharged alternatives make 109 and 136 horses. All can be mated to either a new six-speed manual transmission or an optional 7G-DCT seven-speed dual-clutch autoshifter.
Inside, the new Mercedes-Benz B-Class has a suitably premium look that reflects the current state of the automaker's design sensibilities. Four different equipment packages -- Chrome, Sports, Exclusive and Night - allow owners to embellish the basic with a variety of personal touches that best suits their tastes. The makeover also sees the seats repositioned to make access/egress easier and adds nearly 20 percent more basic cargo capacity.
As might be expected, the new Mercedes-Benz B-Class also boasts a mega load of safety features. In addition to introducing the firm's impact-anticipating Pre-Safe injury mitigation package to the compact segment and offering standard Attention Assist, the available aids include high-end enhancements like Blind Spot/Lane Keeping Assist, Active Parking Assist, Distronic Plus active cruise control, Hill Hold/Brake Hold functions and a backup camera. This mini-hauler also offers M-B's Linguatronic voice control system in concert with a pair of optional COMAND-based navigation packages, one with and one without internet access.
The new Mercedes-Benz B-Class is set to go one in Europe in the fall. While various economic and market conditions prevented its predecessor from ever seeing showrooms in this country, Mercedes has confirmed this Gen II version will indeed be making the trip, likely starting in early 2013.