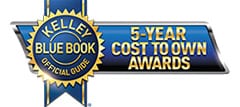 Subaru continues to lead the way among mass-market brands, delivering the lowest 5-Year Cost to Own numbers with the added bonus of being recognized by Kelley Blue Book as the make with Best Resale Value. In addition to offering features like standard all-wheel drive and industry-leading safety with its EyeSight Driver Assist technology, Subaru has demonstrated its ability to build vehicles with high quality, dependability and reliability scores.
The popularity of Subaru has translated into record sales year after year, and that success is evident in retained value by all models in its range. By minimizing depreciation, Subaru delivers high resale value. This Japanese brand offers a wide range of products, from subcompact crossover SUVs like its Crosstrek to its 3-row midsize Ascent SUV, all of which have competitive pricing, low maintenance costs and high levels of built-in safety. These factors figure prominently in Subaru repeating as the top brand in this year's 5-Year Cost to Own Awards.
Find your favorite Subaru below or see the full list of this year's 5-Year Cost to Own winners.
2020 Subaru SUVs
2020 Subaru Cars