Toyota Prius C Concept - 2011 Detroit Auto Show
by
KBB.com Editors
|
January 11, 2011 8:09 AM
Detroit Auto Show Top 10 #3 , Next: #2>>
Offering an early look but few details about a car that will become the new entry point to its hybrid stable, Toyota showed the Prius C Concept. Basis for a vehicle it plans to introduce during the first half of 2012, the Prius C -- for "city-centric" -- is targeted at "young singles and couples who want an eco-sensitive, high-mileage, fun-to-drive Prius."
>See more new cars unveiled at the 2011 Detroit Auto Show
Despite its compact footprint, Toyota says this five-door hatchback will still provide plenty of usable and flexible interior space plus many advanced technology touches, including some it will share with the current Prius Hybrid and upcoming Prius V models. While there's reason to believe a good deal of the Prius C's edgy exterior styling will be found in the car that does turn up in dealers, that scenario seems less likely for its admittedly interesting but clearly not-ready-for-production-time interior.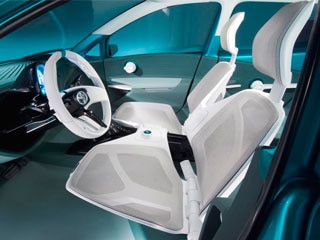 The featherweight modular seats in the Prius C Concept match skeletal framing with mesh inserts and feature exposed hinge elements, a look that mimics the structure and appearance of its see-through roof insert. A dramatically contoured minimalist dash is dominated by a unique, LED-lit main instrument cluster while the Prius C's otherworldly three-spoke multifunction steering wheel steering puts audio and phone buttons on the upper side of the rim and places the "+/-" cruise-control adjusters on either side of the center pad. Switchgear for the heat/air systems also has been transplanted from the conventional dash position to a stubby multifunction controller that sits where the console normally would.
Whatever visual form it ends up taking, Toyota did go on record as promising the volume-build version of the Prius C Concept will be "the most value-oriented hybrid in the U.S. market with the highest mileage of any "cordless" hybrid." That formidable pairing of character traits coupled with its basic Prius pedigree should bode well for its chances at success.
>All Auto Shows , >Past Detroit Auto Shows , >Detroit Auto Show 2011