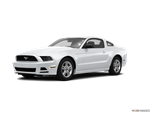 In anticipation of a major redesign next year, commemorating the 50th anniversary of the iconic model, the 2014 Ford Mustang gets only some different paint colors and package contents. The Boss 302 model is dropped and the Shelby GT500's horsepower rating climbs to 662 (previously the temporary "over-rev" spec).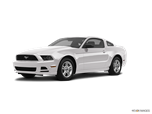 2013 Ford Mustangs receive minor tweaks to their exteriors, front and rear, plus added technology like the Track Apps software to measure performance, upgraded audio systems, and more power from the 5.0-liter V8 engine. A new supercharger gives the Shelby GT500 a monstrous upgrade in power, with its V8 churning out 650 horsepower.
The 2012 Mustang receives a new selectable steering setup that includes Sport, Comfort and Standard modes, and the Mustang Boss 302 limited-run model debuts touting 444 horsepower. New features available on the 2012 Ford Mustang include dual illuminated visor vanity mirrors, a remote garage door opener, the Reverse Sensing System and HID headlamps.

About Ford Mustang
The Mustang shows not only Ford's commitment to keeping alive a legendary name, but the public's underestimated love of the traditional American muscle car. Shortly after its introduction, rivals Chevrolet and Dodge were sent scrambling, spending much of 2006 showing off revitalization plans for their own muscle car greats, the Camaro and Challenger. But show cars are no cars when it comes to sales and, for the time being, the Mustang is the only game in town. Unlike the terminated Pontiac GTO, the Mustang is blessed with iconic good looks, a choice of V6 or V8 engines and, most importantly, a really affordable sticker price. Make no mistake, serious competition is on the way but, for now, look for Ford to make the most of the Mustang's solo success.