2015 Ford Mustang Expert Review
By Matt Degen
With the arrival of the 2015 Mustang, Ford has successfully reinvented an icon. After 50 years of production, America's venerated ponycar has been revamped for modern times to raise the stakes among rivals like the Chevrolet Camaro and Dodge Challenger. Gone is the archaic live rear axle, replaced by an all-new independent rear suspension and interior amenities fit for a premium car. And while some will scoff, the 2015 Ford Mustang is available with a turbocharged 4-cylinder engine in addition to the standard V6 or the GT's growling V8. Yet for all its updating, the Mustang coupe and convertible retain the power, value and dashing driving manners that have fostered 9-million-plus sales over half a century and countless more fans.
You'll Like This Car If...
What do a Mustang coupe and an F-150 truck have in common? They're reinvented for 2015, and they each have their loyalists. Ford allegiances aside, the Mustang attracts with its newly refined ride and amenities, retro-modern looks and the sheer appeal of owning a performance-car icon with a sub-$25,000 starting price.
You May Not Like This Car If...
Beyond brand devotions, buyers who need 5-passenger practicality in their performance coupe should consider the Dodge Challenger. And until a higher-output iteration of the new Ford Mustang arrives, the 707-horsepower Challenger SRT Hellcat and 580-horsepower Chevy Camaro ZL1 have Ford's ponycar beat in the pony-count war.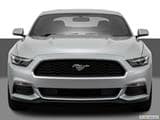 What's New for 2015
Marking its 6th generation, the Ford Mustang is all new for 2015. It features a fresh-yet-familiar exterior design, a revamped interior, and a new engine choice in the 2.3-liter turbocharged 4-cylinder that actually makes more power than the standard V6.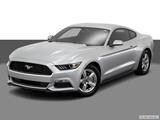 Driving Impressions
The new Mustang handles far better than past models. And we're not just talking about livelier cornering. The new independent rear suspension makes Ford's ponycar more nimble than its live-axle...
... predecessors. But just as important as performance, the Mustang's new setup is more comfortable in everyday driving. In our tests, a passenger could even apply makeup without smearing. All Mustangs are quick, we just wish that the 310-horsepower turbocharged 4-cylinder version sounded more muscular. Not so for the 435-horsepower 5.0-liter V8 GT, which packs an auditory punch, and enough power to pin you to your seat. But even the 300-horsepower V6 model is a solid choice for most buyers. 2015 Mustangs with the 6-speed automatic transmission come with paddles for manual shifting, and feature downshift rev-matching for smoother transitions. We're even more impressed with the revised 6-speed manual transmission – with short throws and a solid feel, it makes the new Mustang all the more satisfying.
SAFETY SYSTEMS
It's not just the Mustang's looks and powertrain that have been overhauled. The new car now offers safety features such as blind-spot monitoring and forward collision alert, which actively monitor conditions to warn drivers of potential hazards. They cost extra, but instantly become priceless when they take action.

IT'S BURNOUT-READY
If you're a Mustang 5.0 buyer, Ford's betting you like to burn rubber. That's why Mustang GTs allow – perhaps even encourage – drag-strip shenanigans. Manual-transmission models include launch control for maximum acceleration, while all 2015 Mustang GTs have the "line-lock" mode that locks the front brakes for standing burnouts.
2015 Ford Mustang Details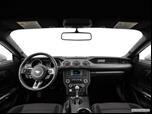 Interior
The 6th-generation Mustang's interior is appealing and functional, especially if you step up to a premium trim. Modern yet retro, Ford's newest ponycar boasts easy-to-reach audio/climate controls, sturdy switches and comfortable front seats. The new Mustang distinguishes itself with a dash badge commemorating the model's 50th anniversary. The two rear seats are tight for adults, especially in headroom. Trunk cargo space is better than expected – 13.5 cubic feet in coupes, 11.4 in convertibles – and the rear seats fold flat to accommodate longer items. In convertible Mustangs, only one hand is needed to release the latch for the power-operated soft top.
Exterior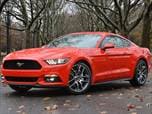 Be ready to garner attention in your new Mustang. It's easy to see why: The 2015 Mustang simply looks fantastic. At once immediately recognizable as a Mustang thanks to its long hood, sloping fastback and tri-bar taillights, it's also thoroughly modern with sleek lines, aggressive headlights and windswept design. Ford has nixed the "hockey stick" side contours in favor of sleeker creases, and the results are beautiful. In functional terms, 2.3-liter models have active grille shutters that can close to direct airflow around the car to enhance efficiency. Mustang convertibles have a fabric top that's lined and insulated within.
Standard Equipment
The 2015 Ford Mustang coupe and convertible come in three major trims: V6, EcoBoost and GT. A base V6 model includes push-button start, 6-speaker AM/FM/CD audio with an auxiliary input, rearview camera, Ford's Sync communication and entertainment system, high-intensity headlights, 17-inch wheels, and selectable-effort power steering. Also standard is Track Apps, which displays performance metrics such as acceleration times. EcoBoost models include the 2.3-liter turbocharged 4-cylinder engine, 6-way power front seats and 18-inch wheels. GT models include the 5.0-liter V8, 19-inch wheels, the line-lock feature, and launch control on manual-transmission models.
Optional Equipment
There are many ways to make your new Mustang perform better, be more comfortable, or simply look meaner. Base V6 models can be had with a 6-speed automatic transmission, power front seats, parking sensors, and 18-inch wheels. EcoBoost and top-line GT models offer a 12-speaker Shaker audio system, navigation, leather seats and safety features such as blind-spot monitoring and forward collision alert. Adaptive cruise control is also now available on Ford's 4-seat performance car, as are heated and cooled front seats and performance packages. EcoBoost and GT models are available with a 50th anniversary package with leather seats and commemorative badges.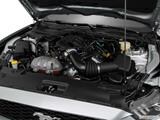 Three engine choices are available in the 2015 Ford Mustang. The base V6 Mustang comes with - surprise! – Ford's carryover 3.7-liter V6 making 300 horsepower, while the top-line GT uses a revamped 5.0-liter V8 that now makes 435 horsepower. The newest member of the Mustang engine family is a 2.3-liter turbocharged 4-cylinder that produces 310 horsepower. As the smallest engine in the lineup, it's also the most fuel efficient, garnering up to 32 mpg. Those peak power ratings, by the way, are obtained using 93 octane, though all the engines can run on regular unleaded if you don't want to spring for the pricier stuff. All Mustangs are rear-wheel drive and can be fitted with a 6-speed manual or 6-speed automatic transmission.

3.7-liter V6
300 horsepower @ 6,500 rpm
280 lb-ft of torque @ 4,000 rpm
EPA city/highway fuel economy: 17/28 mpg (manual), 19/28 mpg (automatic)

2.3-liter turbocharged inline-4
310 horsepower @ 5,500 rpm
320 lb-ft of torque @ 3,000 rpm
EPA city/highway fuel economy: 22/31 mpg (manual), 21/32 mpg (automatic)

5.0-liter V8
435 horsepower @ 6,500 rpm
400 lb-ft of torque @ 4,250 rpm
EPA city/highway fuel economy: 15/25 mpg (manual), 16/25 mpg (automatic)
The 2015 Ford Mustang coupe has a Manufacturer's Suggested Retail Price (MSRP) starting at $24,425 – an enticing proposition for buyers on a budget seeking a 300-horsepower performance car. EcoBoost Mustang models with the more-powerful 2.3-liter turbocharged engine begin just shy of $26,000, while the new Mustang GT debuts around $33,000. The 2015 Mustang convertible starts just under $30,000 for a V6 version. A loaded Mustang GT coupe can reach the mid-$40,000 range, while a loaded Mustang GT convertible nearly kisses $50,000. The new Mustang's prices are in line with those of the Chevy Camaro, which starts at $24,700, while its starting price is well under that of the Dodge Challenger's $27,990 admission price. To get the best deal, be sure to check the KBB.com Fair Purchase Price before buying. Since the 2015 Mustang is all-new, our number crunchers have yet to predict its resale value.
To compare current market prices, check out KBB.com's car classifieds to view the new and used Ford Mustang vehicles for sale near you.