A Transportation Staple and Our Small Car Best Buy of 2015

Famously reliable, satisfying to drive and packed with easy-to-use features, the 2015 Honda Civic had no problem claiming our inaugural Best Buy Award in the small car category. There are other well-built, dependable, smart choices in the segment, but there's just something special about the Civic.
Driving It
"With sharp steering, solid brakes, and a stiff structure, the Civic can hang with the best of them, making you think that it's really a compact sport sedan. The continuously variable automatic transmission introduced last year is one of the best in any class, and even though the engine gets loud at high revs, it's a complaint that's hardly unique to the Civic." Find out more in our 2015 Honda Civic full review.
One of the Best
In addition to being named this year's Small Car Best Buy, the Honda Civic also earned spots on our most recent lists of the 10 Best Sedans Under $25,000, 10 Best Back-to-School Cars and 10 Tech-Savviest Cars Under $20,000. And the Civic Coupe, specifically, was named one of the 10 Coolest Cars Under $18,000.
So Many Civics
In addition to sedan and coupe body styles, the Civic lineup also includes a mileage-maxing hybrid version and a very fun-to-drive Si version with 200 horsepower and a sport-tuned suspension.
New Civic in the Works?
At the 2015 New York Auto Show, Honda took the wraps off a concept that strongly hints at the styling of the next-generation 2016 Civic. Honda says the next Civic, which will include sedan, coupe and 5-door hatch variants, will be the most dynamic and stylish Civic to date.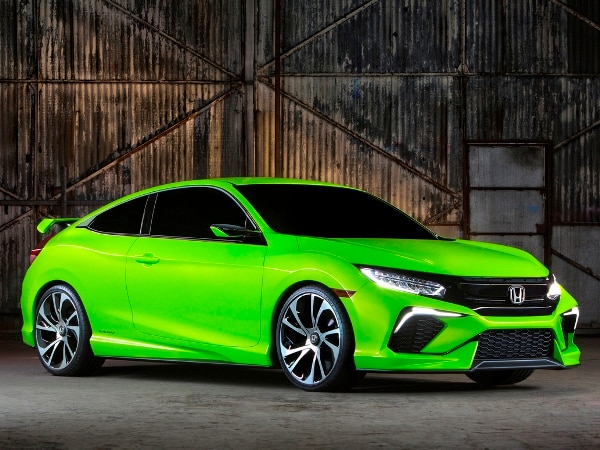 Build and Price
The Honda Civic has the highest starting price in the segment, but it also includes the most standard equipment (and outstanding resale value). A 2015 Honda Civic has a starting sticker price around $19,000, with a fully-loaded EX-L sedan coming in around $25,000. The hybrid, natural gas and sporty Si versions all command premiums beyond those prices. Build and price your own 2015 Honda Civic to unlock this week's Fair Purchase Price, 5-Year Cost to Own and more.
Owner Reviews
KBB.com reader and Civic owner Stewy_33 says the Civic "is light, nimble, and gives a comfortable ride." Read more Honda Civic consumer reviews.
More Compact Cars
The revered Honda Civic is one of the best-selling cars in the country, but that doesn't mean it's the best choice for every small-car shopper. Check out our Compact Car Buyer's Guide to become an instant expert on the category and find your way to the right compact car for you.
2015 Honda Civic Photo Gallery