2018 Best Resale Value Awards: Luxury Compact SUV/Crossover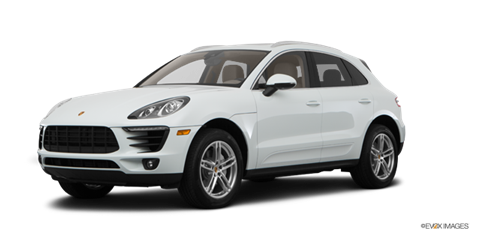 The winner for best luxury compact crossover SUV, the 2018 Porsche Macan combines unparalleled driving dynamics with the added benefit of having great resale value when it comes time to get another one.
Much of that value derives from the fact that this is a true Porsche. The Macan has done much to recast the image of crossovers from mere utilitarian off-road vehicles into truly multi-talented players that are equally at home on two-track back roads and racing circuit track days. And it comes wrapped in a package that has strong ties to its other family members, including the larger Cayenne as well as the Panamera and the 911.
Within the Macan model range, there are ample choices to match your pocketbook or need for speed. Last year, Porsche introduced a new entry-level S model with a 252-horsepower turbocharged 4-cylinder engine with a starting price of around $50,000. From there you can walk up through two different twin-turbo 3.0-liter V6s making 340 and 360 horsepower, and two 3.6-liter twin-turbo V6s making 400 and 440 horsepower. Now that's putting sport into sport/utility.
But it's more than just raw power that sets the Macan apart. It has subtle suspension tuning that not only offers crisp performance, but also delivers a comfortable ride. In addition, passengers are treated to a sumptuous interior with high-quality materials that reinforce the idea that you are truly getting your money's worth. Add in a new program that covers maintenance for the first year, and the 2018 Porsche Macan delivers both performance and resale value in a smart-looking package.
---

Resale Value
at 36 months:

55.7%

at 60 months:

39.0%
A mild refresh adds a bit more edge to the look of the Lexus NX, which also benefits from similar upgrades to the interior and the suspension, all of which contribute to added value.
---

Resale Value
at 36 months:

55.0%

at 60 months:

38.0%
The automaker's most affordable entry, the Land Rover Discovery Sport delivers a full helping of brand cache and off-road ability.
---
Other Category Winners
Best Luxury Compact SUV/Crossover