2017 Mercedes-Benz SLC Expert Review
By Keith Buglewicz
KBB Expert Rating: 8.3
First things first: The 2017 Mercedes-Benz SLC is what we used to call the SLK; blame the Mercedes nomenclature realignment strategy for the new badge. However, credit the company's AMG division for the real news: the introduction of the 2017 Mercedes-AMG SLC43. With a 362-horsepower 3.0-liter twin-turbo V6 driving the rear wheels, the new SLC43 transforms the SLC from a fun roadster into something approximating a luxurious muscle car. But even the standard SLC300 is no slouch, and we're not just talking about the powerful turbocharged 4-cylinder engine. With a power hardtop, a comfortable ride and the luxury inherent to the Mercedes-Benz brand, the SLC is a comfortable and luxurious alternative to the BMW Z4, Audi TT and Porsche Boxster.
You'll Like This Car If...
Whether you're looking for a hardtop coupe or a luxury roadster, the 2017 SLC has you covered, with the premium driving experience and looks you expect from Mercedes-Benz. If you're looking for something more akin to a sports-car experience, the new SLC43 delivers.
You May Not Like This Car If...
This is not a car for the tall, and if you're mistaken for an NBA star, you're going to find the SLC a tight fit. Despite the additional power in the SLC43, it's still not quite the sports car the BMW Z4 or Porsche Boxster is.
What's New for 2017
In addition to a new name, the 2017 Mercedes-Benz SLC gets a new model: the Mercedes-AMG SLC43. Replacing last year's SLK55, the new SLC43 gets a 3.0-liter twin-turbo V6 engine with 362 horsepower backed by a 9-speed automatic transmission, plus a host of other AMG performance upgrades.
Driving Impressions
To be clear, we're fans of the 2.0-liter turbocharged 4-cylinder that's standard issue in the 2017 SLC300. Smooth, powerful and refined, you'll bet real money that it puts out more...
... than the rated 241 horsepower, and it's a good choice for the role of powering a lightweight roadster like the SLC. However, if you're looking for a more sports-car-like experience, there's the new SLC43, with its AMG-tuned 3.0-liter V6 engine. While not part of the "one man, one engine" philosophy of some other AMG cars, the SLC43 puts out 362 horsepower to its rear wheels, and along with an adjustable suspension with modes ranging from Comfort to Sport+, you're sure to find your preferred driving experience. Granted, the SLC is not a pure sports car in the mold of a Porsche Boxster, or even a BMW Z4, but it's more luxurious than either of those, and more comfortable.
MAGIC SKY CONTROL
Lots of convertibles these days have retractable hardtops. However, they don't have the Mercedes-Benz exclusive Magic Sky Control. With a push of a button, the glass in the roof panel goes from opaque to clear, giving you the feeling of open-air driving without the mussed hairdo.

AIRSCARF & AIR GUIDES
It's fun to drive a convertible on a cold day, but not if you're getting chilled. To keep you warm, the SLC-Class has adjustable Air Guide draft deflectors on each rollbar, and the Airscarf system to blow warm air on your neck from an outlet in the headrest.

2017 Mercedes-Benz SLC Details
Interior
Mercedes-Benz is a luxury-car maker, so it's no surprise that's the biggest strength of the 2017 SLC. Whether covered in MB-Tex faux leather or real hides, the seats are comfortable, even though there's not a lot of room for taller drivers. Audio and climate controls are as easily accessed as they are easy to use, and we love the satisfying tactile quality of the knobs and switches. The top features a panorama roof, so even when it's up you have a view of the sky. The very cool (but goofy-sounding) Magic Sky Control option lets you adjust the depth of tint.
Exterior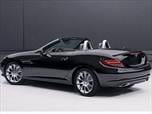 With the hardtop up, the 2017 SLC-Class looks a lot like a coupe, albeit a somewhat awkward one thanks to the cap-like way the roof sits over the passenger compartment. Still you'd be hard pressed to tell it's actually a convertible unless you see it with the top down, and then you're in for more of a visual treat. Its long hood, short trunk and wide stance give the SLC that classic roadster look. That top retracts in only 20 seconds, too. Overall the car is small, just a bit bigger than a Mazda Miata, making it easy to maneuver around town.
Standard Equipment
The 2017 Mercedes-Benz SLC300 comes standard with a 5.8-inch infotainment display, an 8-speaker audio system with a USB port and Bluetooth streaming, auto-dimming mirrors and 8-way-power seats. The roof comes with a standard glass panel for a panoramic view, and there's an Eco mode that includes automatic start/stop to help save a few drops of fuel at stoplights. An attention-assist feature monitors the driver for drowsiness, and there are active head restraints, stability control, lots of air bags, and dual roll hoops to keep you safe.
Optional Equipment
Beyond the AMG goodness that comes with the SLC43, options are bundled into different groups. The Premium 1 package adds the Airscarf, heated seats, keyless ignition and entry, and remote hardtop operation, all while upgrading the audio system. A Premium 2 package adds active high beams, brighter headlights, navigation, dual-zone climate control, and more. The Premium 3 package includes everything from Premium 1 and 2, and adds active cruise control and lane-keeping assist, parking assist and an adaptive suspension. Stand-alone options include the Magic Sky Control roof, and if you want extreme customization, there's the Designo exterior and interior trim.
The standard 2.0-liter turbocharged 4-cylinder under the hood of the 2017 Mercedes-Benz SLC300 puts out 241 horsepower and 273 lb-ft of torque, sending it to the rear wheels through a 9-speed automatic transmission. That's on par with the base engine in the BMW Z4. The Mercedes-AMG SLC43 is the sole powertrain upgrade, but it's a good one: 362 horsepower from a 3.0-liter twin-turbo V6, good for a 0-60-mph time of about 4.6 seconds. It too uses a 9-speed automatic. The 3.5-liter V6 and 5.5-liter V8 models from last year have disappeared in favor of the new AMG. Note that both the SLC300 and the SLC43 require at least 91 octane fuel.

2.0-liter turbocharged inline-4
241 horsepower @ 5,500 rpm
273 lb-ft of torque @ 1,300-4,000 rpm
EPA city/highway fuel economy: 25/32 mpg

3.0-liter twin-turbocharged V6
362 horsepower @ 5,500-6,000 rpm
384 lb-ft of torque @ 2,000-4,200 rpm
EPA city/highway fuel economy: 20/29 mpg

Note: Due to changes in EPA testing to more effectively reflect real-world conditions, some 2017 models show slightly lower fuel-economy scores than their 2016 versions.

Include the $925 destination charge, and the base-model 2017 Mercedes-Benz SLC300 starts at about $49,000, which isn't too bad. However, those option packages add up quickly, and with the Premium 3 package, you'll add about $10,000 to the bottom line. The Mercedes-AMG SLC43 starts a little over the $61,000 mark, and the same thing applies as far as options go. However, as pricey as that sounds, the SLC still undercuts its primary BMW Z4 competitor by a couple thousand dollars, and it's practically a bargain compared to the considerably more expensive Porsche Boxster. Check the KBB.com Fair Purchase Price before buying to see what others are paying for their new Mercedes roadster. The 2017 SLC's resale value should be good, with 4-cylinder variants predicted to best hold their value, but still match the Porsche Boxster.
To compare current market prices, check out KBB.com's car classifieds to view the new and used Mercedes-Benz SLC vehicles for sale near you.