Volvo's low-cost KERS system could cut fuel use by 20 percent
by
KBB.com Editors
|
June 1, 2011 7:15 AM
Volvo Car Corporation has revealed details on a new flywheel-based KERS (Kinetic Energy Recovery System) that it will start testing on public roads in Sweden later this year. Developed in concert with Volvo Powertrain and SKF, the system is designed for use on a front-drive vehicle fitted with a four-cylinder engine and promises very significant double-digit increases in fuel economy.
"Our aim is to develop a complete system for kinetic energy recovery, noted Derek Crabb, Vice President VCC Powertrain Engineering. "Tests in a Volvo car will get under way in the second half of 2011. This technology has the potential for reducing fuel consumption by up to 20 percent. What's more, it gives the driver an extra horsepower boost, giving a four-cylinder engine acceleration like a six-cylinder unit."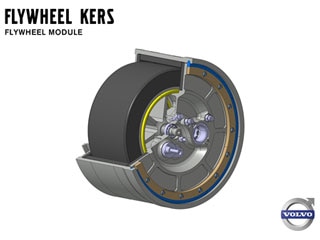 Volvo's new KERS package is fitted to the rear axle of the vehicle. The flywheel, which is about eight inches in diameter and weighs just over 13 pounds, is made from lightweight carbon fiber and spins at up to 60,000 rpm in a vacuum chamber to help minimize friction-related losses. Energized by regenerative braking, it sends that stored power to the rear wheels via a small continuously variable automatic transmission. Used to its full capacity, Volvo's KERS setup can power the car for shorter periods of time and deliver up to an extra 80 horsepower on demand that will markedly improve off-the-line acceleration in addition to dramatically reducing the vehicle's average fuel consumption.
Crabb went on to note: "Our calculations indicate that the combustion engine will be able to be turned off about half the time when driving according to the official New European Driving Cycle." Given the operational nature of the system -- which also incorporates start/stop circuitry with aggressive fuel-shutoff programming -- the Volvo KERS setup will be most effective in urban stop-and-go traffic conditions where frequent brake applications can help keep the flywheel fully "energized" on a more regular basis.
While admitting that Volvo is not the first manufacturer to develop and test flywheel-based KERS technology, Crabb hastens to point out: "Nobody else has applied it to the rear axle of a car fitted with a combustion engine driving the front wheels. If the tests and technical development go as planned, we expect cars with flywheel technology to reach the showrooms within a few years." Equally critical, he adds that by eliminating the need for a costly supplemental battery/capacitor, the Volvo's flywheel-based KERS system represents a relatively inexpensive way to massively bump fuel economy and reduce emissions. "It can be used in a much larger volume of our cars than top-of-the-line technology such as the plug-in hybrid. This means that it has potential to play a major role in our CO2-cutting DRIVe Towards Zero strategy."