Volvo XC60 earns kudos for City Safety crash avoidance technology
by
KBB.com Editors
|
July 20, 2011 2:21 PM
A new study published by the Highway Loss Data Institute (HLDI) and the Insurance Institute for Highway Safety (IIHS) found that Volvo's advanced City Safety technology -- a standard feature on its current XC60 SUV model -- plays a key role in helping reduce the number of low-speed crashes the vehicle is involved in. Operational at speeds up to 19 mph, Volvo's City Safety system is programmed to respond to slow-moving or stopped vehicles that lie ahead by automatically applying the brakes if the driver does not respond quickly enough to avoid a potential impact.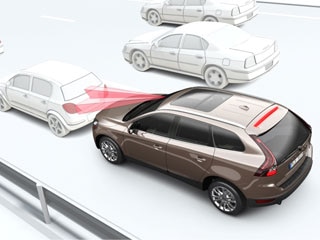 After assessing claim-frequency data on crashes, property damages and bodily injury, the HDLI/IIHS determined that the Volvo XC60 was responsible for 22 percent fewer collision-related claims than other mid-size luxury SUVs. It also generated 27 percent fewer property damage liability claims than its class competitors and roughly half as many bodily injury-related claims. Additionally, the HDLI study showed that overall collision losses for the Volvo XC60 were 31 percent lower than for other mid-size luxo SUVs and that its overall payouts for property damage claims were 20 percent lower.
In commenting on the results, Adrian Lund, president of HLDI and IIHS, noted: "This is our first real-world look at an advanced crash avoidance technology, and the findings are encouraging. City Safety is helping XC60 drivers avoid the kinds of front-to-rear low speed crashes that frequently happen on congested roads."
John Maloney, Volvo Cars North America's vice president of marketing and product planning, saw additional tangible consumer benefits to the study's findings. "The lower claim frequencies found by HLDI prove that City Safety is preventing crashes and thus reducing insurance costs. In light of that fact, there's an opportunity here for insurance companies to begin offering a discount on vehicles equipped with City Safety or similar crash-avoidance technologies." In addition to the Volvo XC60, City Safety also is standard equipment on the 2011/2012 Volvo S60, 2012 S80 and 2012 XC90 models.