Toyota FCV-R Concept - 2011 Tokyo Motor Show
by
KBB.com Editors
|
December 5, 2011 1:16 PM
An early look at a sedan-based fuel-cell powered production model that could hit the market in some form as early as 2015, the Toyota FCV-R Concept is drivable proof of the automaker's confidence that someone, somewhere will finally begin constructing at least a small stretch or two of the Great Hydrogen Highway. Regardless of where or when that happens, this four-passenger super-clean four-door does appear fully prepared to carry off its planet-saving mission in a suitably ultra-green way.
About four inches shorter than the current Camry, the FCX-R shows definite Prius design influences intermingled with its own unique exterior lines. Inside, this possible Toyota-to-be displays a decidedly modern but largely minimalist cabin treatment, particularly in the way its clearly lightweight seats are rendered.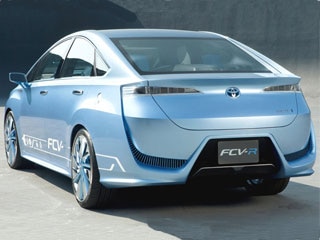 While providing few performance specifics, Toyota says the FCV-R Concept positions its advanced fuel-cell package, which includes a new and more compact stack as well as a 10,150-psi high-pressure hydrogen tank, low in the vehicle's specially designed structure to ensure exceptional space for both people and cargo. According to Toyota, the FCV-R Concept is capable of traveling up to 435 miles on a single fill of hydrogen, all while producing zero emissions.