Nissan NV200 chosen as New York City Taxi of Tomorrow
by
KBB.com Editors
|
May 3, 2011 4:23 PM
In a competitive coup that should be worth millions to the automaker and make even more millions of future Big Apple cab riders a lot safer and more comfortable on their cross-town treks, News York City today named the new Nissan NV200 as its official "Taxi of Tomorrow." The announcement took place today in City Hall at press briefing held by Mayor Michael Bloomberg and Nissan Americas Chairman Carlos Tavares.
"The city's Taxi of Tomorrow is the Nissan NV200 -- and it's going to be the safest, most comfortable and most convenient cab the city has ever had," said Mayor Bloomberg. "We started this process to leverage our taxi industry's purchasing power to get the highest quality taxi, one that that can expand and redefine the legendary image of New York City taxicabs. The new taxis will be custom-designed to meet the specific demands of carrying 600,000 passengers a day in New York City traffic and the vehicle meets the top priorities identified by the public in our on-line survey."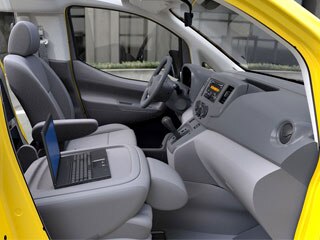 "Nissan is proud to provide the next generation of taxis for the City of New York," said Tavares. "The NV200 taxi will give Nissan the opportunity to showcase our dedication to vehicle quality and urban mobility to more than 600,000 passengers every day." To earn its exclusive golden nod, this specially modified version of the new Nissan NV200 commercial van had to prove itself during more than two years of intense competition, ultimately taking the measure of a similarly bespoke version of the Ford Transit Connect and a vehicle developed by Turkey's Karsan Otomotiv Sanayii Ve Ticaret AS. The first Nissan NV200 cabs are scheduled to roll into service starting late in 2013 at a cost of roughly $29,000 per unit.
All of these Nissan NV200 Taxi vehicles will be powered by a fuel-efficient 2.0-liter four-cylinder engine and offer comfortable seating for four passengers easily accessed via sliding side doors plus plenty of luggage space. However, it's a bevy of creature-feature details that will set the NV200 apart from New York's current mixed-bag taxi fleet, starting with a standard navigation and telematics package to help the driver better negotiate some of the country's most challenging traffic conditions. For those aboard, the NV200 Taxi will offer additional amenities like rear air conditioning, a panoramic roof panel, mobile charging station with a 12V powerpoint plus two USB ports and breathable, antimicrobial fabric seat coverings that simulate the look and feel of leather.