2012 Volkswagen Golf R - European Preview Drive
by
KBB.com Editors
|
March 15, 2011 6:51 AM
Back in December, Volkswagen confirmed plans to bring a version of the range-topping Golf R variant to America. Although its arrival is still nearly a year away, we recently got our first taste of this understated but ultimately engaging all-wheel-drive road rocket on its home turf, prior to the Geneva Auto Show. Developed by VW's performance-oriented R-GmbH group, the latest uber Golf establishes a dynamic benchmark well beyond even that of the highly-regarded GTI. Market-specific revamps will see our Golf R have its absolute intensity index cranked down about a quarter notch from the Euro-spec cars we drove, but a day spent challenging twisty back roads in the foothills of the French Alps left us convinced that the U.S. version will still have plenty in hand to please any enthusiast fortunate enough to slip behind the wheel of either the three-door or five-door hatch variants that will be headed our way.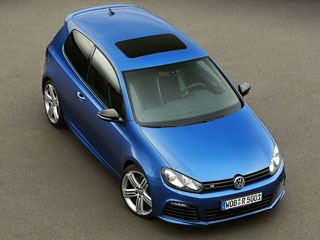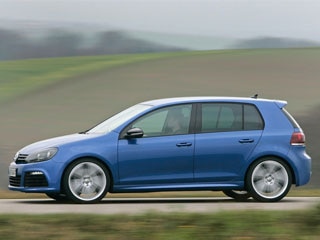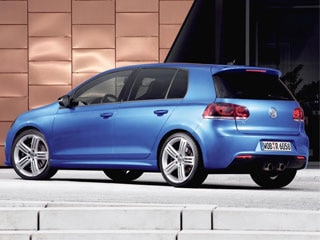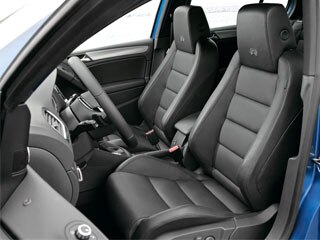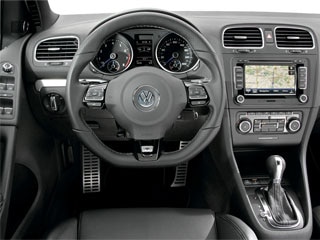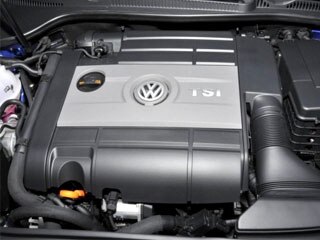 Fun in the fast lane
On sale in Europe since early last year, the Volkswagen Golf R is the de facto replacement for the Gen V-based Golf R32 model that made a one-season appearance here in 2008. However, the Gen VI-based Golf R is roughly 200 pounds lighter, considerably more powerful and noticeably better balanced, due in great part to its 2.0-liter direct-injected four-cylinder TSI turbo powerplant, a more techno-rich replacement for the 3.2-iter/250-horsepower VR6 used in the R32.
In Euro trim, the 2.0 TSI turns out 270 horses and 258 lb-ft of torque. We found it an excellent partner whether backed by the standard six-speed manual or optional paddle-shifted six-speed DSG automatic. VW says the Golf R will sprint 0-62 mph in 5.8 seconds with the former transmission and get there in 5.5 ticks with the latter. As a bonus, this free-revving force-fed four is also 21 percent more fuel efficient than the naturally-aspirated VR6, earning a 27.7 mpg rating on the European combined cycle.
The pony count on our Golf R is projected to be about 256 -- a software-based detune that reflects the lack of readily available 95-octane gasoline the engine requires to ensure a full corral -- however, that will still put it 56 horses up on the GTI's 2.0-liter TSI four. And with 243 lb-ft of peak twist from 2,400-5,200 rpm, it'll hold a similarly stout 36-unit edge in that department as well. As one of several "simplification tradeoffs" required to get the relatively low-volume Golf R cost-effectively certified for the U.S. market, all of the roughly 5,000 cars VW hopes to sell here during the 2012 model year will be fitted with the manual gearbox. Despite going DSG-less, our version is still pegged to nail 60 mph in less than six seconds and carry on to an electronically-limited 155-mph top speed.

A corner-carving champ
As impressive as it may be in a straight line, the true brilliance of the Golf R manifests itself when the roads get tight and twisty. A full sport suspension that's tauter and lower than a standard Golf -- by 25mm in Europe and 15mm here -- a more connected steering feel and more flogging-friendly electronic stability control programming plus 225/40 all-season tires on new 18-inch "Talladega" alloy wheels provide the basic chassis framework for the Golf R, effectively abetted by bigger and more capable R-spec anti-lock discs brakes. Regrettably, the trick three-way Dynamic Chassis Control adjustable shocks and optional 19-inch wheels with summer tires will be staying home along with the DSG trans. However, it's the latest version of VW's superb 4MOTION all-wheel-drive system that really sets the Golf R apart.
In addition to being the first time this Gen IV iteration has been matched with the 2.0 TSI engine in a Volkswagen product, the new 4MOTION setup features an improved Haldex center differential that's now capable of transferring power from front to rear without having to sense any rotational speed variation between the two axles. Directing 100-percent of the available torque to the front wheels in normal cruise mode, under extreme situations, it can instantly send nearly that same amount aft -- or serve up the most efficient split to keep the car on line and charging ahead.
Even shod with their legally-mandated "winter" tires, the Golf Rs we drove showcased this setup brilliantly. Quick entries into even the tightest corners elicits barely a hint of the normally expected push and the ensuing seamless transfer of motive force rearward facilitates some genuinely exhilarating power-on exit moves. Best of all, the Volkswagen Golf R displays remarkable systemic synergies no matter how you drive it. Melding precise control with impressive ride compliance and exhibiting virtually no torque steer, it remains amazingly civilized until the moment you choose to dial up a throttle-induced adrenaline rush. Although VW admits it won't be quite as quick as vehicles like the Mitsubishi Evolution X and Subaru WRX STI that are seen as its prime rivals, there's no doubt the Golf R holds the edge when it comes to being a more well-rounded and accommodating daily travelmate.
Looking the part
To visually distinguish Golf R from its lesser siblings, the U.S. version of this hottest-hatch variant will boast unique exterior and interior trims that largely parallel the appearance of it Euro kin. Outside, a more aggressive front fascia has its bigger air intakes filled with gloss black grille inserts and LED running lights in the outboard ports set off by bi-xenon headlamps that feature corner-following AFS (adaptive front light system). Rounding out the look are more deeply sculpted side sills, black-finish mirror housings, brake calipers and rear diffuser, a pair of central-mount chrome exhaust outlets and the requisite "R" badges on the nose and tail.
Despite its undeniably youthful flair, Volkswagen expects the 2012 Golf R to find its largest single fan base among over-40 males seeking a sophisticated "reward" ride that's both potent and practical. Given that mission, the car will arrive here late in 2011 or early next year with a long list of standard features that speak to both performance and comfort/convenience. While a number of details are still being finalized, we do know the package will effectively one-up the standard GTI kit and complement a flat-bottom multifunction steering wheel and leather-clad sport buckets with R-spec gauge faces, shifter knob and sport pedals plus the automaker's premium Climatronic automatic climate control system. No plans for the pricey ($5,200) competition-style Motorsport racing buckets, but VW will offer our Golf R with one major option group that includes a navigation package, the Dynaudio premium sound system, a power sunroof and SmarkKey pushbutton starting.
As for pricing, expect the 2012 Volkswagen Golf R to start around $32,900, which is exactly where the Golf R32 model opened.