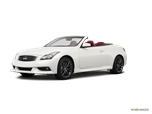 The cars themselves get few changes but the lineup is rationalized for 2013. The 4-cylinder G25 Sedan and base model Coupe go away. Both sedan and coupe lines offer the same Journey, AWD (G37x) and Sport 6MT packages. The lusty IPL (Infiniti Performance Line) Coupe gets a Convertible stablemate.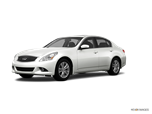 The 2012 Infiniti G sedan offers a new Malbec Black exterior color. The G37 sedan also receives various updates to its Limited and Sport Appearance editions, including a new graphite interior color, 18-inch alloy wheels and Black Obsidian exterior color for the Limited Edition and a new black grille for the Sport Appearance Edition.
About Infiniti G
Most observers agree that BMW is the industry benchmark for truly sporting sedans, and that BMW's 3 Series is the best of the best among the semi-affordable. But not everyone with sport sedan aspirations wants or can find the budget for such a pricey German car. Many buyers would prefer a domestic or Japanese equivalent, if such an alternative were available, and many manufacturers targeting BMW have come tantalizingly close to delivering that alternative. This new Infiniti G35 may be the closest yet to hitting that elusive target.