Editors' Page: 2015 Honda Accord
By KBB.com Editors on December 1, 2014 6:37 AM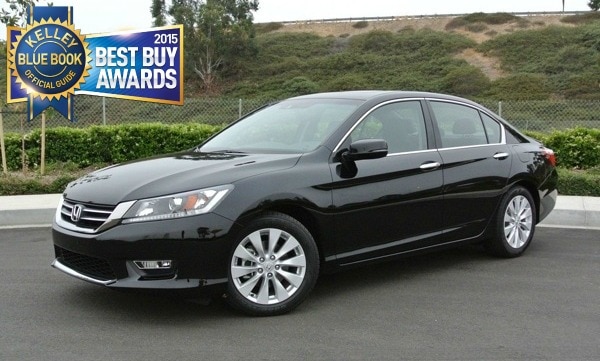 If the country ever has to decide on just one car, we need to take a long look at the Accord.
Just for fun we asked Google how many times the terms "Accord" and "gold standard" have appeared together on KBB.com over the years, but the results were spotty. The exercise itself, however, conveys the point: The Accord remains a benchmark not just for the midsize sedan category, but for the entire automotive industry. Fittingly, we named it our Midsize Car Best Buy of 2015, one of 13 winners in our inaugural Best Buy Awards.
Backed by a decades-deep reputation for dependability, reliability and value, the Accord is also defined and distinguished by its uniquely nuanced refinement. From the feel of the door handle to the response of the gas pedal, the Accord just feels good. And those subconsciously satisfying details are key reasons the Accord remains a favorite family sedan of the car enthusiast and journalist crowds.
Driving It
A few driving impressions from our full review: "Even a base sedan has good power for acceleration and passing, yet attains up to 36 mpg on the highway. Ride quality is pleasing, with a smart balance between comfort and sportiness."
Awards for Accords
We expect the 2015 Honda Accord to receive plenty of praise again this year as it did in 2014. It took the top spot in KBB.com's 10 Best Sedans Under $25,000 for 2014, and was also one of Kelley Blue Book's 12 Best Family Cars of 2014. A 2014 Best Resale Value Award winner in the Mid-Size Car category, the Accord also took home a 5-Year Cost to Own Award as Best Mid-Size Car.
Hybrid Options

The 2014 Honda Accord offers a choice of hybrids. There's a plug-in hybrid, and in our most recent time with the car we pegged it as perhaps the best-driving hybrid we've tested. The electric-to-gas transition can border on imperceptible, and braking feel is as good as we've ever experienced in a hybrid. But it's a $40,000 car, and Honda only plans to sell around 1,000 of them. The other option is a "traditional" hybrid Accord, which offers the same great driving dynamics, combined fuel economy of 47 mpg and pricing that starts at just under $30,000, making it a more realistic and compelling alternative for more Accord shoppers. If you'll put a lot of miles on your new Accord, the hybrid, which was one of our 10 Best Hybrid Cars Under $30,000 in 2014, might be worth a look. And if 13 miles of all-electric range is worth the significant price premium to you, you can check out the Plug-in Hybrid.
The Other Accord
In addition to the sedan, Honda also offers the Accord in a sportier, sleeker coupe version. The 2015 Honda Accord Coupe lives in the shadows of its ubiquitous sedan sibling, but it's a great way to get every ounce of Accord goodness (minus two doors and several cubic feet of interior volume) without driving the same 4-door sedan that more than 300,000 people will purchase this year alone.
Eight-Car Comparison
The current-generation Honda Accord further reinforced its reputation as a segment standout in our most recent Midsize Sedan Comparison Test.
From the Video Review

"With LaneWatch, you'll have zero excuses for side-swiping that school bus when changing lanes." Watch the video.
Build and Price
The 2015 Honda Accord sedan starts pretty well-equipped at under $23,000 and just crests $35,000 for an Accord Touring with a V6 engine, leather, moonroof, navigation and adaptive cruise control, among other features. Accord Hybrids are priced higher. How much should you really pay? Build and price a 2015 Honda Accord the way you like it to unlock its Fair Purchase Price, 5-Year Cost to Own and more.
More Midsize Sedans

The Honda Accord is indeed a special car, but today it's one of many great choices in the midsize sedan segment. Check out our Midsize Sedan Buyer's Guide to get a handle on all your good options.
Honda Accord Inside and Out