2017 Toyota Mirai Expert Review
By Joe Tralongo, Contributing Editor
KBB Expert Rating: 7.4
If only hydrogen filling stations were as plentiful as their gasoline counterparts, then everyone could know the joy of driving Toyota's 4-passenger 2017 Mirai fuel-cell vehicle (FCV). The Mirai is actually an electric car powered by a hydrogen fuel cell, which operates by converting hydrogen and oxygen into electricity with its only emission being water vapor. Toyota claims the 2017 Mirai can travel up to 300 miles before refueling, making it about as mainstream as a 21st-century electric car can be. Others have been here before, namely Honda's FCX Clarity and Hyundai's Tucson FCV, but Toyota is the first to really push the idea of putting a Mirai in every driveway, providing that driveway is within 300 miles of a hydrogen fueling station.
You'll Like This Car If...
If you like getting noticed for what you drive and you live near one of the 2017 Mirai's designated hydrogen-fuel stations, this car will generate more buzz than a new Lamborghini. Toyota picks up the hydrogen tab for the first three years; after that, you're on your own.
You May Not Like This Car If...
More novelty than daily driver, the 2017 Toyota Mirai can't take you on long trips, nor is it particularly fun to drive. You can spend a lot less and get a plug-in hybrid that is more efficient and practical.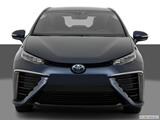 What's New for 2017
The 2017 Toyota Mirai hydrogen fuel-cell vehicle gains a new color: Atmospheric Blue.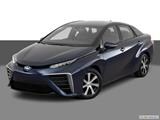 Driving Impressions
If you didn't know hydrogen and oxygen were combining under the hood to power the 2017 Toyota Mirai's electric motor, you might easily think you were driving just another electric...
... car. The absence of motor noise takes some getting used to, but the overall driving experience is very much like being behind the wheel of Toyota's Prius hybrid, that is to say, pleasant but not thrilling. Push the button to "start" the car, shift the console lever into Drive and press the accelerator and off you go. As electric motors are pure torque, acceleration is brisk and the 2017 Toyota Mirai's ride and handling feel very familiar. Also familiar are Toyota mainstays, like the Entune connectivity and slider-based climate controls. A large center-mounted screen displays usage and range, and is placed at the windshield's base similar to the setup in the Prius.
MOBILE GENERATOR
While you may be able to jump-start your friend's car with your primitive fossil-fuel-powered vehicle, the 2017 Toyota Mirai can power your entire house for up to one week. Using the optional PTO (Power Take-Off) device, the Mirai can become an electric power generator perfect for emergency situations.

24/7 CARE
Toyota knows how to calm worries around pushing a new technology, so they offer a fuel-cell-savvy concierge service, a longer-range loner vehicle for up to seven days a year, enhanced roadside assistance, an app for locating hydrogen-fuel stations and three years free fuel.

2017 Toyota Mirai Details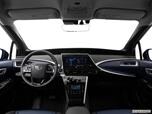 Interior
The 2017 Toyota Mirai's interior is similar to what you would see in the company's other cars. There is a regular steering wheel with stereo and menu controls. At the very top of the dashboard is information about speed, vehicle range and power usage. The Mirai has Toyota's Entune connectivity system, and below that are the snub-nosed transmission shifter, much like you would find in a Prius, and a combination of push-button and slider controls for the climate system.
Exterior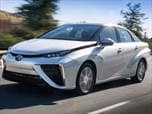 While Toyota's 2017 Mirai FCV's styling is intentionally futuristic, there are specific elements that are there out of necessity. Two large intakes in front pull in air to get heat out of the Mirai's three radiators. The airflow is also key to the Mirai's aerodynamics. While Toyota explained that the design theme of the Mirai is that of flowing water, with a rear end resembling a catamaran, most people will most likely be too amazed by the Mirai's looks to notice the water theme.
Standard Equipment
The Mirai fuel-cell vehicle for 2017 comes with numerous features as standard, many of which are aimed at making hydrogen life easier. Hydrogen fill-ups are free for three years. There is 24/7 concierge service as well as 24/7 roadside assistance. Toyota Care maintenance is free for three years. Entune comes standard, along with three years of Safety Connect (including the hydrogen station map app).
Optional Equipment
With a vehicle this specialized and with a premium price, it should come as no surprise that there are relatively few options. In fact, there's only one: The Power Take-Off unit could be a lifesaver in case of emergency. It turns the Mirai into a generator that can power a typical-size house's basic electrical needs for up to a week.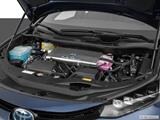 The 2017 Toyota Mirai hydrogen fuel-cell vehicle doesn't use an engine. At its heart it's an electric car, but instead of plugging into an outlet, owners fill the tank with hydrogen. That combines with oxygen to produce electricity, which powers the car's motor. The Mirai's electric motor uses an ECVT, a continuously variable automatic transmission, like the Prius. Refueling takes a mere five minutes.

Fuel cell stack, electric motor
153 horsepower
247 lb-ft of torque
EPA city/highway fuel economy: 67 mpge (estimated), 312-mile range
Note: Due to changes in EPA testing to more effectively reflect real-world conditions, some 2017 models show slightly lower fuel-economy scores than their 2016 versions.

As is the case with many fuel-cell vehicles, there is an option to lease. In the case of the 2017 Toyota Mirai, $2,499 will be due at signing, and the lease is $349 a month for 36 months with a 12,000-mile-per-year allowance. Unlike other FCVs, however, you can buy the new Mirai. While buying one would cost $58,365, there are incentives of up to $13,000, bringing the price closer to $45,000. As the Mirai is such a unique vehicle, resale information is still unavailable, but given Toyota's reputation, we suspect as other FCV's come to market, the Mirai will hold its value better than most.
To compare current market prices, check out KBB.com's car classifieds to view the new and used Toyota Mirai vehicles for sale near you.