2019 Best Resale Value Awards: Off-Road SUV/Crossover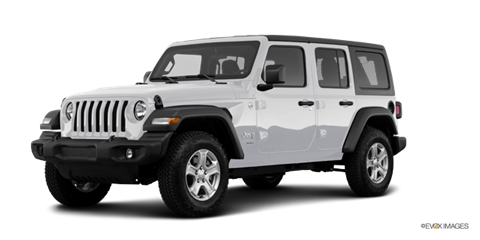 The new generation of the Jeep Wrangler Unlimited retains the SUV's iconic looks, and adds better ride quality, improved fuel economy, more tech and advanced safety features, and even better off-road capability to the mix. The longer, roomier 4-door Wrangler Unlimited has class-leading resale value in the off-road SUV category, and the 2-door is right behind it in second place.
The Wrangler's history dates to World War II, with the larger Wrangler Unlimited joining the crew just 12 years ago. The Unlimited's success was immediate, and now makes up the vast majority of Wrangler sales. It's no wonder: it offers the extra room and utility many Wrangler buyers want, without compromising its core value of rugged off-road ability.
While the Jeep Wrangler Unlimited is tough to its core, as we explain in the Wrangler's Expert Review, there's more to the Wrangler than just "the kind of open-air, off-road adventuring no other vehicle can match." This Jeep adds convenience and civility without losing its trail cred: "Despite its many improvements, the 2019 Wrangler sticks with traditional solid front and rear axles and a choice of 4-wheel-drive systems. However, unlike Wranglers of old, this one actually delivers a reasonably civilized ride over paved roads, with a cabin that is downright plush on some trims."
The Wrangler Unlimited's abilities have earned it legions of loyalists and has enabled it to hold its value exceptionally well. Its mix of awesome off-road capability and newfound on-road comfort and amenities will have buyers clamoring for the new model. Our number-crunchers anticipate the Wrangler Unlimited will offer excellent resale value, just as the previous model has done for the last several years.
---

Resale Value
at 36 months:

65.0%

at 60 months:

57.3%
The 2-door Jeep Wrangler keeps the original style of the legend, while adding capability and civility.
---

Resale Value
at 36 months:

65.7%

at 60 months:

56.3%
Another fantastic off-roader, the Toyota 4Runner stands out as a tough, truck-based SUV. Its reliability is legendary, as is its remarkable resale value.
---
Other Category Winners
Best Off-Road SUV/Crossover