2019 Best Resale Value Awards: Luxury Subcompact SUV/Crossover
Best Luxury Subcompact SUV/Crossover: 2019 Lexus UX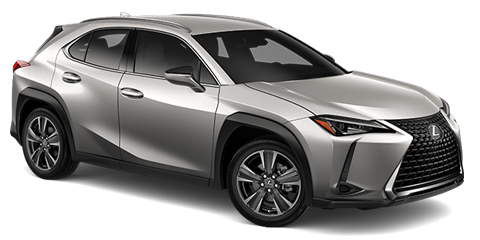 The 2019 Lexus UX is the newest, smallest, and most affordable vehicle from the luxury brand. Those traits make this all-new subcompact crossover SUV appealing to the UX's target audience of young professionals, while its own youthful flair stands out among the Lexus lineup. But this little Lexus crossover is proudly like its siblings in terms of resale value, where it rises above the growing list of competitors.
The Lexus UX is offered in two primary forms: a standard gasoline engine model called the UX 200, or a gasoline-electric hybrid named the UX 250h. Both offer exceptional efficiency, with the standard model earning up to 37 mpg, and the UX hybrid attaining an impressive 41 mpg. As with other Lexus SUVs, the UX has a ride quality that favors commuting comfort over backroads blazing.
As we state in our 2019 Lexus UX review, "Neither of these models will win many races nor get you very far off-road. But that's not the point of the UX. Where Lexus' smallest SUV excels is tooling around the city, which it does so, comfortably." In addition to its plush ride quality, we also give kudos to the UX's tech-rich cabin that features standard Apple CarPlay and Amazon Alexa compatibility, and its standard suite of active driver-assistance and safety systems.
Starting at $32,000, the 2019 UX is the least-expensive way to get into a new Lexus. That's an excellent price point in this segment, and the UX's long-term story is even better thanks to its best-in-class ability to hold its value.
---

Resale Value
at 36 months:

51.2%

at 60 months:

34.2%
The Volvo XC40, Volvo's smallest SUV, bursts with versatility and verve, and can't help but stand out with individualist design. Strong resale value only strengthens the XC40's appeal.
---

Resale Value
at 36 months:

50.8%

at 60 months:

33.8%
The cub of the lineup, the Jaguar E-Pace brings the British brand's inherent sense of athleticism and elegance to a tidy package.
---
Other Category Winners
Best Luxury Subcompact SUV/Crossover