2019 Best Resale Value Awards: Electric Vehicle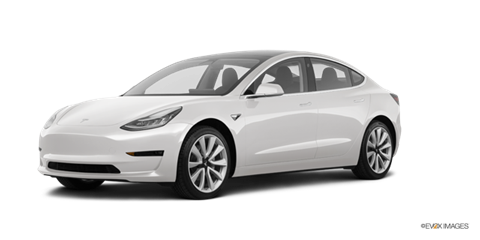 Like the Mercedes-Benz G-Class uber-wagen and the Honda Civic Type R no-prisoners performance hatch, the Tesla Model 3 has a cultural magic and desirability about it that made people willing to wait months and even years to own one. People don't like Tesla Model 3s -- they crave them -- and that's how you hold on to your resale value over time.
Is it worth the lust? As we say in our Expert Review of the Tesla Model 3: "With its large battery pack in the low and flat floor, the Model 3 tips the scales at nearly 4,000 lbs. But with most of that mass being low and between the axles, the Model 3 behaves like a proper sports sedan." We also praise the car's over-the-air software updating, massive center-mounted touch screen, and roomy, comfortable front seats.
Starting at $36,000 for the rear-drive base model arriving later this year, or $47,200 if you want yours sooner, the 4-door, 5-passenger Model 3 looks fairly spare both inside and out, but with a full-charge range of anywhere between 220 and 310 miles (depending on model), you'll get a decent taste of distance before you need to fill up again. Tesla's network of Supercharger quick-charging stations is one of the most comprehensive nationwide systems of fueling "alternative" vehicles available.
If you choose, you can spend even more -- as much as $65,200 -- for the dual-motor all-wheel-drive Performance version of the 2019 Tesla Model 3. But the one thing you can rest assured about is that when it comes time for you to release your grip on the Model 3, there will be plenty of folks ready to take it off your hands.
---

Resale Value
at 36 months:

56.7%

at 60 months:

34.3%
Holding its own in the resale arena, the Tesla Model X offers a unique SUV experience from the "Falcon Wing" doors to over-the-air software updates.
---

Resale Value
at 36 months:

54.5%

at 60 months:

32.5%
For less money than a Tesla Model X, the all-new Audi e-tron SUV is loaded with Audi-ness, off-road chops, and towing talent -- up to 4,000 pounds.