2018 Best Resale Value Awards: Electric Vehicle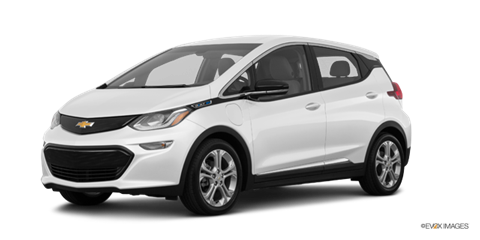 The Chevrolet Bolt EV entered the electric vehicle market boasting fantastic range - an EPA-estimated 238 miles - in a hatchback with a modern, well-designed interior. Thanks to the resultant reduction in "range anxiety" and a bevy of available convenience features, the Bolt is seen as a game changer. And for the second year in a row, the Bolt continues to impress with strong resale value.
One of the Bolt's strong suits is its ease of use. Its hatchback body style is practical, making it easy to reconfigure when you need to carry larger items. But the design is also quite stylish. The cabin has available amenities you won't find in a typical hatchback: a 10.2-inch screen where you can monitor efficiency and control navigation, smartphone features and audio; heated steering wheel; Apple CarPlay and Android Auto compatibility; Bose premium audio; and design elements that look as if they're from the not-too-distant future.
The Bolt is a pleasure to drive as well. With 266 lb-ft of torque - more than you can get in a Subaru WRX - the Bolt EV gladly scoots to freeway speed, and does it in whisper-quiet fashion. That lack of engine noise also makes it very easy to carry on a conversation, whatever speed you're driving at.
Other cars with this kind of range start on the far side of $65,000. The 2018 Chevy Bolt starts at around $37,500, and qualifies for a $7,500 tax credit. Some states offer additional incentives as well. This appealing mix of attainable pricing, everyday usability, and low ownership costs is why the Chevy Bolt earned a Best Resale Value Award for 2018.
---

Resale Value
at 36 months:

26.0%

at 60 months:

13.0%
The Nissan Leaf is a practical electric hatchback that is easy to drive and a breeze to live with. It's also the best-selling EV worldwide.
---

Resale Value
at 36 months:

26.0%

at 60 months:

12.3%
The BMW i3 gives you 114 miles of range, and you can enjoy the car's quick acceleration from the cool, funky interior.