2018 Best Resale Value Awards: Compact SUV/Crossover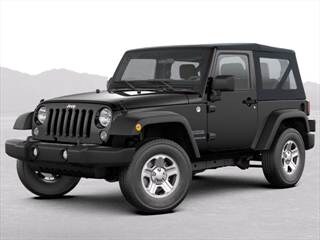 Just how well does the Jeep Wrangler hold its value? In a word, remarkably. Even in the last year of its current JK generation -- a time when most other vehicles would see their predicted resale values wane - Jeep's iconic off-roader is still in a league of its own.
Exceptional resale value isn't the only way the Jeep Wrangler stands out from other SUVs. Compared with other crossover SUVs, the Jeep trades refinement for rugged durability. And that's exactly why its owners love it. Whereas most other new SUVs are based on sedans and prioritize fuel economy and comfortable road manners over off-road ability, Wranglers are made to answer the call of the wild.
Built on a tough ladder frame and equipped with low-range gearing, the Wrangler is a true 4-wheel-drive utility vehicle. If there are any doubts about its purpose, the Jeep's old-school solid axles put them to rest. The setup may not make for the most comfortable on-road experience, but off-road it's nearly unstoppable. For those even more serious, the Wrangler Rubicon comes factory-equipped with hard-core off-road hardware like rock rails and a front sway bar disconnect.
An all-new Wrangler only comes around about once a decade, and the current Jeep Wrangler -- known as the JK -- is about to pass the baton to an all-new version, the JL. We've already sampled the 2018 Jeep Wrangler and can assure you it hasn't gone soft. And there's more good news. In addition to retaining the current generation's off-road chops, the new Jeep Wrangler is expected to follow in this one's footsteps with exceptional resale value.
---

Resale Value
at 36 months:

59.3%

at 60 months:

42.0%
All-new this year, this second-gen Subaru Crosstrek crossover boasts more technology and refinement while retaining its adventure-ready capability and stellar resale value.
---

Resale Value
at 36 months:

53.4%

at 60 months:

41.0%
Great resale value is just one of the myriad attributes that make the Honda CR-V among the most recommendable compact SUVs money can buy.
---
Other Category Winners
Best Compact SUV/Crossover