2017 Jaguar F-TYPE Expert Review
By Matt Degen
KBB Expert Rating: 9.0
Whether as a coupe or convertible, the 2017 Jaguar F-Type creates a direct connection to the pleasure center of your brain. From the instantaneous acceleration of its supercharged V6 or V8 engines to the primal howl of its exhaust and succulent if cozy 2-seat interior, the F-Type blends performance and couture few others can match. More than just a spiritual successor to the legendary E-Type, the Jaguar F-Type sports coupe and convertible feel like a second coming for the British luxury automaker. Upon debut, eyebrows raised when Jag said the F-Type had the Porsche 911 in its crosshairs, but this rear- or all-wheel-drive sports car quickly proved itself among such elite. For 2017, it pushes the envelope further with the 575-horsepower F-Type SVR.
You'll Like This Car If...
Whether you desire exotic design, thrilling driving manners or potentially scorching performance, the 2017 Jaguar F-Type checks all these boxes and more. Born as a convertible, the F-Type's open-air manners are intoxicating, while the coupe variant offers more practicality and its own captivating style.
You May Not Like This Car If...
For all the things we like about the still-fresh F-Type, a potential pitfall remains a reliability history that is unknown at best. If the F-Type's quickly escalating price gives you pause, know that all-new versions of the Porsche Boxster roadster and Cayman coupe start thousands less.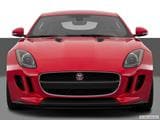 What's New for 2017
The 2017 F-Type broadens its lineup pricing on both ends. In addition to the range-topping, $126,000-plus F-Type SVR, a new base model arrives with a manual transmission and roughly $62,000 starting price. Also new is the limited-edition F-Type British Design Edition.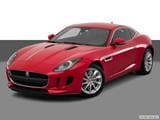 Driving Impressions
The 2017 F-Type coupe and convertible offer a variety of spice levels -- and with more than acceptable levels of heat to correspond with your amount of money and nerves....
... At the low end, a base model with its 340-horsepower supercharged V6, rear-wheel drive and crisp 6-speed manual transmission is pure sports-car amusement. We're particularly fond of the 380-horsepower F-Type Premium V6 model, and we won't knock you for choosing the quick-shifting 8-speed automatic to go with it. Add two cylinders and the F-Type changes from a lighter, agile 2-seater to a heavier, more maniacal machine. The F-Type R with its 550-horsepower, 3.9-second 0-60-mph capability and 186-mph top speed is a beast. Step up to the new SVR and you get 25 more ponies, 3.5-second 0-60 bursts and 200-mph top speed. Jag now links V8-powered F-Types exclusively with all-wheel drive to better plant all that power.
THOSE SEXY LOOKS
Let's be honest: It's not what's under the hood that will attract most people to the F-Type. It's those powerful, svelte, jaw-dropping looks. As sultry in hardtop coupe form as it is as a svelte drop-top convertible, the F-Type is among the sexiest new cars money can buy.

SUPERCHARGED V6
We've spilled plenty of digital ink gushing about the F-Type's 5.0-liter supercharged V8, but there's plenty to love about the V6. In addition to their significantly lower cost, V6 models are lighter, which makes them feel even more agile. And if you want a rear-wheel-drive F-Type, they're now your only choice.

2017 Jaguar F-TYPE Details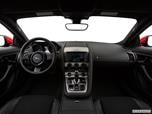 Interior
The driver-focused, 2-person cockpit of the 2017 Jaguar F-Type separates the passenger and driver with a wide console, and provides a left-hand grip for the passenger. It isn't the most spacious place, but even the coupe offers good headroom for taller drivers and adequate legroom, too. The 8-inch infotainment touch-screen's interface conveys what you want to know, but isn't all that intuitive. Even entering basic commands can be frustrating. That gap aside, we like the quality look and feel of the rest of the controls and switchgear. Also note how the center vents rise from the dash when in operation. Nifty.
Exterior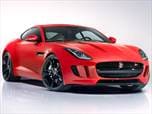 Rather than aping the 50-year-old lines of the E-Type, Jaguar's designers crafted a new, modern shape that's still unique to the brand. The coupe's sloping roof and narrow rear glass give it a wider look from behind, even though it has the same dimensions as the convertible. Both cars feature spoilers that pop up from the rear deck when speeds exceed about 50 mph, but the coupe's is narrower and taller, reducing rear visibility. It's a minor quibble. The new F-Type SVR, the first Jaguar to wear the SVR badge, features enhanced aerodynamics of the front bumper and splitter for better performance.
Standard Equipment
A base Jaguar F-Type is quite well-equipped with leather and suede cloth interior, 6-way manual/power seats, single-zone climate control, and 8-inch touch-screen infotainment system with navigation (but no standard rearview camera). Audio bliss is provided by a 770-watt, 12-speaker Meridian system with AM/FM/CD/USB player, HD Radio tuner and Bluetooth connectivity. In addition to 40 more horsepower, F-Type premium models have 14-way-power seats and a panoramic roof on the coupe. Like other new Jaguars, the F-Type comes with EliteCare, which includes five years/60,000 miles of complimentary scheduled maintenance and roadside assistance.
Optional Equipment
The 2017 Jaguar F-Type offers a long list of options to enhance performance, luxury and safety. Among the offerings -- some standard on higher-trim models -- are dual-zone climate control, front and rear parking sensors, blind-spot monitoring, rearview camera, heated seats and steering wheel, and power trunk on coupe models. Various performance brakes are offered including fade-resistant carbon-ceramics. F-Type S models have a mechanical limited-slip differential, while V8 F-Types have an electronic active differential. All-wheel-drive models feature torque vectoring for enhanced traction and performance.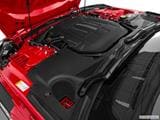 The 2017 Jaguar is offered with two engines and four power outputs. Base and F-Type S models use a supercharged V6 that makes 340 and 380 horsepower, respectively. Both have rear-wheel drive (RWD) as standard, with all-wheel drive (AWD) optional on F-Type S trims. If you want a manual transmission, it will be with this engine and rear-drive only. The F-Type R and SVR use a supercharged V8 that makes 550 and 575 horsepower, respectively. Each is AWD and linked to an 8-speed automatic transmission. In an effort to eke out more efficiency, all F-Types use an engine start/stop system that cuts power at idle. If you find it intrusive, it can be turned off.

3.0-liter supercharged V6 (F-Type)
340 horsepower @ 6,500 rpm
332 lb-ft of torque @ 3,500-5,000 rpm
EPA city/highway fuel economy: 16/24 mpg (manual), 20/28 mpg (automatic)

3.0-liter supercharged V6 (F-Type S)
380 horsepower @ 6,500 rpm
339 lb-ft of torque @ 3,500-5,000 rpm
EPA city/highway fuel economy: 15/24 mpg (manual), 19/27 mpg (RWD, automatic), 18/26 mpg (AWD, automatic)

5.0-liter supercharged V8 (F-Type R)
550 horsepower @ 6,500 rpm
502 lb-ft of torque @ 2,500-5,500 rpm
EPA city/highway fuel economy: 15/23 mpg (AWD)

5.0-liter supercharged V8 (F-Type SVR)
575 horsepower @ 6,500 rpm
516 lb-ft of torque @ 3,500-5,000 rpm
EPA city/highway fuel economy: 15/23 mpg
The Manufacturer's Suggested Retail Price (MSRP) has dropped to $62,395. That buys a darn fine F-Type coupe with a manual transmission. The 2017 Jaguar F-Type Convertible drops to $66,395. Add $1,300 if you want an automatic transmission. The F-Type S bows just over $80,000, while an F-Type R begins over $106,000. At the top, the new F-Type SVR begins at nearly $127,000. The F-Type competes with everything from the Porsche Boxster and Cayman to the Porsche 911, which ranges from roughly $90,000 to $200,000. Other rivals are the Chevy Corvette in the mid-$50,000 range to the BMW Z4 and Mercedes-Benz SLC, which also start thousands less than the Jag, but don't bring along as much power or panache. Before buying check the KBB.com Fair Purchase Price to see what others are paying for their new F-Type. The F-Type's residual value is expected to fare pretty well, though not quite matching Porsche's.
To compare current market prices, check out KBB.com's car classifieds to view the new and used Jaguar F-TYPE vehicles for sale near you.