2016 Jaguar F-TYPE Expert Review
By Joe Tralongo, Contributing Editor
KBB Expert Rating: 7.3
After two successful sales years, one might think Jaguar would coast into 2016 enjoying the ride of its brilliant F-Type 2-seat, rear-wheel-drive sports car. But no, it appears the Brits are just getting their second wind. The 2016 Jaguar F-Type expands its model range by offering more models and features, including a manual transmission and all-wheel drive. Giving the Porsche 911, Maserati GranTurismo and Mercedes-Benz SLK AMG a run for their money (and considerably less money, at that), the new F-Type has caught the eye of everyone from the well-off to everyday dreamers. And with an available 550-horsepower supercharged V8 and a 0-60 time of just 3.9 seconds, the F-Type coupe and convertible can deliver on every promise made by the car's aggressive good looks.
You'll Like This Car If...
Looking to be seen in the hottest coupe or convertible on the market? Look no further than the mesmerizing Jaguar F-Type for 2016. Be it the most basic coupe or the top-dog R convertible, the F-Type is the car to be in this year (and probably for many more to come).
You May Not Like This Car If...
It's hard to find a reason not to like the 2016 F-Type from Jaguar, but the lack of long-term reliability and repair history, a rather noisy interior and a somewhat steep price tag might suffice. A Porsche 911, MB SLK AMG or even a Chevy Corvette is a better known quantity.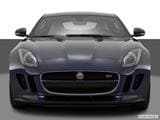 What's New for 2016
The 2016 Jaguar F-Type V6 gains a 6-speed manual transmission, while all-wheel drive (AWD) is made available on the S and standard on the R Coupe and all-new R Convertible. An electronic-assisted power-steering unit is also new this year, as are a new InControl apps suite and more standard features.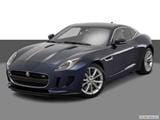 Driving Impressions
The Jaguar F-Type 2-seat coupe and roadster offer a dizzying array of configurations, all of which promise exhilarating performance and the prolonged stares of envious onlookers. The base 340-horsepower V6...
... is pretty quick, and even better now that it comes with a 6-speed manual, but it's the supercharged V6 in the S that really makes the F-Type a joy to drive. If you prefer the 8-speed automatic with manual shift control, there is one already in place on the AWD S and the 550-horsepower F-Type R. The R is the hyper child of the F-Type lineup, with a sub-4-second zero-to-60 run. To control this type of power, Jaguar arms the F-Type with all manner of electronic aids including an active rear differential and electronic-assisted power steering. Top speed is limited at 186 mph. Thankfully, stopping won't be a problem with the optional carbon-ceramic brake kit.
5.0-LITER SUPERCHARGED V8 ENGINE
When it comes to V8-powered goodness, it just doesn't get any better than with the 2016 Jaguar F-Type R coupe and roadster. Under its sultry hood resides a 550-horsepower supercharged 5.0-liter V8 that sings the sweetest song while delivering up gobs of power seemingly without end.

ACTIVE EXHAUST SYSTEM
The F-Type's Active Exhaust enhances the exhaust note from elegant British aristocrat to burbling V8 muscle car. The change occurs whenever the F-Type is switched into Dynamic mode, but can also be activated via a dash-mounted button.
2016 Jaguar F-TYPE Details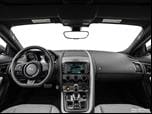 Interior
The driver-focused cockpit of the 2016 Jaguar F-Type separates the passenger and driver with a wide console, and provides a left-hand grip for the passenger. The coupe's high roof means good headroom even for tall drivers, and there's adequate legroom, too. Drivers get a large, visually sharper TFT display between the two gauges, with orange paddle shifters, a start button, and Dynamic mode selector on some models. The infotainment touch screen's simple interface conveys what you want to know, albeit without much flair. The beautifully assembled interior boasts stitched leather throughout, including the headliner in coupes.
Exterior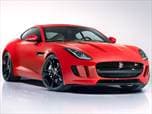 Rather than aping the 50-year-old lines of the E-Type, Jaguar's design team crafted a new, modern shape that's still unique to the brand. The coupe's sloping roof and narrow rear glass give it a wider look from behind, even though it has the same dimensions as the convertible. Both cars feature spoilers that pop up from the rear deck when speeds exceed about 50 mph, but the coupe's is narrower and taller, reducing rear visibility. It's a minor quibble in an otherwise masterful design.
Standard Equipment
The basic Jaguar F-Type is already comprehensively equipped, with leather seats, premium interior materials, a 770-watt Meridian audio system with the InControl apps suite, and a quick-acting power top on convertibles. Jaguar Smart Key and a 14-way power driver's seat are new this year, as is the panoramic glass roof on the coupes. The S models bring Configurable Dynamic Mode, a flat-bottomed racing-style steering wheel and Active Exhaust, while the R coupe features a power rear tailgate, standard AWD and an 8-speed automatic transmission. A fuel-saving stop/start system shuts off the engine at stops, restarting it quickly once the brake is released.
Optional Equipment
The 2016 Jaguar F-Type offers a variety of options underlining performance or luxury. Dynamic Mode enhances throttle, steering, suspension and transmission programming to enhance the driving experience. The Configurable Dynamics feature in the touch-screen menu also lets you customize the settings to your liking. On the F-Type coupe, a $12,000 carbon-ceramic matrix brake upgrade is overkill for the street, but worth every penny if you plan on taking your Jaguar to the track. Jaguar didn't forget it's a luxury brand, however, and there are numerous interior upgrades including a red leather package, heated steering wheel and a Suedecloth headliner.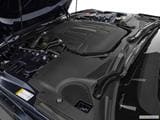 Sharing their basic aluminum-alloy structure and stop/start system, the supercharged 3.0-liter V6 and 5.0-liter V8 engines vary significantly in power output, from 340 horsepower for the base V6 to 550 for the F-Type R. Aluminum-alloy construction is used in both engines as is a twin-vortex supercharger and water-cooled intercooler. Another commonality is the use of aluminum cylinder heads that house the independent variable-cam-timing system. The V-6 uses counter-rotating front and rear balancer weights to compensate for the lack of two cylinders, helping to give the engine refinement similar to the V8. A 6-speed manual transmission is standard on all V6 models, while the AWD and V8 R models employ an 8-speed automatic transmission.

3.0-liter supercharged V6 (F-Type)
340 horsepower @ 6,500 rpm
332 lb-ft of torque @ 3,500-5,500 rpm
EPA city/highway fuel economy: NA (manual), 19/28 mpg (automatic)

3.0-liter supercharged V6 (F-Type S)
380 horsepower @ 6,500 rpm
339 lb-ft of torque @ 3,500-5,500 rpm
EPA city/highway fuel economy: NA (manual), 19/27 mpg (rear-wheel drive, automatic), 18/26 mpg (AWD, automatic)

5.0-liter supercharged V8 (F-Type R)
550 horsepower @ 6,500 rpm
502 lb-ft of torque @ 2,500-5,500 rpm
EPA city/highway fuel economy: 16/23 mpg (rear-wheel drive), 15/23 mpg (AWD)
Jaguar executives often mention the Porsche 911 when discussing the 2016 F-Type, and the Jag offers a significant value advantage over its iconic German rival. F-Type Coupes start with a Manufacturer's Suggested Retail Price (MSRP) of about $66,000 for the base model, jumping to around $78,300 for the F-Type S, and to just under $105,000 for the F-Type R. Convertibles start at about $70,000 for the base model, stretch to $81,500 for the V6 S manual, and about $107,500 for the new R. However, the Jaguar F-Type is undercut by the Chevrolet Corvette Stingray, itself a stunning performance car. To find out what others in your area are paying for the Jaguar F-Type, go to KBB.com Fair Purchase Price. In terms of resale value, Jaguar still has a tough row to hoe in terms of holding its value over time.
To compare current market prices, check out KBB.com's car classifieds to view the new and used Jaguar F-TYPE vehicles for sale near you.