2018 Jaguar F-TYPE Expert Review
By Keith Buglewicz
KBB Expert Rating: 8.9
The 2018 Jaguar F-Type coupe and convertible create a direct connection to the pleasure center of your brain. Whether it's the immediate acceleration from its variety of engines, the howl of its expertly tuned exhaust, or the sumptuously cozy 2-seat interior, the Jaguar F-Type has personality, sex appeal and brand cache few other cars can match. Since its debut, the F-Type has evolved, adding a hardtop to the convertible lineup, more powerful engines and even all-wheel drive. Now, the 2018 F-Type gets a new 4-cylinder engine, adding efficiency without sacrificing performance, all the better to take on the Porsche 911, Chevrolet Corvette, and more. On the other end of the performance spectrum is the F-Type SVR, with its 575-horsepower supercharged V8 engine.
You'll Like This Car If...
Is it the exotic design? The bark of the exhaust when you start the engine? The wind-in-your-hair convertible or the sexy lines of the coupe? Maybe the thrust of the engine at wide-open throttle. If any of that appeals to your senses, the F-Type is worth your consideration.
You May Not Like This Car If...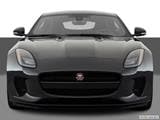 What's New for 2018
A new 4-cylinder engine promises fuel efficiency without sacrificing performance. Couple the new engine with advances to its active safety systems, and the 2018 Jaguar F-Type remains a sexy and strong alternative to the Porsche 911 and Chevrolet Corvette.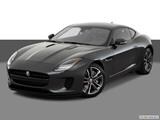 Driving Impressions
True to its name, the Jaguar F-Type starts with a growl before settling into a steady purr. The intensity of that growl changes depending on engine: from the subtle, slightly...
... frantic sound of the 4-cylinder, to the metallic rasp of the V6, to the satisfyingly deep growl of the V8. Backing up all the noise is some serious performance. Jaguar claims the new 4-cylinder gets the F-Type to 60 mph in about 5.4 seconds, quick by any standard. However, if your need for speed isn't sated by that, there's the supercharged SVR at the other end of the spectrum, with its 575-horsepower supercharged V8 getting the coupe to 60 mph in 3.5 seconds. Yet when you're not in Dynamic mode and just cruising around in the F-Type, it's downright civilized. The steering and suspension that are so precise on the track or mountain roads are equally good at absorbing lousy pavement.
THOSE SEXY LOOKS
Simultaneously classic and modern, the timeless looks of the 2018 Jaguar F-Type make it one of the sexiest cars on the road. Whether you pick the new 4-cylinder model, the all-powerful SVR, or anything in between, the jaw-dropping good looks surely played a part in your decision.

ACTIVE SPORTS EXHAUST
On the center console of the Jaguar F-Type is a small button with exhaust pipes as an icon. When you press it, a baffle opens in the exhaust system, and the F-Type sings a beautiful song. Making the car sound amazing is all it does, and we love it.

2018 Jaguar F-TYPE Details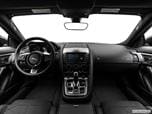 Interior
The Jaguar F-Type gets new, thinner seats this year to help increase room for tall drivers. There's a wide console between the driver and passenger, with a prominent grab handle for the passenger's left hand in case there's any doubt about this car's true purpose. Yes, as befitting a Jaguar, it's luxurious, too. The materials inside are all first-rate and assembly is beyond reproach, and we love the gimmick of the center vents rising from the dash. The lone downside is the 8-inch touch-screen infotainment system, which features a nonintuitive design that needs another round with the human-interface team.
Exterior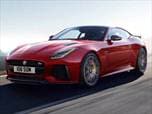 New on the Jaguar F-Type's exterior this year are LED headlights, and redesigned front and rear bumpers, giving the car a slightly more modern look without reducing the impact of its classic lines. By classic, we don't mean it apes another car; rather than imitate its past, Jaguar's designers crafted a unique shape that's still instantly recognizable. The coupe's tight rear window gives the impression of the fenders flaring even more than they do, while the convertible just looks right, top up or down. The SVR, befitting its ultra-performance nature, features enhanced aerodynamics of the front bumper and splitter for better performance.
Standard Equipment
Whether you choose coupe or convertible, the base F-Type 4-cylinder comes standard with 12-way-power leather-and-suede cloth seats with memory, single-zone climate control, an 8-inch touch-screen infotainment system with navigation and a rearview camera, and an excellent 380-watt Meridian system with AM/FM/CD/USB player, HD Radio tuner and Bluetooth connectivity. Also standard is the Active Sports Exhaust, rear parking sensors, and a torque-vectoring system that uses braking to help control the rear of the car in turns. Like other new Jaguars, the F-Type comes with EliteCare, which includes five years/60,000 miles of complimentary scheduled maintenance and roadside assistance.
Optional Equipment
There are numerous drivetrain choices for the 2018 Jaguar F-Type, including two supercharged V6 engines, two supercharged V8 engines, rear- and all-wheel drive (RWD, AWD), and a manual transmission in V6 models. Convertible buyers can choose the color of the soft top, and all F-Type buyers have a choice of sport or luxury seats. Option packages include an all-leather interior, carbon-ceramic brakes for intense track days, a Drive Package with blind-spot monitoring, lane-keep assist and active cruise control, and two different climate packages, the better one adding heated and cooled front seats, a heated windshield, heated steering wheel, and dual-zone climate control.
This gets a little complicated. The base engine is a 296-horsepower 2.0-liter turbocharged 4-cylinder that drives the rear wheels through an 8-speed automatic transmission. The supercharged 3.0-liter V6 comes in either 340-, 380- and 400-horsepower variants, the first two available with either a 6-speed manual transmission driving the rear wheels, or an 8-speed automatic driving the rear or all four wheels; the 400-horsepower version is available only with the automatic. The V8 engine also comes in two different power outputs -- 550 or 575 horsepower -- and only with an automatic and AWD. All F-Type models require premium fuel, and all come with an auto start/stop system to help save it; you can shut it off if it's intrusive (it is).

2.0-liter turbocharged inline-4 (F-Type)
296 horsepower @ 5,500 rpm
295 lb-ft of torque @ 1,500-4,500 rpm
EPA city/highway fuel economy: N/A

3.0-liter supercharged V6 (F-Type)
340 horsepower @ 6,500 rpm
332 lb-ft of torque @ 3,500-5,000 rpm
EPA city/highway fuel economy: 16/24 mpg (manual), 20/28 mpg (automatic)

3.0-liter supercharged V6 (F-Type, R-Dynamic)
380 horsepower @ 6,500 rpm
339 lb-ft of torque @ 3,500-5,000 rpm
EPA city/highway fuel economy: 15/24 mpg (RWD, manual), 19/27 mpg (RWD, automatic), 18/26 mpg (AWD, automatic)

3.0-liter supercharged V6 (400 Sport)
400 horsepower @ 6,500 rpm
339 lb-ft of torque @ 3,500-5,000 rpm
EPA city/highway fuel economy: N/A

5.0-liter supercharged V8 (F-Type R)
550 horsepower @ 6,500 rpm
502 lb-ft of torque @ 2,500-5,500 rpm
EPA city/highway fuel economy: 15/23 mpg (AWD)

5.0-liter supercharged V8 (F-Type SVR)
575 horsepower @ 6,500 rpm
516 lb-ft of torque @ 3,500-5,000 rpm
EPA city/highway fuel economy: 15/23 mpg
With a new engine comes a new base Manufacturer's Suggested Retail Price (MSRP) for the 2018 Jaguar F-Type Coupe starting off at $60,895, which includes the $995 destination charge. A convertible starts off $3,100 higher. That's with the new 4-cylinder; if you want V6 power in your coupe it'll cost nearly $69,000, and more than $100,000 if you want a V8. An F-Type SVR convertible with the 575-horsepower V8 starts at nearly $126,000. That price spectrum covers a wide range of vehicles, from the Porsche Boxster and Cayman up to the Porsche 911. Rivals include the Chevy Corvette, the BMW Z4 and Mercedes-Benz SLC; all start lower than the Jaguar, but only the Corvette outmuscles it. Be sure to check the KBB.com Fair Purchase Price to see what others are paying for their new F-Type. The F-Type's residual value is expected to fare pretty well, though not quite matching Porsche's.
To compare current market prices, check out KBB.com's car classifieds to view the new and used Jaguar F-TYPE vehicles for sale near you.