Hyundai Ioniq Plug
‑

in Hybrid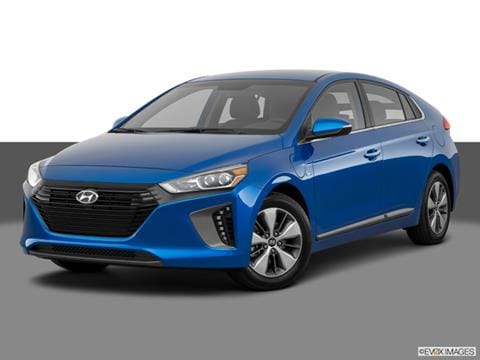 The 2019 Hyundai Ioniq comes in three variations. The Ioniq Hybrid follows the Toyota Prius, with a gasoline-engine/electric-motor setup. The Plug-in Hybrid is nearly identical, only it can be plugged in and run short distances on electric power. The Ioniq Electric runs solely on electric power, but can't match the range of the Chevy Bolt or Nissan Leaf.
New Features and Revisions
For 2019 the Ioniq SEL gains automatic emergency braking as standard, while Driver Attention Alert and High Beam Assist are added to the optional features list.
Other Model Years
2018
‑

2018 Hyundai Ioniq Plug

‑

in Hybrid
(2018 model pictured)
New Features and Revisions:
For 2018 Hyundai has added the new Ioniq Plug-in Hybrid to the lineup. This model works much like a Toyota Prius Prime or Chevy Volt. It can be driven up to 27 miles on pure electric power before a 1.6-liter gasoline engine turns on to drive the vehicle and charge the batteries. Total range is about 590 miles. Plug into a 240v source and battery charging time is just 2.5 hours. 
See how style, options and other factors can impact pricing in your area.