Dodge turns 100 years old and throws a classic celebration
by
Bob Nagy
|
June 30, 2014 1:06 PM
This is the centennial year for Dodge, with the official 100th anniversary being marked on July 1st. Established by brothers John and Horace Dodge, the company rolled its first Dodge-branded vehicle off of the assembly line in November 1914. From there, Dodge went on to become one of the staples of the American auto industry, introducing a number of innovative designs and vehicles through the ensuing years that ranged from the first all-steel body and the legendary Hemi V8 to the pivotal Dodge Caravan minivan and the stunning Viper.
As a prelude to the official 100th Anniversary festivities, Dodge invited a number of journalists to the historic Meadow Brook Hall for a day of riding and driving a selection of significant production models from the automaker's museum -- as well as providing a close look at 10 Dodge concept cars from the past 25 years. Following opening statements by Tim Kuniskis, President and CEO of the Dodge and SRT brands who promised the best is yet to come, the mad scramble was on to slip behind the wheel of as many of these noteworthy vehicles as possible. We've compiled just a few of the highlights from what was a truly unforgettable event.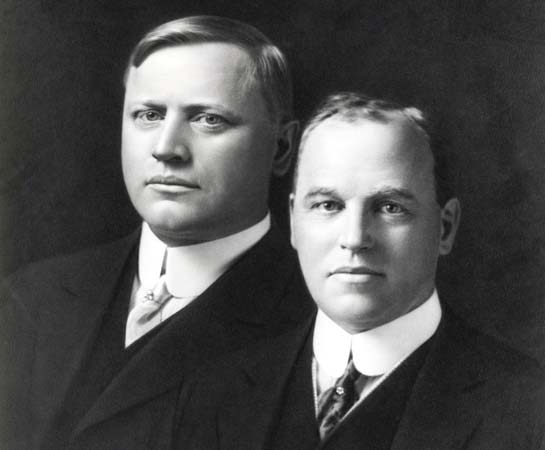 John and Horace Dodge
Driving forces behind the brand, the Dodge brothers established an eminently successful machine shop in Detroit at the turn of the century. Their first serious automotive contract came from Ransom E. Olds to supply engines for his Curved Dash Oldsmobile model. Other car makers also turned to the Dodge boys for major components and in 1903, they secured a 10 percent ownership in the fledgling Ford Motor Company in return for building the seminal Model T for nearly a decade before striking out on their own. Sadly, both John Francis Dodge and Horace Elgin Dodge would be dead by the end of 1920 after having fallen victim to the global influenza epidemic. By that time, the company had already sold over 500,000 Dodge vehicles.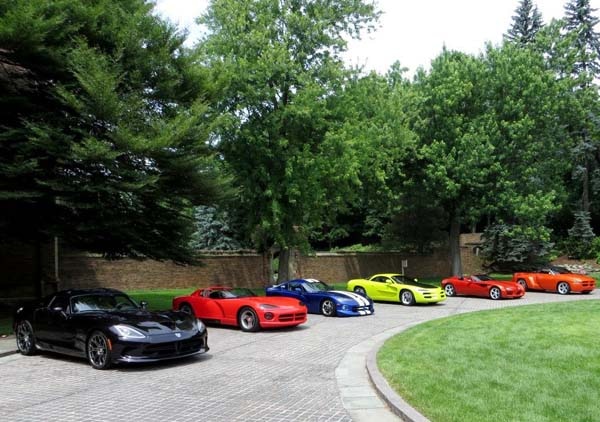 The Dodge Concept Collection
While these one-offs were static-display only, each looked as cool now as the day it made its first auto show appearance. Headed by a 2014 Viper GTS production model, the dream machine lineup included the 1989 Dodge Viper Concept, 1993 Viper GTS Concept, 1994 Dodge Venom Concept, 1997 Dodge Copperhead Concept and the 1997 Dodge Sidewinder Concept. Also on hand were the 1999 Dodge Charger R/T Concept, 2003 Dodge Magnum Concept, 2006 Dodge Challenger Concept, 2006 Dodge Charger Daytona, 2006 Dodge Hornet Concept and the 2007 Dodge Demon Concept.
1915 Dodge Brothers Touring Car
First vehicle to be turned out of the huge Dodge Main assembly plant, the 1915 Dodge Brothers Touring Car was powered by a 35-horse flathead 4-cylinder engine. It cost $785 and introduced the industry's first all-steel body as well as a 12-volt electrical system. While production only reached 249 cars in 1914, this "first-year" example was one of 45,000 that would roll off the line in 1915. Behind it is a 1920 Dodge Half-ton Screenside model, a car-based commercial variant that offered a "definite solution of the light transportation problem."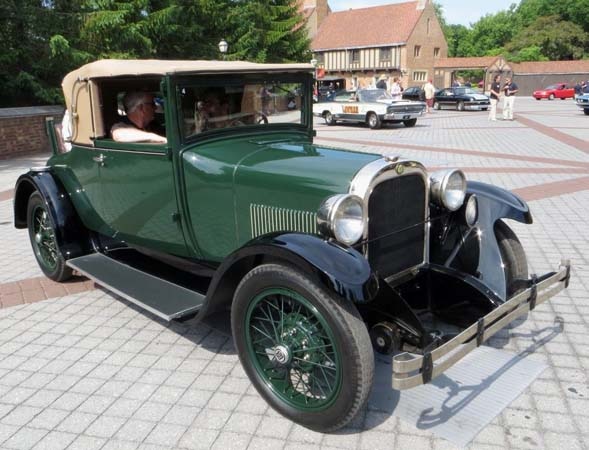 1927 Dodge Cabriolet
Built for just three months during 1927, the Cabriolet was Dodge's the first production convertible coupe. It shared the same basic mechanicals as the earlier vehicles but had a longer 116.0-inch wheelbase in addition to its unique exterior styling. While there are no records of how many Cabriolet models were made, all were finished in Armory Green with green wire wheels and black fenders.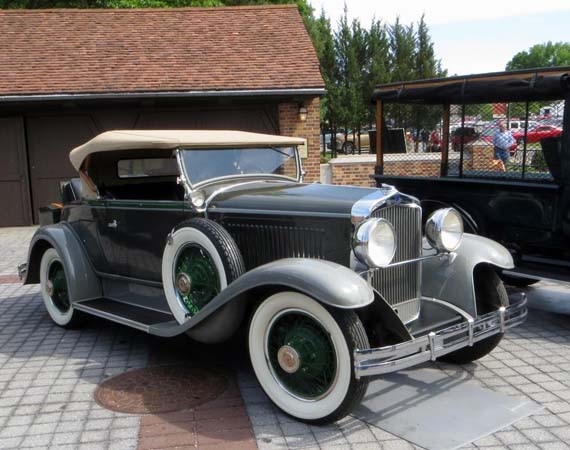 1929 Dodge Senior Six Roadster
Dodge was acquired in 1928 by a financial group headed by Walter P. Chrysler, and shortly thereafter, the company introduced its first luxury-oriented model, the ultra-stylish Senior Six Roadster. In addition to a larger 78-horse inline-6 engine with a groundbreaking downdraft carburetor and 4-wheel drum brakes, the car also introduced automatic grille shutters which opened when the engine needed additional cooling.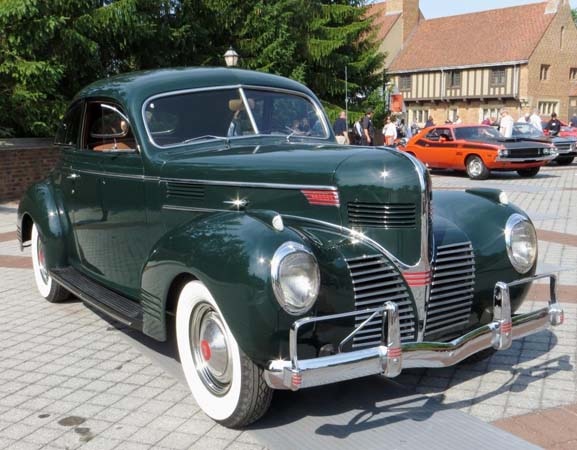 1939 Dodge Deluxe Town Coupe
Star of the division's 25th anniversary year, the limited-production 1939 Deluxe Town Coupe boasted custom bodywork designed by Chrysler stylist Dean Clark and rendered in steel by the Hayes Company. Fitted with an 87-horsepower flathead-6, the car featured a unique roofline and windshield/window treatment, integrated headlamps and a fold-down rear seat. It also was the first Dodge to introduce a column-mounted shift lever for the 3-speed manual transmission.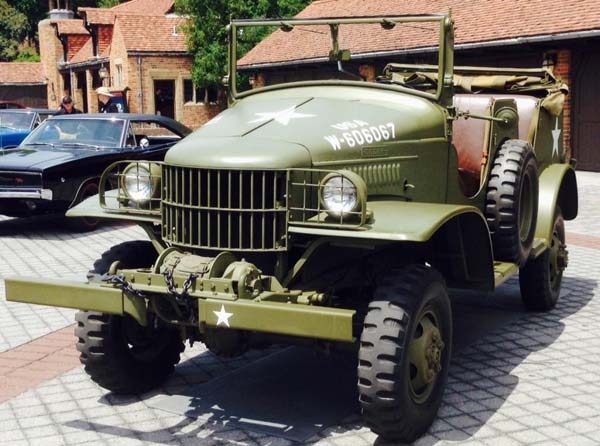 1941 Dodge Command Car
Like other U.S. automaker's, Dodge did its part to help the war effort, turning out over half a million military vehicles during the course of WWII. Based on Dodge's half-ton 4x4 civilian commercial truck, this 1941 Command Car had an 80-horse flathead-6 and a 4-speed manual transmission with a single-speed transfer case. This example was configured to carry a driver, crew, radio equipment and maps.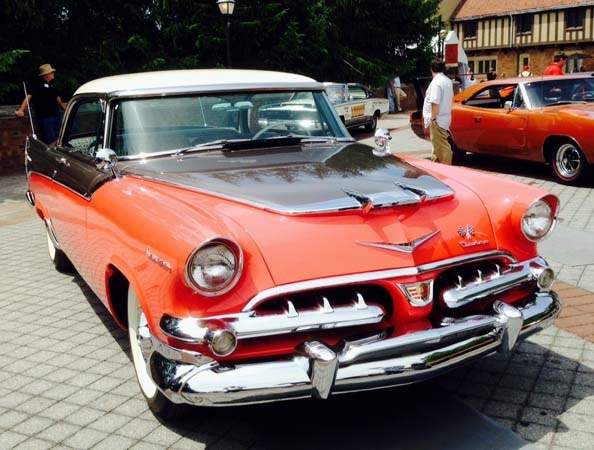 1956 Dodge Custom Royal Lancer Coupe
Designed by the legendary Virgil Exner, the range-topping 1956 Custom Royal Lancer introduced more pronounced tailfins and an available tri-tone paint scheme. It also marked the first appearance of the 2-speed PowerFlite automatic transmission controlled by five pushbuttons located on the left side of the dash. This vehicle is fitted with a 260-horse version of the 315 cubic-inch Red Ram Hemi V8 and also featured the optional Highway Hi-Fi under-dash-mounted record player - which spun ultra-rare 16-2/3 rpm platters and cost $75.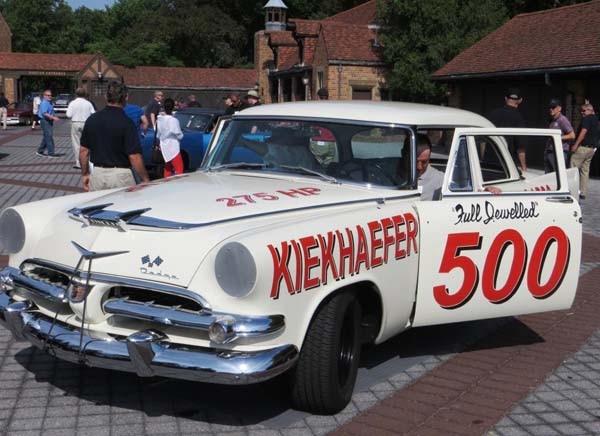 1956 Dodge NASCAR Replica
A recreation of a car originally campaigned by the Kiekhaefer Racing team, this NASCAR replica was based on the limited-production Dodge D-500 model introduced in 1955. While D-500 "Performance Package" nomenclature was later applied to lesser Lancers, the original D-500 featured a more powerful Red Ram Hemi V8 with dual 4-barrel carburetors, a heavy-duty frame and suspension plus upgraded disc/drum brakes. Pony count in race-spec D-500's was upped from 276 to 300, which got sent to the rear wheels via a modified pushbutton PowerFlite automatic.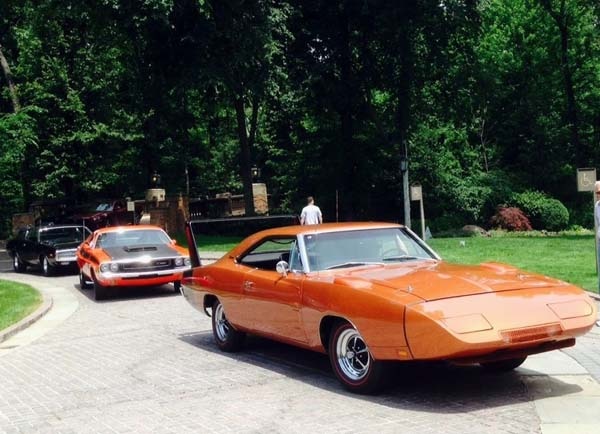 1969 Dodge Charger Daytona
Street-going sibling of the Plymouth Super Bird, the Charger Daytona was Dodge's response to the manufacturer shootout that was raging in NASCAR's primo racing division. To homologate the competition version, Dodge sold several hundred street-legal variations of these winged wonders to the general public. With unique bodywork honed in a wind tunnel and a 375-horsepower/440-cubic-inch V8 mated to a 3-speed TorqueFlite automatic, the $4,100 Dodge Charger Daytona was the first American production car "capable of approaching 200 mph."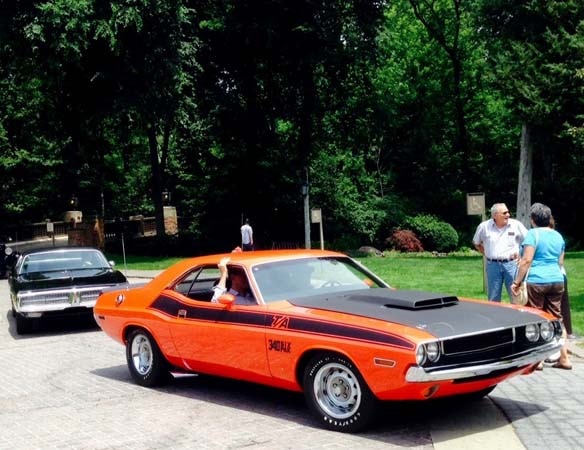 1970 Dodge Challenger T/A
The manufacturer battle brewing in the Sports Car Club of America's new Trans-American Road-Racing Series (Trans-Am) for small sedans spawned the 1970 Dodge Challenger T/A as a rival to the Chevrolet Camaro and Ford Mustang - as well as to its inter-divisional Plymouth Barracuda cousin. The car's 275-horsepower/340-cubic inch V8 featured a unique block and heads, and could be paired with either a standard 4-speed close-ratio manual transmission or optional 3-speed TorqueFlite autoshifter. The "340 Six-Pak" nomenclature came from its trio of Holley 2-barrel carburetors sitting atop an Edelbrock high-performance intake manifold.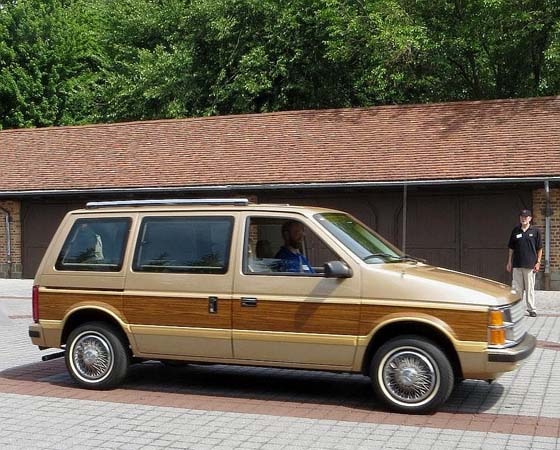 1984 Dodge Caravan
Creating an entirely new segment in the modern vehicle market, the family friendly 1984 Dodge Caravan was designed to offer the most usable space in the smallest possible footprint. Using a weight-saving unit body design, Dodge's seminal minivan could seat up to seven and was fitted with a standard 96-horsepower/2.2-liter 4-cylinder engine that drove its front wheels via a 3-speed TorqueFlite transaxle. A long-wheelbase Grand Caravan offshoot arrived in 1987, offering even more stow space behind the third-row bench.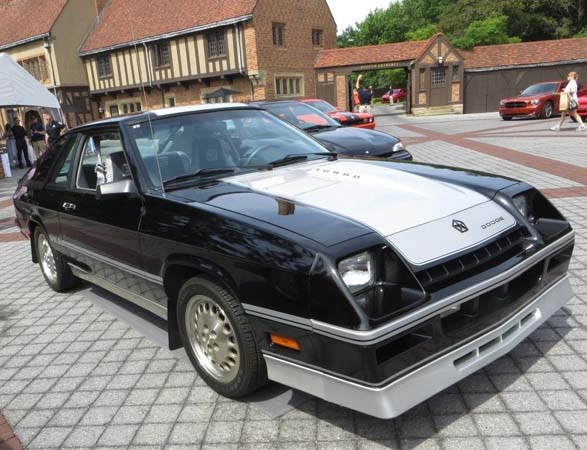 1985 Dodge Shelby Charger
Although the 80's-era front-drive Charger bore little resemblance to its legendary forebear, Dodge turned to another iconic figure, Carroll Shelby to add some enthusiast spark to the model mix. The resulting Shelby variant upgraded the Charger's base 2.2-liter/4-cylinder engine with a Garrett AiResearch turbocharger and multipoint fuel injection that upped its output by 33 percent -- to 146 horses. That motive force was shipped to the front wheels through a close-ratio 4-speed manual transmission. Further bolstered by a performance-tweaked suspension, enhanced stopping power and stickier tires, Dodge sold 7,709 Shelby Chargers in 1987.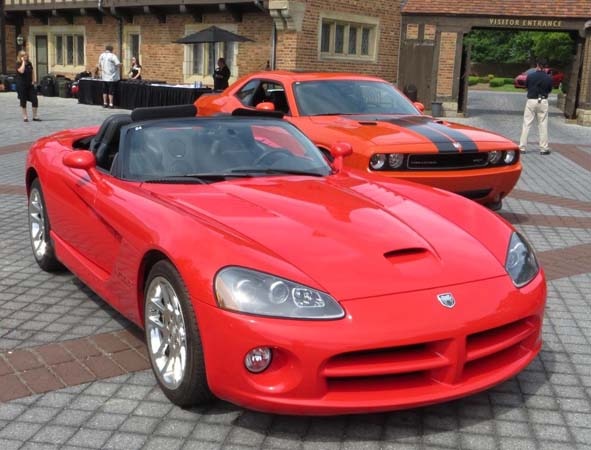 2003 Dodge Viper SRT-10
The Viper got a major redesign for 2003 with the Gen III model introducing an SRT-10 in place of the previous DTS and RT/10 variants. In addition to its recast bodywork this awesome road rager also got a stiffer frame, a 2.6-inch wheelbase stretch and a significant reduction in curb weight. Displacement of its V-10 engine rose from 8.0 to 8.3 liters with a concurrent bump in output from 450 to 500 horsepower. Backed by a Tremec 6-speed manual gearbox, the lighter and more potent Viper SRT-10 could sprint from 0-60 mph in 3.9 seconds and touch 190 mph.
Popular at KBB.com