This Week in Car Buying: Leasing up; Transaction prices reach plateau; Volvo XC90 big winner; Sales up, VW down; Ford unfriends Friends promotion
by
Matt DeLorenzo
|
December 4, 2015 4:44 AM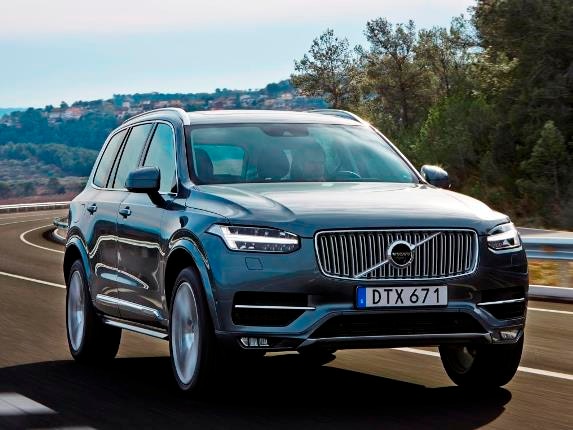 High rates of leasing, record sales, fat incentives and transaction prices that are beginning to plateau may be signs that the new car market is reaching its peak. And while there are plenty of holiday event sales going on, some shoppers may want to wait until after the first of the year to see how current market conditions play out. There's a good possibility that the present incentives may get a bit sweeter if sales suddenly slow. Amid all this comes word that Citibank is predicting a 65-percent likelihood that the U.S. economy will slip into recession next year amid recurring talk of the Fed boosting interest rates.
Leasing at a record pace
Data compiled by Experian Automotive indicates that consumers are leasing cars at record rates, accounting for 27 percent of all new vehicle transactions, a gain of 3.3 percent over year ago levels. The average monthly lease payment is now $398, up a dollar over last year.
"As the price for a new or used vehicle continues to rise, leasing has become a more viable financing option for consumers looking to maintain an affordable monthly payment," said Melinda Zabritski, Experian's senior director of automotive finance. "While consumers can save an average of $84 per month by leasing rather than taking out a loan on a new vehicle, they should make sure leasing fits their lifestyle. Oftentimes there are mileage caps and other considerations that consumer should familiarize themselves with before entering into a leasing agreement."
Not only are consumers turning to leases as a way of coping with rising transaction prices, but they are also borrowing more than even on car loans and extending repayment terms to record levels, according to Experian. During the third quarter of 2015, the average amount financed on a new vehicle stood at $28,936, up $1,137 from a year earlier. The average amount borrowed by on a used vehicle was $18,866, a more modest increase of $266 from the previous year. Regarding the length of loans, Experian said that the number of contracts between 5 and 6 years have reached an all-time high, accounting for 44 percent of all new car and 41 percent of used vehicle loans. And loans between 73 and 84 months have increased by 17 percent in the third quarter.
Also: See the New and Redesigned Cars of 2016
Marginally high prices
Average transaction prices for November moved up less than 1 percent, a sign that holiday incentives are beginning to take a bite out of profit margins. According to Kelley Blue Book data, the estimated average transaction price for light vehicles was $33,801, a $277 increase since November 2014 for a gain of just 0.7 percent. The month-over-month increase from October was just $144 or 0.4 percent.
"While average transaction prices are up again in November, the rate of growth was modest at less than 1 percent, which stands in contrast to the 2 to 3 percent increases seen so far this year," said Karl Brauer, senior analyst for Kelley Blue Book. "Trucks and SUVs remain the primary drivers behind this strength in transaction prices. In fact, the new 2016 Volvo XC90 is a standout, even in the SUV segment with an average transaction price up nearly 40 percent from this time last year."
While Toyota and Honda saw the biggest gains in average transaction prices with respective increases of 1.6 and 1.2 percent, Ford, Nissan and VW Group saw declines of 0.4, 0.2 and 0.1 percent. High-end luxury cars suffered most with transaction prices dropping 5 percent, while midsize pickup trucks, aided by the hot selling 2016 Chevrolet Colorado and GMC Canyon, jumped 6.3 percent.
November sales up, VW down
Fueled by demand for trucks and crossovers as well as higher incentives, new vehicle sales climbed 1.2 percent in November. Hyundai-Kia was the big winner, seeing a 7.1 percent increase due largely to a 12-percent gain by its Hyundai unit. Meanwhile, the VW diesel scandal continued to take its toll on the beleaguered German group, which saw its sales drop 15.3 percent across all brands and 25 percent at Volkswagen alone.
Weakness in luxury car average transaction prices may also be a reflection of a 12-percent drop in sales at Mercedes-Benz in November, its first decline in over 6 years. Other luxury brands seeing declines include Acura (17.6 percent), Jaguar (15 percent), Maserati (10 percent) and Porsche (5.3 percent).
Among the holiday deals cited by Automotive News in helping to move the iron were up to $4,000 back on a 2015 Ford Taurus and Buick Regal; $5,000 on the Nissan Leaf; $3,775 on the 2015 Nissan Altima; $3,000 on the 2015 Dodge Dart; 20-percent off MSRP for the Buick LaCrosse and $2,250 on the 2015 Toyota Prius.
Also: Kelley Blue Book Best Buy Awards of 2016
Ford unfriends Friends program
Ford's program for offering friends and family below-MSRP pricing on new vehicles, which was slated to run until January 4, has been axed in favor of a more traditional rebate and low or no-interest financing holiday sales event. The new program is a $1,000 rebate with 0-percent financing for 60 months on most of its vehicles. According to Mark LaNeve, Ford's vice president for U.S. marketing, sales and service, the Friends & Family program helped move higher-priced vehicles increasing average transaction prices by $3,800, but didn't produce growth in volume, which climbed just 0.3 percent or 555 vehicles. Ford is hoping the new program drives more sales of its lower-priced core vehicles.
"We found that it didn't work well on Escape, Focus, Fusion, Fiesta, and that's part of the reason we're moving off it," LaNeve said in a media conference call. "We just didn't have the low-interest-rate financing that hose customers are looking for." In fact, sales of these vehicles declined in November, with Escape, which competes in the hot compact crossover SUV segment, seeing a 19-percent drop in volume, although the company also pinned the decrease on a 50 percent reduction in fleet deliveries. Focus was also down 25 percent, while the Fusion declined 4 percent.
According to Automotive News, the Friends & Family promotion offered most vehicles at prices within $200 of dealer invoice, which turned out to be close to what consumers were already paying.
The rundown
Looking to inject some new life into its range topping luxury sedan, Kia has freshened the flagship and offers a new, lower priced V6 2016 Kia K900.
Fresh off its debut at the Los Angeles Auto Show, the handsome 2016 Mazda CX-9 will hit the road soon. Check out our first drive of this crossover SUV.
Speaking of luxury crossover SUVs, Lexus has set the benchmark with its RX series. Get all the inside information on the 2016 Lexus RX in our exclusive buyer's guide.