The Winners, Part One: 2011 Hyundai Elantra Limited
by
KBB.com Editors
|
August 17, 2011 12:05 PM
Strengths: Striking exterior, lovely interior, gorgeous price
Weaknesses: Competent performance, but no better
Synopsis: The 2011 Hyundai Elantra is the fashionista of this test
When the 2011 Hyundai Elantra Limited sedan showed up for our test, it arrived as a gut-shot to the entire compact sedan class. It started with the all-new Elantra shape, a small-sedan variation of the look that we already love on the Genesis and Sonata. It continued with a leather-lined, feature-filled interior that would have been considered excessive in a car from the next class up. And it ended, as all automotive transactions do, at the cash register. At $22,830, the Hyundai Elantra Limited was the least expensive compact sedan in our quartet. It also got the highest fuel economy and Hyundai's new-car warranty is legendary.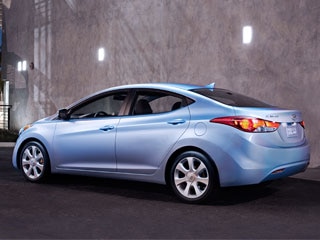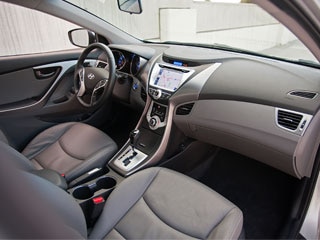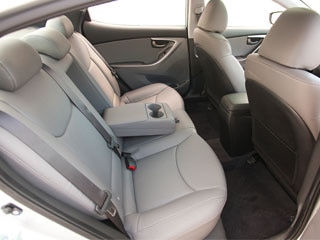 The Chevy Cruze LTZ had a nervous breakdown. We spotted sweat on the Ford Focus SEL's lip spoiler. And even the 2012 Honda Civic was having trouble catching its breath.
In spite of what network television and TMZ are trying to convince us, looks alone are not the most assured road to success. Winning a comparison test in a field as tight and terrific as this one requires talent too.
The Hyundai Elantra Limited is loaded with talent. Its 1.8-liter four-cylinder engine and six-speed automatic transmission don't brag the most power in the compact-sedan class, but the 148 horsepower it does have stretches out nicely across the powerband - it won't leave you hanging when you want to get up to speed or get around a rolling paperweight. And getting 29 mpg in the city along with 40 mpg on the highway is a segment-winning argument all its own.
The Elantra Limited isn't the quietest car in our test, or the softest riding. Nor does it have the roomiest rear seat (though none of the cars in our test should brag). What it does have, however, is a keen eye for what matters when you're living with a car: a moonroof, an audio system that rock and roll can be proud of, a generous, usable trunk. And the leather upholstery is nice. Really nice.
If this were a beauty contest or a price war, the 2011 Hyundai Elantra would win it hands down. Instead, this story has a second act, and a second winner: the 2012 Honda Civic EX-L Navi.
Comparison Test Results: 2011 Hyundai Elantra Limited
Overall Editors' Rating: 7.5 out of 10
Interior: 1st
Exterior: 1st
Performance: 3rd
Comfort & Convenience: 1st
Value: 2nd
Read Consumer Reviews for the 2011 Hyundai Elantra Limited
NEXT: The Winners, Part Two
PREVIOUS: Third Place
Introduction
Fourth Place: 2011 Chevrolet Cruze LTZ
Third Place: 2012 Ford Focus SEL
The Winners, Part One: 2011 Hyundai Elantra Limited
The Winners, Part Two: 2012 Honda Civic EX-L Navi
See a side-by-side specs comparison of all four cars in our test.