Rogue Trip: 400 Miles to San Francisco in Nissan's Compact SUV
by
Jason Allan
|
July 25, 2014 9:10 AM


There are three ways to cover the 400-plus miles from Southern California's City of Angels to Northern California's City by the Bay. Big, fast Interstate 5 is the quickest route, and you can keep going all the way to Canada if the mood strikes. Highway 1 is the long way, but its coastal curves make it one of the best drives in the country. US 101 splits the difference: far better scenery than I-5 but a couple hours quicker than Highway 1.
Our family of four recently traveled two of the three routes on a Fourth of July road trip that put the newly redesigned Nissan Rogue to the long-haul test.
It mostly passed.
On (and on and on) the Highway
The one and only goal of day one was to make it to San Francisco in time to see the Fourth of July fireworks over the bay. So we chose the Interstate 5 option and, after a short detour to In-N-Out Burger near home, made it to the city in about six hours with just one quick stop for gas and ice cream.
For the first four or five hours the Rogue was about flawless. The ride was comfortable and the cabin was quiet. The 170-horsepower engine delivered surprisingly adequate merging and passing power in conjunction with a smartly programmed continuously variable automatic transmission. And even after climbing 4,000 vertical feet, cooling the cabin through several hours of triple-digit temperatures, and keeping up with I-5 speeds, the Rogue's trip computer reported average fuel economy of 29 mpg.
But at some point during the last couple hours of our journey the driver's seat ran out of comfort. Lumbar support seemed to fade and the lack of seat-bottom rake adjustment surely didn't help. It would turn out to be the only meaningful shortcoming uncovered in our 900 miles with the Rogue. Seat comfort is subjective and six-hour drives aren't typical, but road-tripping Rogue shoppers should take note.
Around Town
Our city driving amounted to a daytrip that took us across the Golden Gate Bridge and up into the Marin Headlands, through picturesque Sausalito and down the section of Lombard Street dubbed "the crookedest street in the world."
Rogue highlights during a day of mostly city driving and parking included Nissan's Around View Monitor. Still one of our editors' favorite features in any vehicle, the system uses cameras around the vehicle to fabricate a bird's-eye view of the car, making almost any parking situation easier. Combined with a good turning radius and tidy dimensions — the Rogue looks substantial but it's still nine inches shorter than the Nissan Altima midsize sedan — Nissan's compact SUV is an easy car in which to navigate city life.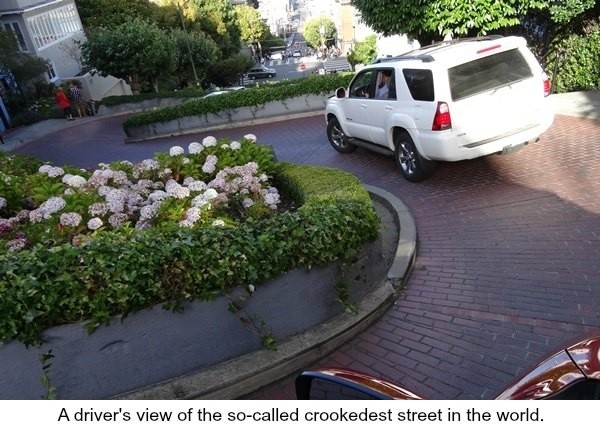 The Rogue also offers hill-hold, a feature that prevents roll-back between releasing the brake and applying the gas while on a hill. Nowhere in the country is this feature more useful than in San Francisco. It's even more valuable in cars with manual transmissions, but it proved a nice touch in the two-pedal Rogue.
Another great feature was the big panoramic sunroof, which afforded our backseat passengers great skyward views of the Golden Gate Bridge and the tall buildings that comprise the San Francisco skyline.
And whether or not Mark Twain or anyone else ever said, "The coldest winter I ever spent was a summer in San Francisco," my wife was thankful for the Rogue's heated seats every time we returned to the car on that windy July day.
As for quibbles, the turn indicator stalk required a heavy finger to engage, and the power driver's seat made some unpleasant noises during adjustment. The seat likely just needs some grease, but you don't want your six-month-old vehicle to make noises and need grease.
It's Nice Inside

To my memory, the new Rogue is the only compact SUV in which my wife has taken a seat and said something to the effect of, "this is nice." It really does feel half a class above most of its competitors from an interior design perspective, almost like a smaller version of a midsize SUV.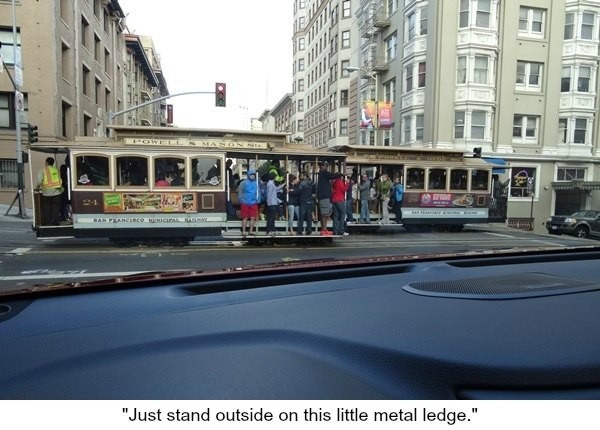 The Rogue also proved functional throughout our trip. An open bin beneath the climate controls features a power port, USB port and auxiliary input, providing easy-access storage and charging of two phones. A third charging port in the center console provided power for the kids in back, and all four cupholders successfully held cups.
As for the infotainment system, we experienced the usual connectivity hiccups while listening to music and using the phone. Most of today's systems do what they're supposed to do most of the time, but all are prone to getting tripped up. The navigation system was easy to use and worked well.
The Rogue also offers one of the largest cargo areas in the compact SUV class, providing enough room for all our luggage without impeding rearward visibility.
900 Miles Later
After two full days exploring San Francisco and beyond, we opted for Highway 101 to take us home. After a quick visit to Stanford University, an unhurried stop for lunch and then dinner at Pea Soup Andersen's (a part of Highway 101 history and another first for the kids), we arrived back home in about 10 hours.
If it weren't for the seat shortcomings, the Rogue would have passed this four-day road test with a solid A grade. One of this year's 10 Best SUVs Under $25,000, the Rogue provided plenty of room, rode quietly and comfortably on the highway, offered all the modern conveniences we required, and returned good fuel economy.
Let's call it an A with an asterisk.
More Compact SUVs

Ready for more Rogue? Check out our Nissan Rogue Editors' Page to build and price your own, find out what owners have to say and more.
Want to check out your other 12 compact SUV options? Our Compact SUV Buyer's Guide and 2014 Compact SUV Comparison Test are great places to start.
More San Francisco
For our kids' first trip to San Francisco we loaded up the itinerary with tourist staples. Here are some of the highlights:
Golden Gate Bridge The first order of business, of course, is getting onto the Golden Gate Bridge. You can walk it or ride a bike across, but for obvious reasons we drove.
Sausalito What's on the other side of the Golden Gate Bridge? Quaint and picturesque Sausalito.
Marin Headlands Also on the other side of the Golden Gate Bridge are the Marin Headlands, offering one of the world's best views of any city. When it's not foggy.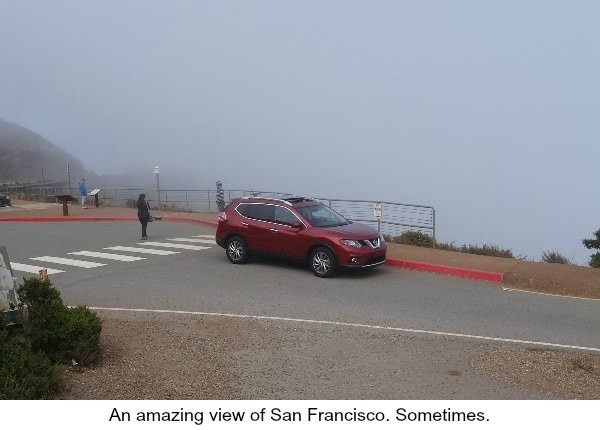 The Full House House We thought our nine-year-old daughter might like seeing the house used as the exterior for the television show Full House. She was mostly indifferent.
Ghirardelli Chocolate You can buy Ghirardelli chocolate many places, but only in its hometown of San Francisco do you get to stand in a long lines with other tourists for it. The salted caramel hot chocolate was a highlight.
Coit Tower A San Francisco landmark that also offers great views of the city and the bay...if you can find parking.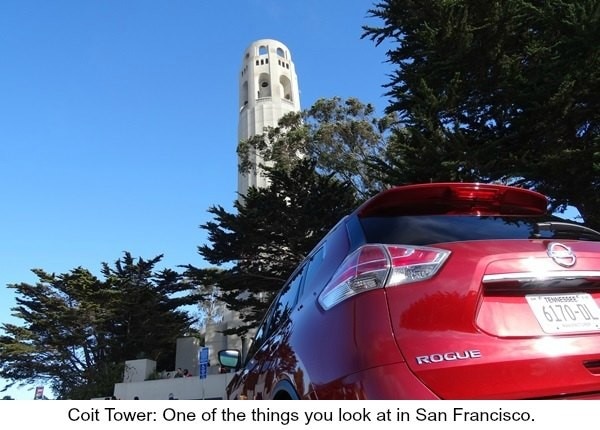 Lombard Street With eight hairpin turns in a span of 600 feet on a 27-degree grade, the curviest section of Lombard Street earned it the nickname of "the crookedest street in the world."
Exploratorium The best science center-type place we've ever been. More than a hundred hands-on exhibits kept the entire family engaged until closing time six hours later. Highly recommended.
Tommaso's Italian Restaurant The neighborhood of North Beach serves as San Francisco's Little Italy, and we've had good luck with many Italian restaurants in the area. On this occasion we chose Tommaso's and the good luck continued.
Golden Gate Fortune Cookie Factory Tucked away in a narrow alley in Chinatown, this fortune cookie factory is more the size of a workshop. Two machines cook the cookies, each manned by an operator who adds the fortune and folds the cookies. It's a cool side trip and you can leave with a bag of fortune cookies that taste as good as fortune cookies used to taste.
Boudin Bakery Another San Francisco original, Boudin sourdough bread is California enough that there's a bakery/tour in Disney California Adventure.
Photo Gallery: 2014 Nissan Rogue SL AWD