Lexus retains top spot in J.D. Power 2012 U.S. Initial Quality Study
by
KBB.com Editors
|
June 22, 2012 5:34 AM

For the second consecutive year, Lexus has maintained its number one ranking among all auto brands surveyed by J.D. Power and Associates in its 2012 U.S. Initial Quality Study. The survey, which measures the number of problems reported per 100 new vehicles during the first 90 days of ownership, found that the industry in general made significant strides during the past year with average quality of all-new or redesigned models improving by 12 percent over 2011. However, there was one area that continued to be problematic across the board. Issues related to audio, entertainment and navigation systems increased by eight percent from the preceding year and for the first time in the 26-year history of the IQS, this technical triumvirate became the number one source of grief for owners. That reality proved to be particularly tough on Ford, despite its recent comprehensive revamp of the MyFord Touch system, the automaker still got dinged for the perceived weaknesses of the original version and saw its overall ranking dip from 5th to 27th.
On the basic brand level, Lexus led the 2012 IQS stat sheet with a stellar 73 problems per 100 cars, the same as its 2011 figure. It was closely followed by Porsche (75 PP100) and Jaguar (75 PP100) -- the latter making the biggest upside jump in the charts as the result of reducing its problem count by 39. Rounding out the Top 10 were Cadillac (80 PP100), Honda (83 PP100), Acura (84 PP100), Infiniti (84 PP100), Mercedes-Benz (96 PP100), BMW (97 PP100) and Mazda (97 PP100) with GMC, Nissan and Ram all tied for 10th with 99 PP100 marks. At the opposite end of the 2012 IQS rankings spectrum were Dodge/Mitsubishi/Volkswagen (124 PP100), Mini (139 PP100), and Fiat/Smart (151 PP100).
Overall the initial quality index number for the entire industry dropped from 107 last year to just 102 in 2012 while the number of individual manufacturers above that line increased from 10 to 15. Of the 34 brands ranked in this latest IQS, 26 showed improvement over their 2011 performances while only five declined. Equally notable, of the 185 specific models ranked, 65 percent did better than their 2011 predecessors. That list was led most impressively by the new 2012 Porsche 911 that had just 44 problems per 100 cars -- the lowest figure ever recorded since Power redesigned its IQS methodology in 2006.
This year also saw a record 14 different manufacturers roll of with at least one 2012 model-level segment winner. In addition to the Porsche 911, that list includes the Buick Enclave, Cadillac Escalade, Chevrolet Malibu, Ford Expedition, Ford Mustang, Ford Taurus, GMC Sierra LD, Honda CR-V, Infiniti EX-Series, Infiniti M-Series, Kia Soul, Lexus ES 350, Lexus LS-Series, Lexus RX-Series, Mazda MX-5, Nissan Frontier, Nissan Quest, Toyota Corolla, Toyota Yaris and Volvo C70. Click here to see the complete brand ranking list of the J.D. Power and Associates in its 2012 U.S. Initial Quality Study.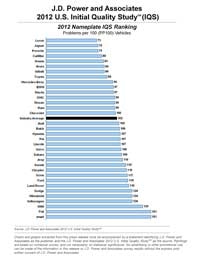 Photo Credit: J.D. Power and Associates 2012 U.S. Vehicle Dependability Study