The 2015 Toyota Prius V gets a makeover this year, with a refreshed front bumper and grille, LED headlights, a new 8-way power driver's seat, and updated Entune audio systems. A new Prius V Four trim fills the gap between the Prius V Three and Prius V Five, naturally.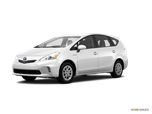 Changes to the 2014 Prius V are minimal. All trim levels are equipped with standard Daytime Running Lights, and the Panoramic View Moonroof will be offered as a stand-alone option on the Prius V Three.
About Toyota Prius v
If you're looking for lots of cargo space in an ultra-fuel-efficient package, then the 2015 Toyota Prius V may be just what you need. It's a Prius, so fuel hybrid economy comes first: How does up to 44 mpg in the city, and 42 mpg city/highway combined sound? But that "V" stands for "versatility," and this biggest-of-all-Prii offers 34.2 cubic feet of cargo space behind the rear seats, as good as many compact SUVs. The rear seats themselves are on sliders, giving rear passengers even more legroom if they need it, or expanding the cargo area to more than 40 cubic feet. The Prius V's primary rivals are the diesel-powered Volkswagen Jetta SportWagen TDI (Golf SportWagen for 2015) and the Ford C-Max hybrid, but neither beats this Toyota's city or combined fuel economy.
View
Toyota Prius v vehicles for sale
near you.