2015 Best Resale Value Awards: Compact Car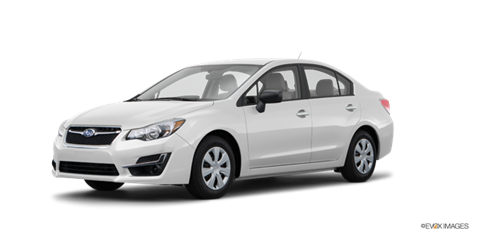 In the face of stiff competition, the Subaru Impreza maintains its grip for another year as the compact car with the best resale value. What's the secret to this Subaru's sauce? Like any great recipe, it's the combination of several superb ingredients.
First, in a trait that's synonymous with Subaru itself, the 2015 Impreza comes standard with all-wheel drive (AWD). This alone makes the Impreza the de facto choice for compact car buyers who routinely contend with snowy and slick conditions. Like the grip this Subie keeps on its value, its traction-enhancing system inspires confidence on any road.
Then there's the appealing entry cost. Starting under $20,000 as either a 4-door sedan or a versatile 5-door hatchback, the 2015 Subaru Impreza offers big value among small cars. Yet here again it's the Impreza's AWD system that makes it a true standout, maintaining its reign as the most affordable all-wheel-drive car in America.
Rounding out the Impreza's list of high-value attributes is its efficiency. Rated up to 37 mpg, the Subaru's fuel economy is nearly on par with its front-drive rivals. That the Impreza achieves such a high rating while powering all four wheels is truly impressive.
Taken a la carte, the 2015 Subaru Impreza's traits are admirable. Together, they cook up a compact car that's easy to drive, efficient, secure in any weather, and safe thanks to features like a standard rearview camera and the available EyeSight driver-assist technology that constantly monitors surrounding traffic. Moreover, the Subaru Impreza does it all at a cost that's a value up front and an asset down the road.
Get to know this car
Resale Value
at 36 months: 61.3%
at 60 months: 47.1%
Ratings & Reviews
Consumer Rating
8.2
Out of 10
Expert Rating
6.6
Out of 10
---

Reliability, efficiency and no-fuss manners have made the Toyota Corolla the best-selling nameplate of all time -- and a perennial resale value star.
Resale Value
at 36 months: 55.4%
at 60 months: 44.3%
---

Known for its boxy design that is edgy yet pragmatic, the Scion xB also stands out for its reliability and high resale value.
Resale Value
at 36 months: 57.5%
at 60 months: 43.5%
---
Other Category Winners
---
Free Dealer Price Quote
Get the best price and be more prepared with your free, no-obligation price quote