Narrow year range (drag arrows to filter):
See photos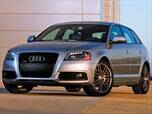 For 2010, Audi drops the 3.2-liter V6 engine option, replacing it with an all-new 2.0-liter TDI clean diesel engine. Available only with front drive and automatic transmission, the new A3 TDI is expected to exceed 40 mile per gallon highway. Other changes include the addition of last year's S line exterior equipment on all models, while Premium Plus models now feature standard HID head lamps. New options include wood interior trim, leather and alcantara seats and a revised Titanium Sport Package.
About Audi A3
Somewhere between small wagon and sporty hatchback is the 2013 Audi A3. While its $28,000 starting price doesn't exactly feel entry-level (it can go as high as $40,000 with all the option boxes checked), the A3 isn't supposed to compete with the VW Golf or Subaru Impreza. It's a genuine Audi through and through, filled with luxury features and high-end engineering every bit as real as that found on more expensive Audi models. From its quattro all-wheel drive to its available diesel engine, the A3 is like no compact on the market. Hatchbacks may still struggle to make inroads in America, especially with older buyers, but if there is one car that can change hearts and minds on the subject, it is the 2013 Audi A3.