2016 Toyota Prius c Expert Review
By Joe Tralongo, Contributing Editor
KBB Expert Rating: 8.5
Toyota's 2016 Prius C is the company's smallest and least expensive hybrid car. In return for sacrificing some room and power, the Prius C rewards its owner with a price tag starting under $21,000 and EPA estimates of 53 mpg in the city and 46 mpg highway. The Prius C can cruise for short distances solely on electric power and offers room for five. With VW's Golf TDI temporarily off the market, the only cars that come close to the Prius C's highway fuel economy are the sporty little Ford Fiesta SFE, Mitsubishi Mirage and Toyota Corolla LE. Of course, none of these cars offer a hybrid powertrain, and none come close to the Prius C's impressive city fuel economy.
You'll Like This Car If...
Toyota's 2016 Prius C hybrid subcompact allows those with modest budgets to own a clean, green, reliable machine that can be nicely equipped for around $25,000. Despite its smaller size, the efficient design still leaves lots of interior room for passengers and cargo.
You May Not Like This Car If...
If good fuel economy is more important than a hybrid nametag, fuel-efficient cars such as the Ford Focus SFE, Honda Fit and Chevy Spark are more fun to drive and cost even less than the Prius C. The C is not very powerful and sometimes struggles at higher speeds.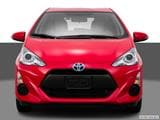 What's New for 2016
For 2016, Toyota's Prius C hybrid hatchback can be equipped with Toyota Safety Sense, which adds forward-collision warning, lane-departure assist and automatic high beams. Also new is the Persona Series Special Edition featuring black paint with Electric Lime or Cherry Pearl accents. Production will be limited to 1,500 units.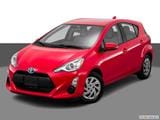 Driving Impressions
The subcompact 2016 Toyota Prius C hybrid is actually more fun to drive than one would think. Using the Yaris platform as its base gives the Prius C a strong...
... body, precise steering and better weight distribution than the standard Prius wagon. Where Toyota's 2016 Prius C shines best is in urban driving situations (the "C" stands for city, by the way). With is compact size and ability to run solely on electric power for short distances, the Prius C is able to post a remarkable 53- mpg city-fuel-economy rating. With only 99 horsepower under the hood, however, you'll need to calculate about 11.5 seconds to reach 60 mph, so plan onramp runs accordingly. This somewhat pokey performance makes us suggest the Prius C primarily be used as city scooter. Those needing to make regular highway runs might be happier in the gasoline-only Ford Fiesta SFE.
TOUCH-SCREEN MULTIMEDIA SYSTEM
The 2016 Toyota Prius C hybrid offers an upgraded version of Toyota's best Entune touch-screen audio system. A robust app suite further expands the system's already impressive capabilities.

50 MPG
Toyota's 2016 Prius C holds the honor of being the most fuel-efficient non-plug-in car one can buy. The 50-mpg combined rating is easily attainable and can even go higher if one learns how to "hypermile.
2016 Toyota Prius c Details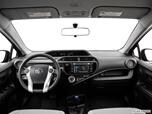 Interior
Far from bare bones, the new Toyota Prius C subcompact offers the standard Prius' center-mounted gauges and multifunction steering wheel that carry over directly from the larger Prius liftback. The Prius C has comfortable and supportive seats up front, and a back seat that's good for two adults or three kids. Those rear seats fold to nearly double the 17.1-cubic-foot cargo area.
Exterior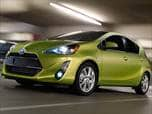 Even though it's based off the Yaris subcompact, the Toyota Prius C hybrid for 2016 offers styling that puts it squarely in the Prius family, even if it is as the runt of the hybrid litter. The sweeping headlights – now standard LEDs – and distinctive taillights all are part of the Prius design language. Unique touches include a "boomerang"' shape within the rear doors. Prius C base models come with steel wheels and plastic wheel covers, while the top-line Four comes with 8-spoke aluminum-alloy wheels and fog lights.
Standard Equipment
Like other Prius models, the 2016 Toyota Prius C hybrid comes in trim levels designated by spelled-out numbers. The Prius C One comes with standard LED headlights, power mirrors, Entune audio, automatic climate control, cloth seats, and Bluetooth phone controls. Prius C Two models add cruise control and a center-console storage compartment, while Prius Three models get push-button start. Prius C Four models get heated faux-leather seats and a rearview camera. Audio systems all include a 6.1-inch touch-screen display and USB input, but Three and Four models get navigation and a few other goodies.
Optional Equipment
Because of the 4-tier model lineup, individual options are sparse for the 2016 Prius C hybrid, and are confined to the Three and Four models. A power moonroof is available for both, while the Prius C Three model can be fitted with 15-inch, 8-spoke aluminum-alloy wheels, and the Four model can be upgraded with 16-inch alloy wheels. The Safety Sense package is available only on the Three and Four trims.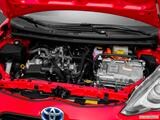 Lift the hood, and the 2016 Toyota Prius C will look familiar to any Prius driver. Using a smaller version of the Toyota Hybrid Synergy Drive found in the larger Prius, the Prius C teams a 73-horsepower, 1.5-liter 4-cylinder gasoline engine with a 60-horsepower electric motor energized by a compact nickel-metal hydride battery located beneath the rear seat. It combines for a peak of 99 horsepower, sending it through a continuously variable automatic transmission (CVT) to the front wheels. Normal, Eco and EV drive modes let drivers amp up the thriftiness, from Normal's already good settings to Eco's subtle adjustments of throttle response and climate control to maximize efficiency. EV takes gasoline completely out of the equation for short periods of time at speeds below 25 mph.

1.5-liter inline-4
73 horsepower @ 4,800 rpm
82 lb-ft of torque @ 4,000 rpm
45-kilowatt electric motor
60 horsepower, 125 lb-ft of torque
Total System output: 99 horsepower
EPA city/highway fuel economy: 53/46 mpg
When you include the $825 destination charge, the base 2016 Toyota Prius One hybrid subcompact has a modest Manufacturer's Suggested Retail Price (MSRP) of about $20,400. That climbs to around $25,350 for the Prius C Four, still not terribly expensive. Those prices come in at about $5,000 less than that of the traditional Prius liftback. There are less expensive gasoline-only cars on the market, such as the Hyundai Accent, Ford Fiesta and Honda Fit, but none hold a candle to the Prius C's fuel economy. If gasoline ever rises above $4/gallon, that advantage turns into big savings over the years, beyond any psychological lift you get from using less gas. Before buying, be sure to check KBB.com's Fair Purchase Price to see what others are paying in your area, and know that when you buy, the Prius C should hold its value as well as the rest of the Prius family.
To compare current market prices, check out KBB.com's car classifieds to view the new and used Toyota Prius c vehicles for sale near you.