2017 Tesla Model X Expert Review
By Scott Oldham -- Contributing Editor
The family-friendly 2017 Tesla Model X is an electric 3-row SUV with awesome performance, up to 295 miles of range and autonomous capability. Yes, it can almost drive itself. Designed and built in California, it offers families emissions-free driving and 0-60-mph acceleration as quick as 2.9 seconds. Four trim levels are available, each is all-wheel drive and all come with the Model X's signature power "Falcon Wing" rear doors that open up instead of out. The base Model X 75D has up to 237 miles of driving range. The 100D and P100D are the quickest and most powerful. And they offer the most range, 295 miles and 289 miles, respectively.
You'll Like This Car If...
Tesla's 2017 Model X is a unique beast. It's the only fully electric, 3-row SUV on the market. It's also the only midsize SUV that offers true supercar acceleration. And it's the only SUV on the market with gullwing-style doors and autonomous capability.
You May Not Like This Car If...
If waiting around to charge your SUV isn't your thing, the 2017 Tesla Model X probably isn't for you. Recharging still takes much longer than filling a gas tank. If space is a high priority, look elsewhere. The Model X's third row and cargo space are cramped compared to some competitors.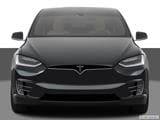 What's New for 2017
An all-new model just last year, the Tesla Model X is unchanged for 2017.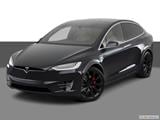 Driving Impressions
In normal, daily driving it's essentially impossible to distinguish among the Model X's three models. They're all extremely comfortable, extremely powerful and well appointed. The steering is light and the...
... Model X is agile for such a big, heavy beast. The ride quality is good, but not spectacular, and visibility is marred by too-thick pillars on either side of its enormous windshield. It's an easy vehicle to drive. And it's really fun to put your foot down and bask in the silent thrust only an electric car can deliver. "Fast" doesn't begin to describe the performance. You have to experience it. Standard on the P100D is Tesla's famous "Ludicrous" mode. Push the button and acceleration goes from neck-snapping to 0-60 mph in just 2.9 seconds. Still, the one to get is the 75D. It's about $50,000 cheaper, offers astounding acceleration and a very useful 237 miles of range.
17-INCH INFOTAINMENT SCREEN
If you like high-tech, you'll love the massive 17-inch infotainment screen in the 2017 Tesla Model X. The screen acts as the command center for the SUV, using tablet-like controls to swipe, pinch and drag functions for everything from the climate-control system to the audio and navigation.

AUTOPILOT
With Tesla's Autopilot system the Model X will not just stop and go without direct input from the driver, but also steer. It uses a complex system of cameras and sensors as well as GPS to monitor the car's surroundings and alert the driver if he or she needs to take control.

2017 Tesla Model X Details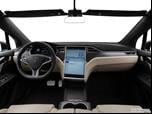 Interior
Inside, the Model X is essentially identical to the Tesla Model S sedan. That means comfort is high, as is material quality, but fit can be inconsistent. It also means the controls for the climate, audio and other functions are electronic and found on a massive 17-inch touch screen that makes up the majority of the dashboard. It's the largest screen in the business, and it's fast to react and simple to use. Also unique are the Tesla's power-operated Falcon Wing doors that open up instead of out. They'll wow your neighbors but can be frustrating in tight spaces.
Exterior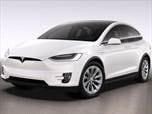 Much of the Tesla's appeal is that it looks like nothing else on the road. Well, except for another Tesla. When viewed from the front, the new 2017 Tesla Model X is almost indistinguishable from its sexy sedan brother, the Model S, which is still one of the best-looking cars around. And the family resemblance continues with the SUV's steep windshield, flush chrome door handles and fastback roofline. However, while the Model S pleases the eyes with a low silhouette and wide stance, when viewed from some angles the Model X looks awkwardly tall and a bit slab-sided.
Standard Equipment
There's no such thing as a stripper Tesla. The Model X comes very well equipped, even in base 75D configuration. Standard equipment includes all-wheel drive, navigation with real-time traffic, LED headlights, power-folding, heated outside mirrors, keyless entry, power Falcon Wing rear doors and a power rear liftgate. Standard is a 2-row configuration that seats five. There's also an 8-year/infinite-mile warranty on the battery and drive unit as well as a 4-year/50,000-mile limited warranty on the rest of the vehicle. The 100D and P100D models get an upgrade to a standard air suspension, and the P100D comes with Ludicrous mode for ultimate acceleration.
Optional Equipment
A third row is optional as are 2nd-row captain's chairs, so the new Model X can be configured as a 5-, 6- or 7-passenger SUV. Available are a Subzero Weather Package with seat heaters throughout the cabin and a heated steering wheel, an optional 17-speaker audio system, a towing package and a Premium Upgrades Package, which allows the front doors to open automatically as you approach the vehicle, a HEPA air-filtration system with a Bio-weapons Defense Mode and leather interior trim. You can also order Full Self-Driving Capability, which enables the car to drive itself and park itself.
Every 2017 Tesla Model X is powered by two AC electric motors and a lithium-ion battery pack, with either 75-kWh (75D) or 100-kWh (100D and P100D). All three models use the same single-speed transmission and all three models are all-wheel drive. The 100D offers the most driving range, an incredible 295 miles. The 75D can travel 237 miles on a charge. Tesla says charging from a standard 240v 48-amp wall connector will take about eight hours. That quickens to five hours using a 72-amp wall connector and only an hour using one of Tesla's nationwide Superchargers.

AC electric motors with 75-kWh lithium-ion battery pack (75D)
N/A horsepower
N/A lb-ft of torque
Range with full charge: 237 miles

AC electric motors with 100-kWh lithium-ion battery pack (100D)
N/A horsepower
N/A lb-ft of torque
Range with full charge: 295 miles

AC electric motors with 100-kWh lithium-ion battery pack (P100D)
N/A horsepower
N/A lb-ft of torque
Range with full charge: 289 miles
Note: Due to changes in EPA testing to more effectively reflect real-world conditions, some 2017 models show slightly lower fuel-economy scores than their 2016 versions.

The 2017 Tesla Model X is one of the most expensive SUVs on the market. The Manufacturer's Suggested Retail Price (MSRP) for the base 75D is just under $87,000. Step up to the 100D and the price jumps to right around $100,000. And the P100D before options costs a mouth-watering $140,000. Add all the available options to a P100D and your new Tesla Model X will cost about $150,000. Alternatives for fans of electrified SUVs include the Volvo XC90 Plug-In Hybrid, which starts just under $70,000; the Porsche Cayenne Hybrid that costs around $78,000 and the popular Lexus RX Hybrid at about $53,000. Before buying, be sure to check the KBB.com Fair Purchase Price to see what other buyers in your area are paying. As is often the case with pure-electric vehicles, the Model X's resale value drops off more steeply over time than most others.
To compare current market prices, check out KBB.com's car classifieds to view the new and used Tesla Model X vehicles for sale near you.