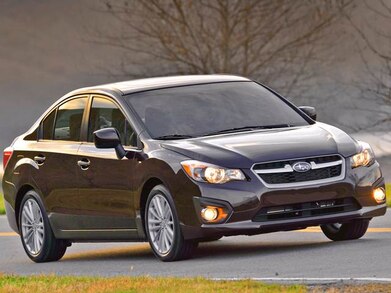 Combined Fuel Economy
28 MPG
Pros
If you live where snow, rain and ice are commonplace occurrences, the logical choice for compact-car shoppers is the 2014 Subaru Impreza. It offers excellent year-round traction, good fuel economy, and in WRX form, impressive performance for less than $30,000.
Cons
Putting its AWD advantage aside, there are better compact sedans than the Impreza. The Mazda3, Ford Focus and Hyundai Elantra all get better fuel economy, are more fun to drive, have more features and have vastly better audio and navigation systems.
What's New For 2014
Limited trims receive a standard rearview camera, while models equipped with navigation gain Aha infotainment smartphone integration.
Read less
Used 2014 Subaru Impreza Pricing
See how style, options and other factors can impact pricing in your area.
Used 2014 Subaru Impreza Expert Review
With a starting price well below $20,000, the 2014 Subaru Impreza offers the same features and fuel economy as many of its compact competitors, but with the added advantage of standard Symmetrical All-Wheel Drive (AWD). While the bread-and-butter cars make up the majority of Impreza sales, the performance-oriented WRX and WRX STI account for a small but loyal audience who crave speed and agility over fuel economy and a low sticker price. Regardless of which model, the Impreza offers a lot of value for the money. However, if you don't have a need for all-wheel drive, you can find similar front-drive compacts with better fuel economy, such as the Mazda Mazda3, Kia Forte and Chevrolet Cruze diesel.
Driving the Used 2014 Subaru Impreza
Subaru's whole identity revolves around its patented Symmetrical All-Wheel Drive system, which is standard on every car it makes, save for the BRZ. Unlike most AWD setups, the Impreza's is permanently engaged, sending power to whichever wheel or wheels need it most and providing excellent traction on dry and wet pavement. The CVT transmission may not be to everyone's liking, but it does manage to milk the little 2.0-liter engine for maximum power and fuel efficiency. Those who desire more power and less boredom can move to the turbocharged WRX, which still gets fairly good fuel economy but is much more fun to drive. The ultimate WRX is the STI, with more power, a better manual gearbox and additional settings to adjust the center differential for optimum power distribution at the wheels. The STI is not without its detractors: Key complaints are the harsh ride, loud interior and somewhat flat sport seats.
Favorite Features
FUEL ECONOMY
High fuel economy and all-wheel drive rarely go hand in hand, but the 2014 Subaru Impreza offers both. Models with CVT automatic transmissions are rated at up to 36 mpg on the highway.

TURBOCHARGED ENGINE
The high-performance 4-cylinder engines in the Impreza WRX and STI models create much more power than the engine in other Impreza models. The result is blistering acceleration and passing power.
Used 2014 Subaru Impreza Interior
"Simple" and "easy-to-use" would be the best way of describing the Impreza's interior. "Plain" may be another. Everything here is functional, and most operations are easy to accomplish, except for the buttons for heating the front seats on models so equipped – they are awkwardly located below the driver's-side armrest. Impreza models can be made cozier with leather-trimmed upholstery. Passenger room is good for four adults, and cargo space is especially generous in 5-door hatchback models, which can swallow more than 52 cubic feet of stuff with the rear seats folded.
Used 2014 Subaru Impreza Exterior
The Impreza's exterior styling could be called "polite," with not many attributes to ruffle feathers. Among the most prominent features are the "hawk-eye" headlights and prominent wheel arches. The 5-door hatchback versions are graced with a gently sloping roof and available cargo racks. WRX and STI models retain the previous generation's body styles and further stand out with aggressive features, including a hood-mounted air intake, deep side sills, trunk-mounted wings on sedans and four exhaust pipes.
Used 2014 Subaru Impreza Standard Features
Three major trim levels are available on the 2014 Subaru Impreza: 2.0i, 2.0i Premium and 2.0i Limited. Base models are equipped with a 5-speed manual transmission, air conditioning, power windows and doors, tilt and telescoping steering wheel, keyless entry and 4-speaker AM/FM/CD player with auxiliary and USB inputs and Bluetooth audio streaming. Higher-trim models include the automatic transmission, leather seating, larger wheels, heated front seats, automatic climate control and a 6-speaker audio system with HD Radio. Two wagon-only versions, the 2.0i Sport Premium and Sport Limited, have 17-inch wheels and fog lights. WRX and STI models get stiffer suspensions, and the STI has Brembo brakes.
Used 2014 Subaru Impreza Options
Options for the Impreza include a CVT automatic transmission on models not already so equipped, power moonroof, voice-activated navigation system with 6.1-inch touch screen, cold-weather package with de-icer and heated seats. Other cold-environment accessories include a battery warmer and engine-block heater. WRX and STI performance models can be upgraded with satellite radio, short-throw shifter and turbo-boost gauge.
Used 2014 Subaru Impreza Engine
All 2014 Subaru Impreza models except the WRX and STI use a 2.0-liter 4-cylinder engine connected to a 5-speed manual or CVT automatic transmission. At 148 horsepower, the engine is adequate to get the car up to speed, but not in a hurry. WRX and STI models use a larger, 2.5-liter 4-cylinder that has been turbocharged to make 265 or 305 horsepower, respectively – these are fast cars. The WRX has a 5-speed manual transmission and the STI a 6-speed manual. The Subaru engines are of a type known as "boxer," in which the cylinders are arranged horizontally and opposed to each other, with the pistons moving somewhat as a boxer punching. These engines' low center of gravity enhances handling, and they're known for ruggedness, durability and performance.

2.0-liter flat-4
148 horsepower @ 6,200 rpm
145 lb-ft of torque @ 4,200 rpm
EPA city/highway fuel economy: 25/34 mpg (sedan, manual), 25/33 ( wagon, manual), 27/36 mpg (automatic)

2.5-liter turbocharged flat-4
265 horsepower @ 6,000 rpm
244 lb-ft of torque @ 4,000 rpm
EPA city/highway fuel economy: 19/25 mpg

2.5-liter turbocharged flat-4
305 horsepower @ 6,000 rpm
290 lb-ft of torque @ 4,000 rpm
EPA city/highway fuel economy: 17/23 mpg
How Much Does the Used 2014 Subaru Impreza Cost?
A base 2014 Subaru Impreza sedan has a Manufacturer's Suggested Retail Price (MSRP) just under $19,000 plus an additional $300 fee for Partial Zero Emissions packages on cars sold in California and some other states. Five-door hatchback models are $500 extra. A well-optioned Impreza can reach about $25,000. WRX performance models start just under $27,000, and the fire-breathing WRX STI is around $35,000 and can reach about $40,000 loaded. On the low end, the Impreza's price is in the realm of the Mazda3, Hyundai Elantra, Chevy Cruze and Ford Focus. Prices for WRX and STI models straddle that of the VW Golf R, and the WRX is in line with the Mitsubishi Lancer Evolution. Check KBB.com's Fair Purchase Price to see what others in your area are playing for the Subaru Impreza. In the long term, the Impreza's resale value is predicted to hold up very well, above most competitors.
Read less
Used 2014 Subaru Impreza Consumer Reviews
---
T
07/03/2019
2012 Subaru Impreza
"Be prepared for some anoying repairs..."
Cheap all wheel drive alternative.
Poor engineering with regards to drivetrain.
I bought this car new in June of 2012 and since then have replaced six wheel bearings ( all four corners at least once) and front suspension bushings twice! these cars are not designed for dirt or rough road surfaces, period! Sure, all wheel drive is handy in Northern climates like Vermont, but think twice before assuming this would be a great all weather car. Beware also of these cars with the 2.0 liter engines, they consume large quantities of oil between changes. Be prepared to add engine oil several times within five thousand miles of drivi
ng.
Read less
---
CallMeWhatever
06/07/2019
2013 Subaru Impreza
"6 years, 150k, still going well"
It's handled everything thrown at it in 6+ years.
Power/acceleration lacks, but always did.
I've had this car 6 years and put just over 150k miles on it. I've only done routine maintenance (and recalls), plus replacing a door that was damaged by an idiot plow driver. Little things are starting to rattle here and there inside, but after 150k, I'd expect that in any car. It never had a lot of power. Acceleration is about my only complaint. Gas mileage is darn good for how well this car drives in the snow. Most of the miles have been put on for travel hockey. Both my kids play, and we drive through just about anything: Rain, snow, sleet
, etc. It's never even slid in snow/ice. It's had bikes, kayaks, and all kinds of other stuff on the roof rack (plywood, etc). I'm here to figure out if it's worth putting a new clutch into it soon to pass onto my kid.
Read less
---
SNOW WHITE
03/21/2019
2013 Subaru Impreza
AWD, Great Handling, Aggressive Appearance
The cost of maintainence/the price of premium fuel
The car is great under any road condition as long as you equip it with the proper tires. The level of fun experienced while driving the car and shifting through the gears is hard to match. I love the Subaru community and the infamous boxer rumble is something I have always been fond of.
---
IT guy slash Aut...
12/28/2018
2013 Subaru Impreza
"Great Performance Car that can do it all"
Fun to drive, fast, reliable, tunable, practical
poor gas mileage, dated interior and tech
When I went car shopping in 2013 and bought my WRX, I put a lot of time into researching what I needed out of a car. Now, unlike most folks, I don't drive to work. So gas mileage and driving in traffic aren't a huge concern for me. What I wanted was a car that performed close to a sports car, could be reliable in all weather, and practical enough to take kids to a game or haul something back from the hardware store in the back. The WRX 5 door checked all of the boxes for me. The drawbacks are a limited technology and dated interior, poor
gas mileage and stick shift isn't a great deal of fun in city traffic. The factory nav system is OK, they charge you for map updates which is ridiculous. The positives. You will blow the doors off of almost any car under 40k, with some limited modifications and can make that 50k. It's great in the bad weather and snow (once you swap out winter wheels/tires or get all seasons). Handling isn't going to beat sports coupes but it rides and handles well for a all wheel drive sedan. I put stabilizers front and rear and it really helped with understeer. I should mention, I also have a Cobb stage 2. It's made it fun to drive again after driving stock for 5. It's been very reliable, never been stranded and the few problems I had were minor and fell under warranty work. Great car, get one, you won't regret it.
Read less
---
Bozo
07/17/2018
2014 Subaru Impreza
As reliable as it can be - absolutely no problems
Not very exciting, but neither am I.
I have owned this car almost 5 years and have had no, zero, nada problems. Nothing has needed adjustment, fix, or replacement. Who could ask for more? Its not exactly quick, but way faster than a Jaguar Mk1/Mk2 or early Porsche 911. I have a 5 speed, and if I plan ahead a bit, I have no problems with highway entry/passing. The low center of gravity gives it some grip and the brakes are very good. Interior and conrols are sensible. Overall, it reminds me a bit of of my uncles 1950s Case tractor. It replaced a 2007 Mazda3 2.3L, which was a ho
ot to drive, but a little fragile as time went on. If I had to pick, it would be the Impreza.
Read less
---
2014 Subaru Impreza Specs & Features
Based on lowest-priced style.
Technology
Bluetooth Wireless Technology

Cruise Control

Hands Free Phone

Navigation System

Remote Keyless Entry

Real-Time Traffic Information

Remote Engine Start

Touch Screen Monitor

USB Port

Voice Recognition System
Entertainment
AM/FM Radio

iPod Connector

MP3 Player

Premium Radio

Satellite Radio

Auxiliary Input Jack

Bluetooth Streaming Audio

CD Player

HD Radio

Subwoofer
Seating
Folding Rear Seat

Cloth Seats

Heated Front Seats
Comfort & Convenience
Front Air Conditioning

Power Locks

Auto-Dimming Interior Mirror

Integrated Garage Door Opener
Fuel Economy
EPA City - 27 mpg

EPA Class - Compact Cars

EPA Hwy - 36 mpg

EPA Combined - 30 mpg
Performance
Horsepower - 148 hp

Horsepower RPM - 6200 rpm

Stroke - 3.54 inches

Torque - 145 foot pounds

Torque RPM - 4200 rpm
Interior
Cup Holder

Leather-Wrapped Steering Wheel

Power Windows

Compass

Power Outlet

Steering Wheel Controls

Tilt Steering Wheel

Tilt/Telescoping Steering Wheel
Exterior
Alloy Wheels

Automatic Headlights

Heated Mirrors

Number of Doors - 4 doors

Power Mirrors

Tires / Wheel Size - P205/50VR17

Tires / Wheel Size - P205/55VR16

Upgraded Wheels

Wheel Type - Aluminum Alloy

Fog Lights

Front Spoiler

Moon Roof/Sun Roof

Rear Spoiler
Warranty
Basic Miles - 36000 miles

Basic Years - 3 years

Corrosion/Rust Through Miles - Unlimited miles

Corrosion/Rust Through Years - 5 years

Powertrain Miles - 60000 miles

Powertrain Years - 5 years

Roadside Assistance Miles - 36000 miles

Roadside Assistance Years - 3 years
Mechanical
Brakes: Front - Disc

Brakes: Rear - Disc

Braking System - Anti-Lock

Drivetrain - AWD

Engine Immobilizer

Engine Type - Gas

Power Steering

Transmission Type - Automatic

Cylinders - 4 cylinders

Displacement - 2.0 liter

Bore - 3.31 inches

Compression Ratio - 10.5

Fuel Induction - Sequential Fuel Injection

Total no. valves - 16 valves

Valve Train - Dual Overhead Cam

Engine Configuration - Inline

Emissions Rating - PZEV

Recommended Fuel - Regular

Transmission Sub-Type - CVT

Manual Mode - Manual Mode

4-Wheel Disc Brakes

Anti-Lock Brakes

Hill Start Assist

Paddle Shifters
Dimensions, Weights & Capacities
Curb Weight - 3010 pounds

Fuel Capacity - 14.5 gallons

Head Room: Front - 39.8 inches

Head Room: Rear - 37.1 inches

Height - 57.7 inches

Leg Room: Front - 43.5 inches

Leg Room: Rear - 35.4 inches

Max Seating Capacity - 5

Overall Length - 180.3 inches

Shoulder Room: Front - 55.6 inches

Shoulder Room: Rear - 54.2 inches

Standard Seating Capacity - 5 passenger

Trunk or Cargo Capacity - 12.0 cubic feet

Turning Diameter - 34.8 feet

Wheel Base - 104.1 inches

Width without mirrors - 68.5 inches
See less
2014 Subaru Impreza Safety
Provided by the National Highway Traffic Safety Administration
2014 Subaru Impreza Safety Technology
Child Door Locks

Child Seat Anchors

Driver Airbag

Passenger Airbag

Stability Control

Traction Control

Front Head Curtain Airbag

Front Side Airbag

Rear Head Curtain Airbag

Rear View Camera