2018 Best Resale Value Awards: Subcompact SUV/Crossover
Best Subcompact SUV/Crossover: 2018 Honda HR-V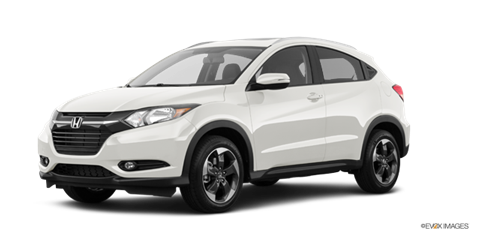 The 2018 Honda HR-V is Honda's smallest SUV, but it's a giant in terms of interior space and value retention. Using the playbook of the Honda Fit hatchback, the HR-V has a keen way of creating surprising space for both people and stuff. The flipping and folding rear "Magic Seat" from the Fit is also used here, and the passenger and cargo flexibility it provides is no illusion.
With a starting price just over $20,500, the HR-V is an ideal choice for students and those on a budget. Its tidy size and easy maneuverability make it an ideal companion in the city. Further bolstering its Jack-of-all-trades appeal, the HR-V is available with all-wheel drive and even a manual transmission.
The HR-V may be Honda's entry-level SUV, but it boasts appreciable features like optional leather seating, a navigation system and automatic climate control. Rated at up to 34 mpg combined, the Honda HR-V is efficient, and like other Hondas feels inherently nimble.
Whether you're looking for a small SUV that emphasizes roominess, efficiency or a low cost of entry, the 2018 Honda HR-V is proof that you can have them all. With its ability to holds its value in the long-run, the Honda HR-V feels like the gift that keeps on giving.
---

Resale Value
at 36 months:

49.0%

at 60 months:

32.0%
Like so many of the models in the Mazda lineup, the Mazda CX-3 is arguably the best-looking, most fun-to-drive SUV in its class.
---

Resale Value
at 36 months:

47.4%

at 60 months:

31.8%
Now in its fourth model year, the Jeep Renegade makes its first Best Resale Value Awards appearance on the strength of increasing familiarity and inimitable appeal.
---
Other Category Winners
Best Subcompact SUV/Crossover