2018 Best Resale Value Awards: Sports Car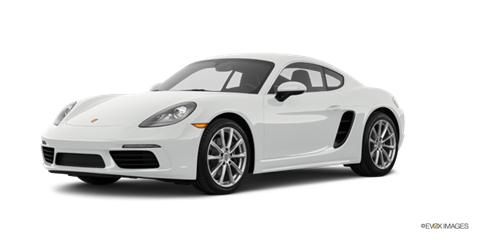 The word "value" is not one typically associated with German sports cars. Yet the Porsche 718 Cayman again wins a Best Resale Value Award because it deserves it.
This mid-engine two-seater received a thorough reworking last year, with a revamped chassis, suspension, steering, and styling. It also got a new engine family, your choice of a 2.0-liter flat-4 or a 2.5-liter version of the same, both turbocharged. Lest you think this somehow makes the Cayman less of a Porsche, the lower end of these two puts out a solid 300 horsepower, and the bigger 350 hp. Both can be connected to either a 6-speed manual transmission or a 7-speed dual-clutch automatic. Don't worry, the Cayman -- especially the Cayman S -- keeps up with the big dogs just fine. As we said in our Expert Review, "When it comes to cornering, the mid-engine 718 Cayman and 718 Cayman S are two of the world's greatest performers."
Yet the Cayman doesn't beat you up in the process. Quite the opposite, the interior offers plenty of space for two, and the seats sacrifice little comfort in the quest for better support in corners. Hatchback functionality and the front-mounted storage (or "frunk" as some call it) help make the Cayman a surprisingly practical day-to-day driver.
With a starting price north of $56,000 for a 718 Cayman, or nearly $68,000 for a 718 Cayman S, you get leather seats, front and rear parking aids, and a solid-sounding 6-speaker audio system. This being Porsche, of course, plenty of options exist to appease your more hedonistic side, all while satisfying your ascetic senses with a resale value that's second to none in its class.
---

Resale Value
at 36 months:

53.0%

at 60 months:

40.5%
Take everything we just said about the Cayman, but remove the roof. There you have it, the Porsche 718 Boxster and Boxster S, a close second to the hardtop Cayman.
---

Resale Value
at 36 months:

54.5%

at 60 months:

38.5%
A sport sedan beyond reproach, the Audi S4 offers big power, amazing handling, and some of the industry's most advanced driver assist technologies.