2019 Best Resale Value Awards: Luxury Car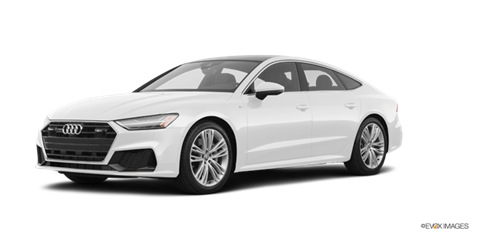 Coming out of the gate charging hard and displacing the Lexus GS as our 2019 Best Resale Value Award winner comes the all-new 2019 Audi A7. Ever since the A7 began, the sleek 4-door hatchback always had a strong looks (and cargo capacity) advantage over its sedan competitors. That hasn't changed with the new model, and as always, any chance you get to sit inside a high-end Audi interior is a treat worth chasing.
As a driver's car, the new Audi A7 makes good on the promise its profile makes. One engine/transmission combo -- a 335-horsepower turbocharged V6 mated to a 7-speed dual-clutch S tronic automatic -- is all you need. Here's how we praised the car in our Expert Review: "The new turbocharged V6 engine has noticeably more torque than the former supercharged V6, making the 2019 A7 feel especially quick. The excellent suspension damping that makes the A7 comfortable on the daily commute, but well composed when it's asked to be a sports sedan. What's more, the A7 is quiet inside."
Naturally since it's a luxury car, pricey optional add-ons abound in the new A7, but none are essential. Even in the base model, you get leather seating, navigation, a power liftgate and a moonroof, and Pre Sense 360 which detects possible front, rear and side collisions and preemptively initiates preventive safety measures including automatic full emergency braking.
With Audi A7 pricing starting at $68,995 (including destination charges), the 2019 Audi A7 Premium gives you a legit sense of luxury in every sense. You can spend over $77,000 for the Prestige version if you want, but while the absolute comfort and convenience gets enhanced, the ultimate value does not.
---

Resale Value
at 36 months:

43.8%

at 60 months:

31.5%
With something for every luxury sedan buyer on the comfort-to-quality-to-sporty spectrum, the Lexus GS enjoys a long legacy of KBB Best Resale Value appearances.
---

Resale Value
at 36 months:

46.1%

at 60 months:

30.0%
Always a sales icon and resale star for the German carmaker, the Mercedes-Benz E-Class boasts sedan and wagon offerings, plus sporty coupe and convertible choices for 2019.