2019 Best Resale Value Awards: High-End Luxury Car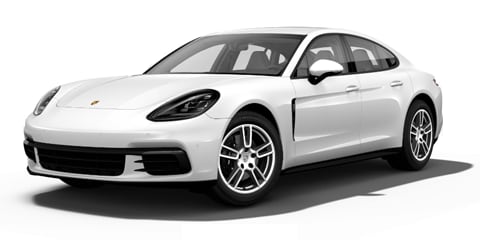 With a deep, wide variety of variants to choose from, and sourced from a storied reputation for many of the most desirable sports cars in the world, there's no way that the 2019 Porsche Panamera isn't pre-fitted for Best Resale Value status. Any time you can beat a pair of Lexus models in a resale-value battle, you know you're cooking on all burners, and the 4-door Porsche Panamera is blazing.
Coming in liftback and wagon-like Sport Turismo body styles for 2019, the 4-seat Porsche Panamera brings 18 separate trim levels (including two separate hybrids) powered by six different engine choices, and one transmission -- an 8-speed PDK dual-clutch automatic -- to the table. You can shop among rear-wheel-drive and all-wheel-drive versions of these. If variety is the spice of resale value, the Porsche Panamera is prime Primo Serrano.
Whichever Panamera you fancy, you'll get 100% of Porsche's reputation for performance and excellence. We summed this up hummingly in our review of the 2019 Panamera: "Compared to the first-generation Panamera, the 2019 car is superior in every area that matters. The steering is remarkably precise, [and] despite its length, the Panamera takes corners like a champ." It's a 4-door passenger car, but you'll never mistake the Panamera interior as anything but a Porsche, from the big tachometer in the middle of the instrument panel to the enveloping seats and premium audio system. Naturally, plenty of performance (and luxury) upgrades are available.
Prices start at $87,300, but you can full-zoot a top-end Panamera deep into the $200,000 neighborhood. That's not pocket change, but you can drive easier knowing that your car will retain a good piece of its value over time.
---

Resale Value
at 36 months:

50.7%

at 60 months:

33.3%
Ready to make you comfortable at the drop of a top hat, the Lexus LS holds it value by being everything that a luxury-sedan purist craves.
---

Resale Value
at 36 months:

50.0%

at 60 months:

30.5%
Rare enough to hold its exclusivity value and Lexus enough to reassure owners about its reliability, the Lexus LC also embraces impressive luxury sports coupe honors.