2018 Best Resale Value Awards: High-End Luxury Car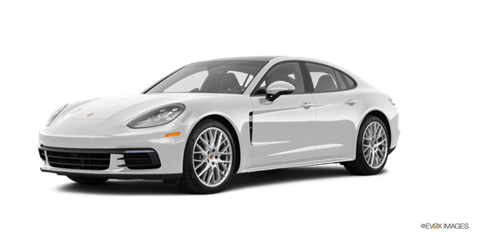 Porsche resale value has always been a pretty sure bet, and the 2018 Porsche Panamera lineup holds no exceptions to that rule. The Panamera is no stranger to our Best Resale Value Awards program, a smart-buying reality that's reinforced by the esteemed value of the Porsche crest on its hood. No doubt Stuttgart is delighted that its 4-door models not only sell like mad as new vehicles, but that they also fetch excellent prices as used cars.
Recent years have seen the Porsche Panamera choices regularly expanding. For 2018, the lineup has added the more wagon-looking Sport Turismo and the -- pause for drama -- 680-horsepower Turbo S E-Hybrid which combines the Panamera Turbo's twin-turbocharged V8 engine with an electric motor. This is one of two hybrid models the Panamera offers. In our review of the 2018 Porsche Panamera, we announced, "Compared to the first-generation Panamera, the 2018 car is superior in every area that matters." We went on to praise the "remarkably precise steering" and cornering, as well as its "handsome interior filled with pleasing shapes and rich accents," and its "amazingly comfortable" seats.
All of the powertrain options -- V6, V8 and hybrid -- enjoy turbocharging, the excellence of Porsche's 8-speed PDK twin-clutch automatic transmission, and the choice of rear- or all-wheel drive.
Here's your final reassurance of the 2018 Porsche Panamera's place as a best resale value in high-end luxury cars: Its price starts at about $86,000 and skyboxes well beyond $200,000 when optioned to the hilt. Those prices are higher than comparable Audi, BMW and Mercedes-Benz models, yet the Panamera's bulldog grip on retained value still carries the day.
---

Resale Value
at 36 months:

51.0%

at 60 months:

30.5%
All-new for 2018, the Lexus LC luxury coupe inherits Lexus' reputation for dead-on reliability and an inspired ability to hold on to high resale values.
---

Resale Value
at 36 months:

39.5%

at 60 months:

23.5%
Always a sound investment, the Mercedes-Benz S-Class is refreshed and at its flagship best for 2018, keeping its resale value worth paying attention to.