2019 Best Resale Value Awards: Full-Size Pickup Truck (Heavy-Duty)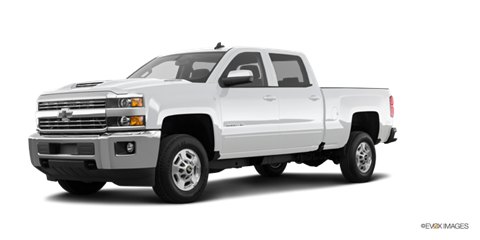 The Chevrolet Silverado 2500HD (3/4-ton) and 3500HD (1-ton) pickups are hard-core haulers that are brought in when serious work needs to get done. Want the ability to carry more than 6,000 pounds of payload? The Chevrolet Silverado HD is ready to go. Maybe your work or recreational needs demand heavy-duty towing. Chevrolet's HD trucks can tow more than 23,000 pounds. And you can do all of this without a commercial driver's license. Not only are the trucks known for their durability, the Silverado HD duo has the top projected resale value of any heavy-duty truck for 2019.
While the Silverado HD comes standard with a 6.0-liter gasoline-powered V8, the optional 6.6-liter Duramax turbodiesel is the shining star of the line. The diesel was significantly redesigned, boasting up to 445 horsepower and 910 lb-ft of torque. More refined and efficient, it also operates at lower speeds, which helps with reliability and potentially reducing repair costs. Being relied upon for a wide range of needs, Chevrolet had to make sure there would be an HD configuration for just about everyone. That's why there are multiple wheelbase lengths, single or dual wheels, and available 4-wheel drive.
But Chevrolet also made sure the truck wouldn't punish the driver or passengers while getting work done. While everyone can enjoy its tech-laden interior, we noted in our Expert Review that "Despite being so good at its job, any Silverado HD truck is also remarkably civilized for day-to-day driving. The cabin is quiet, the steering is precise, and the suspension is comfortable -- although it's optimized for some weight in the bed. Even the diesel engine is refined, with that unmistakable metallic drumming only moderately evident under hard acceleration."
---

Resale Value
at 36 months:

64.9%

at 60 months:

62.1%
The GMC Sierra HD heavy-duty pickups boast tough-truck credentials and impressive towing and hauling capability. High resale value, style and luxury add to the appeal.
---

Resale Value
at 36 months:

64.9%

at 60 months:

56.4%
Following a recent redesign, Ford F-Series Super Duty pickups are known for their modern technology, best-in-class towing capacity and distinctive style.
---
Other Category Winners
Best Full-Size Pickup Truck (Heavy-Duty)