2014 Mitsubishi Mirage Expert Review
By Micah Muzio
KBB Expert Rating: 4.4
The Mitsubishi Mirage is an oddity in the automotive world – a vehicle with no upward aspirations. It's a small 4-door, 5-passenger hatchback that, aside from its vivid selection of exterior colors, isn't particularly interesting to look at or drive. Still, it does the job as basic transportation and a peak 44-mpg highway rating coupled with a $13,790 base price (destination included) make the 2014 Mirage one of the cheapest new cars you can buy and drive. Whether entry-level buyers will embrace the Mirage's elemental brand of frugality over the unmatched parkability of the Smart Fortwo and Scion iQ, or the comparatively daring style of the Chevrolet Spark or Ford Fiesta, remains to be seen.
You'll Like This Car If...
You'll like the Mitsubishi Mirage if you only care about saving money. The Mirage is cheap to buy, cheap to drive and features a confidence-boosting 10-year/100,000-mile powertrain warranty. As a bonus, the little hatchback actually drives better than its asking price might suggest.
You May Not Like This Car If...
If you live on a budget but you crave a car with some measure of fun, there are better choices than the 2014 Mitsubishi Mirage. In fact, for the same cash you could buy the much more interesting Chevy Spark, though the Spark is less fuel efficient and only seats four.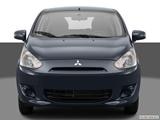 What's New for 2014
The Mirage is a new addition to Mitsubishi's lineup for 2014.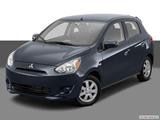 Driving Impressions There is little joy to be had when driving a Mitsubishi Mirage, but in the hatchback's defense that's not what it's made for. It's a commuter car, and in that...
... role it functions better than you'd expect. The suspension delivers an acceptable ride, and thanks to noise-reduction efforts applied to all U.S.-spec cars, interior noise is largely kept in check. The Mirage's diminutive footprint allows it to fit in tight parking spots while a tight 15.1-foot turning circle enables easy U-turns. If this all sounds surprisingly positive, hold on. Powering the Mitsubishi Mirage is a 1.2-liter 3-cylinder engine paired with either a 5-speed manual or a continuously-variable transmission. The engine is both underpowered and sounds bad, emitting noises reminiscent of gravel in a paper shredder. There is enough power to reach freeway speeds and for passing, just reserve ample time for each.
STANDARD 60/40-SPLIT FOLDING REAR SEATS
I know, usually this is the spot where we'd describe some sweet high-tech feature but given how little the Mitsubishi Mirage costs we're more excited than usual that split-folding rear seats come standard.

NAVIGATION WITH BACKUP CAMERA
Given their likely frugal natures, Mirage buyers will probably just use their phones for navigation duties. Still, it is kind of cool that for $900 you can add navigation and a backup camera, again, on a car that's so dang cheap.
2014 Mitsubishi Mirage Details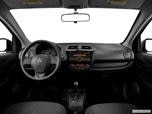 Interior
The interior of the Mitsubishi Mirage is utterly simplistic, which can be a double-edged sword. On one hand, the dash layout is so simple an 18th-century fur trapper could figure out the heating and audio controls. On the other hand, the armrests are brutally hard, the glove compartment opens with a shin-whacking "thunk," and the cargo cover connects to the rear hatch with just one lonely string. Despite such thrifty touches, the front occupants enjoy decent space and nicely contoured seats. In back, head space is tighter, but there's enough space for two adults, maybe even three if things get desperate.
Exterior
With the rounded silhouette of a jellybean, the Mitsubishi Mirage hatchback is not what we'd call "cool," though a $695 exterior body kit and a palette of bold paint choices, including Kiwi Green and Plasma Purple, do add a bit of style. Otherwise the Mirage's shape is dictated by pragmatism. Tiny 14-inch wheels reduce rotational mass and are cheap to produce while the body itself benefits from targeted use of high-strength steel. Those efforts along with the car's tiny size result in a feathery, fuel-saving curb weight of less than 2,000 pounds in lightest form.
Standard Equipment
Given its small size, safety is an obvious concern and one to which the 2014 Mitsubishi Mirage responds with standard stability and traction controls and seven airbags, including a driver's knee airbag. Along with those safety features, 14-inch steel wheels with wheel covers, power windows, mirrors and door locks, an audio system with USB and auxiliary inputs and, strangely, automatic climate control all come standard on the base DE trim.
Optional Equipment
Buyers who splurge for the $1,200-pricier SE trim will enjoy steering wheel audio and cruise controls, a leather-wrapped steering wheel and shift knob, 14-inch aluminum-alloy wheels, and keyless access with an engine-start button, strangely located to the left of the steering column.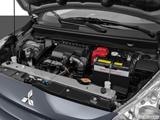 The front-wheel-drive Mitsubishi Mirage is powered by a positively tiny 1.2-liter 3-cylinder engine. The standard transmission is a 5-speed manual featuring long throws and possibly the lightest clutch pedal we've ever experienced, but for maximum fuel economy you'll need to spend another $1,000 for the wide-ratio continuously-variable transmission, or CVT for short. Acceleration is lackadaisical and the sounds that accompany it are an assault on the senses. The silver lining to all this slow, loud movement is found in the Mirage's fuel economy numbers, which rival the efficiency of many hybrids.

1.2-liter inline-3
74 horsepower @ 6,000 rpm
74 lb-ft of torque @ 4,000 rpm
EPA city/highway fuel economy: 34/42 mpg (manual), 37/44 mpg (automatic)
For only $13,790 you can buy a base Mitsubishi Mirage DE trim with a manual transmission. Opt for the higher ES trim with a $1,200 continuously-variable transmission and $900 navigation system, and you can expect to pay $16,890. At those prices, the Mirage is a bargain compared to nearly any other vehicle you can think of. The Chevy Spark commands prices similar to the Mirage, while cars like the Honda Fit, Ford Fiesta, Toyota Yaris, Hyundai Accent, Scion iQ and even the Smart Fortwo are, by varying degrees, more expensive. Kelley Blue Book hasn't posted resale figures for the 2014 Mirage yet, but if the Mitsubishi brand as a whole is any indicator the Mirage's residual numbers will likely lag those of its competitors.
To compare current market prices, check out KBB.com's car classifieds to view the new and used Mitsubishi Mirage vehicles for sale near you.