Used 2014 Mitsubishi i

‑

MiEV Hatchback Used 2014
Mitsubishi i

‑

MiEV Hatchback
Editor's Overview
More urban commuter than year-round driver, the 2014 Mitsubishi i-MiEV falls short of the mark set by electrics from Nissan and Ford.
2014 Mitsubishi i-MiEV Pricing
2014 Mitsubishi i-MiEV KBB Expert Review
Mitsubishi figured the fastest way to bring an electric car to market was to take an existing micro-car platform, add an electric powertrain, and then meet all U.S. safety and emissions requirements needed to bring the car here. That's the theory behind the 2014 Mitsubishi i-MiEV, but unfortunately for Mitsubishi, other manufactures have come up with a far better plan. On its surface, the i-MiEV looks like the perfect commuter car, easy to park in small spaces and requiring only an electric charge to send it on its way. But, the i-MiEV is rather crude, both in its technology and interior features. Its biggest plus is the low price, which may be enough to sway those looking for a second car purely for in-town errands.
You'll Like This Car If...
If you're looking for a low-priced electric car, the 2014 Mitsubishi i-MiEV is a contender. Though not as polished as the Ford Focus or Nissan Leaf electric cars, the i-MiEV is doable if limited to urban runs in warm-weather climates.
You May Not Like This Car If...
If you need to go further than 62 miles a day, but you still want to be green, a plug-in hybrid like the Chevy Volt or Toyota Prius plug-in makes a better choice. Those looking for a comfortable all-electric vehicle would be better served by the Ford Focus or Nissan Leaf.
What's New for 2014
Mitsubishi drops the 2014 i-MiEV price nearly $6,100, making it one of the most affordable electric cars on the market. New standard features include heated driver's and passenger seat, a "CHAdeMO" DC quick-charge port, heated side mirrors, rear speakers, a leather-covered steering wheel and shift knob, fog lights, and aluminum-alloy wheels.
Driving It
Driving Impressions
We give Mitsubishi credit for giving the 2014 i-MiEV responsive steering feel and a very maneuverable platform. However, when it comes to smoothing out road imperfections, the i-MiEV's suspension appears to be MIA. Power delivery is smooth and strong at first, but once in motion the i-MiEV takes its time getting to 60 mph. For this reason, we don't recommend prolonged freeway driving. To achieve the 62-mile cruise range, you'll need to go light on the throttle, and you also won't want to run the in-cabin heater for fear of draining off precious electrons. To help curb a lead foot and put some regenerative energy back into the car's battery, the transmission can be put into "Eco" and "B" modes, respectively. We found the "B" mode to be especially helpful when descending hills, where the extra energy we generated with the brakes gave us a little extra juice around town.
Favorite Features
PRICING
With a starting price nearly $6,000 less than the Nissan Leaf, the i-MiEV's one saving grace is its affordability. Factor in the government's $7,500 tax credit and California's $2,500 electric-vehicle incentive credit, and you could conceivably drive away with a brand-new electric car for around $13,000.

SPACE-EFFICIENT DESIGN
The i-MiEV design may not be beautiful, but it is efficient. The tall profile, big windows and hatchback design maximize space, as does the clever compact electric motor and a battery pack placed underneath the rear seat.
Vehicle Details
Interior
The inside of the 2014 Mitsubishi i-MiEV isn't all electric-car flash with informational screens to show energy flow or how efficiently the car is being driven. Instead, the look is more like a conventional gasoline-powered car. It uses a regular key, has a regular-looking gas gauge indicating how much "fuel" you have left in your theoretical tank and a regular-looking gear selector. The seats are hard and without much support, rear-seat legroom is minimal and when it gets cold, Mitsubishi advises using the seat heater over the electricity sucking in-cabin heater.
Exterior
There's no denying that the 2014 Mitsubishi i-MiEV has a unique look. With its engine positioned in the rear of the vehicle, this small electro-runner has no need for a long hood. As a result, it sports compact front and rear dimensions and a high roofline – giving it a somewhat jelly-bean-like silhouette. Large windows serve to further cartoonize the i-MiEV hatchback's distinct dimensions, but they also give the driver a good view of the road – always welcome when darting in and out of city traffic (and avoiding bicycle messengers).
Notable Standard Equipment
A 2014 Mitsubishi i-MiEV ES comes equipped with niceties like a front-seat heaters, a 50/50-split/folding reclining rear seat, a 4-speaker 100-watt audio system, auxiliary 12-volt DC power outlet, battery warmer, 8A/12A switchable battery charging cable, fog lights, a leather-wrapped steering wheel and shift knob, and power operation of the windows, mirrors and locks. A quick-charging port for public charging stations (known as a "Level 3" charger – good for an 80-percent charge in about a half hour) is also standard.
Notable Optional Equipment
Options for the i-MiEV are limited to a few accessories such as rear backup sensors, a USB adapter for iPod, interior illumination kit and body side molding. The standard 120-volt plug-in charge takes almost a full day, so we recommend getting the 240-volt "Level 2" charging station, which can be purchased through Best Buy's Geek Squad and installed in your home garage for faster charging (about 7.0 hours).
Under the Hood
The electric heart of the 2014 Mitsubishi i-MiEV isn't under the hood – it's behind the rear seat. Comprised of an electric motor, a fixed reduction gear transmission and a 16 kWh lithium-ion battery (with an 8-year, 100,000-mile limited warranty), this powertrain delivers 66 horsepower and 145 lb-ft of torque to the Mitsu's rear wheels. It can go up to 80 mph, so short freeway jaunts are very doable, provided you have enough charge in the battery. On a regular 120-volt home outlet, a full charge for the i-MiEV will take 22.5 hours. On a 240-volt outlet, about seven hours. A public quick-charging station – not a common sight just yet outside of major cities – will charge the battery to 80% in a matter of 30 minutes.

AC synchronous permanent magnetic motor
16 kWh lithium-ion battery pack
66 horsepower @ 3,000-6,000 rpm
145 lb-ft of torque @ 0-300 rpm
Projected per-charge range: 62 miles
Pricing Notes
The 2014 Mitsubishi i-MiEV ES carries at a Manufacturer's Suggested Retail Price (MSRP) of just under $24,000. If you qualify for a $7,500 federal tax credit, the i-MiEV slides in closer to $16,500. The Nissan Leaf is priced from $29,650 and the Ford Focus Electric from around $36,000, but both prices are before factoring in any potential credits. If you're wondering how much an i-MiEV might be worth in the future, the jury is still out on electric-car residuals. But as demand for these cars rises, expect to see their values rise as well.
Mitsubishi i-MiEV Consumer Reviews
---
The reason owners love it and the media don't.
The i-MiEV takes more than a ten minute test, or even a day-long drive to understand. Once one's mind has mended and can plan a whole...
Extremely good car for it's purpose.
My IMIEV after 2 years, still the best car I ever had. My savings are simply ridiculous , considering that I can charge at work. I was...
This is a great car!
The iMiev is a great car that I truly enjoy driving daily. As i maneuver in and out of traffic, find the most incredible parking spaces...
Great car - unless the outside temp is below 20F
I have had my iMiEV for almost a year and it is a fun and economical car to drive. The electric utility company gave me a separate meter...
More than I expected!
Ok, I've only owned the peanut for a short period of time, but this is my thoughts on the EV. My wife and I drove it through a storm to...
100% satisfied!
One car family. Works great teamed with solar photo-voltaic. Nice on highways too. Amazing turning radius.
The technology is ready, we are not
I have this car for a half year and it became the primary car in our family. Our kids, 3-year old twins love it, too. The car completely...
dream come true
excellent car for what it is for. i'm pushing car to limit and have had no problems. getting used to distance can go learning how to get...
User control of regen makes the i more fun.
I've put 3500 miles on my i so far, and a few hundred on a Leaf, which rides like a Buick in comparison to the i, but the i is more...
An enjoyable and practical EV
Bought this car in July 2016, and we are still enjoying it 6 months later. It's nimble and quiet (except for wind noise at high speeds)....
2014 Mitsubishi i-MiEV Specs
(Based on lowest-priced style)
2014 Mitsubishi i-MiEV Safety Ratings
Similar Vehicles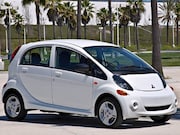 ---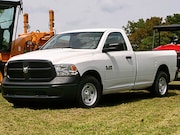 ---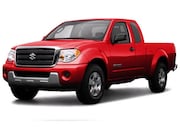 ---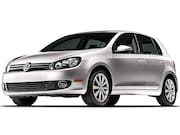 ---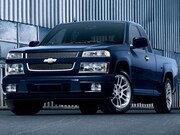 ---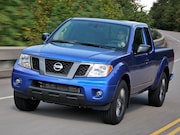 ---