2018 MINI Hardtop 2 Door Expert Review
By Keith Buglewicz
KBB Expert Rating: 7.6
When Mini returned to the U.S. market more than 15 years ago, it single-handedly transformed our perception of subcompact cars, proving they could be aspirational fashion statements and not just penalty boxes. Now, the 2018 Mini Cooper is practically a car line unto itself, boasting multiple engine configurations, 2-door and 4-door body styles, and even a convertible. All the engines are turbocharged, and from the lowly base model all the way to the zippy John Cooper Works editions, they're fun to drive. Sure, other subcompact cars out there like the Honda Fit, Kia Rio, Ford Fiesta and Chevrolet Sonic cost thousands less and are arguably more practical. But none of those cars offer the customization, premium appeal, driving delight and outright charm inherent in every Mini.
You'll Like This Car If...
The 2018 Mini Hardtop makes it easy and fun to stand out from the crowd. Offering tons of charm at a price starting at about $22,500, the Mini Cooper is already cleverly packaged and cool. The equally enjoyable Convertible is one of the least expensive ways to enjoy open-air motoring.
You May Not Like This Car If...
Even the 4-door model with its 5-passenger seating isn't particularly roomy in the back, so if you regularly transport many adults, the Mini isn't a good call, as implied by its name. Additionally, this BMW sub-brand starts higher than other subcompacts, and the price escalates quickly with options.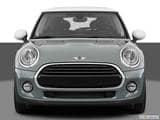 What's New for 2018
The 2018 Mini Cooper lineup benefits from enhancements Mini has made to all its cars for the new year. All get a rearview camera and parking sensors, for example, and there's a new fuel gauge, and other detail changes.
Driving the Hardtop 2 Door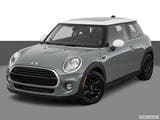 Driving Impressions
Even the base Mini Cooper Hardtop 2 Door with its turbocharged 3-cylinder engine is enjoyable to drive. Granted, by today's standards 7.3 seconds to 60 mph isn't exactly fast, but...
... it's quick enough, and the turbocharged 4-cylinders in the Cooper S or, even better, the John Cooper Works edition are even quicker, whether you choose the automatic or the short-throw 6-speed manual transmission. All Minis benefit from a suspension that's set up for fun driving, with quick steering and a tossable chassis that makes carving back roads genuinely enjoyable. Of course, getting to those back roads means driving down the highway, and here the Mini falters a bit. That quick steering that's so fun on a mountain road makes the Mini feel twitchy and nervous on the highway. The sporty suspension results in a rough ride. And there's no avoiding the road noise at speed.
SMILES PER GALLON
The 2018 Mini Cooper, like its predecessors, has a long tradition of doing more with less, and that includes fuel economy. All Mini models achieve fuel economy in the 30-mpg range, and the miserly 3-cylinder in the base 2018 Cooper Hardtop hits the 38-mpg mark.

3-IN-1 CONVERTIBLE ROOF
The Mini Convertible is actually three cars in one. With the top closed, it's a coupe, and opened fully it's a convertible. But in addition, there's a half-open mode that offers a sweet and airy in-between that slides the front portion of the fabric back like a panoramic sunroof.
2018 MINI Hardtop 2 Door Details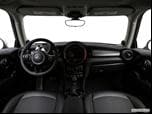 Interior
The 2018 Mini Cooper Hardtop and Convertible have just the right blend of modern technology and retro kitsch. The big center display has the 6.5-inch infotainment screen, and below it are toggles and switches that look retro, but control modern functions. The front seats are thankfully one area where Mini has left things modern, and these comfy chairs are complemented by clever packaging and even an available head-up display on the windshield. Hardtop 2 Door and Convertible models can seat two in the rear, while the 4 Door can seat three across, although the center position is a tight fit.
Exterior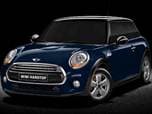 Mini says the Cooper's stance looks like a bulldog, but in the low-and-squat way, not snorting and drooling. It's also why the Cooper handles so well. The 2 Door and 4 Door Hardtops are conventional hatchbacks, while the Convertible's meager cargo area is accessed with a tailgate that can be used for tailgating. An "easy-load" feature lifts the lower portion of the fabric roof to create a wider opening, although it's hard to get it back in place, so maybe just pack light. The Hardtop 4 Door is about six inches longer than the 2 Door, at a tidy 157.4 inches.
Standard Equipment
A rearview camera is standard this year on all Mini models. It adds to the turbocharged 3-cylinder engine, 6-way manually adjustable Leatherette seats, leather-wrapped steering wheel, 6.5-inch Visual Boost Screen audio and information system, and automatic climate control on hardtop models. Convertibles get a power top. Sportier Cooper S models get a more powerful 4-cylinder turbo engine, sporty seats, run-flat tires, LED fog lights, larger wheels and tires and bigger brakes, and add features like a hood scoop. The high-performance John Cooper Works editions get an even more powerful version of the 4-cylinder, even bigger brakes and a stiffer sport suspension.
Optional Equipment
Minis are almost endlessly customizable when it comes to interior and exterior aesthetics, and with Mini boasting more than 10 million different combinations, we'll just let you play with the online configurator. Instead, note that you can also get a 6-speed automatic transmission for all models, in addition to a navigation system, head-up display that projects driving information onto the windshield, an excellent harman/kardon premium audio system, and adjustable shocks to cut down on some of the harsh ride. An Active Driving Assistant features adaptive cruise control, plus it can warn of an impending forward collision, and even apply the brakes.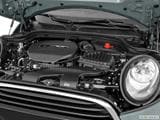 With just a turbocharged 1.5-liter 3-cylinder engine under the hood, the base Mini Cooper still gets 134 horsepower, which isn't bad at all. If you upgrade to the Cooper S you'll get a 189-horsepower 2.0-liter turbocharged 4-cylinder, and that same engine in the John Cooper Works edition offered on the 2-door Hardtop and Convertible puts out 228 horsepower, making it the most powerful Mini you can get. Every engine routes power to the front wheels, either through a 6-speed manual or 6-speed automatic. While it's true that Minis sip fuel, it's a good thing, since all of them require premium-grade gas.

1.5-liter turbocharged inline-3 (Cooper)
134 horsepower @ 4,400 rpm
162 lb-ft of torque @ 1,250 rpm
EPA city/highway fuel economy: 28/38 mpg (manual, 2-door Hardtop), 27/36 mpg (automatic), 28/37 mpg (manual, Convertible and 4-door Hardtop)

2.0-liter turbocharged inline-4 (Cooper S)
189 horsepower @ 4,700-6,000 rpm
207 lb-ft of torque @ 1,250 rpm
EPA city/highway fuel economy: 23/32 mpg (manual), 25/32 mpg (automatic), 25/33 mpg (automatic, Convertible)

2.0-liter turbocharged inline-4 (John Cooper Works)
228 horsepower @ 5,200-6,000 rpm
236 lb-ft of torque @ 1,250-4,800 rpm
EPA city/highway fuel economy: 23/32 mpg (manual, Hardtop), 25/32 mpg (automatic, Hardtop), 22/31 mpg (manual, Convertible), 24/32 mpg (automatic, Convertible)
The base 2018 Mini Cooper Hardtop 2 Door starts with a Manufacturer's Suggested Retail Price (MSRP) of about $22,500 when you include the $850 destination charge. The more powerful and desirable Cooper S Hardtop starts a little over the $26,000 mark, and the JCW Hardtop begins at more than $32,600. The 4 Door model costs $1,000 more than a base or Cooper S. Convertible base prices start at more than $27,500; the S Convertible at more than $31,000; and the JCW starts at nearly $37,500. Options inflate those prices more quickly than you'd expect. Other compact hatchbacks like the Honda Fit, Kia Rio, Chevrolet Sonic and Hyundai Accent and Veloster cost less, but they aren't really direct competitors, either. Before buying, check the KBB.com Fair Purchase Price to see what others are paying. Note that up-front premium pays off later, thanks to the Mini's good resale value.
To compare current market prices, check out KBB.com's car classifieds to view the new and used MINI Hardtop 2 Door vehicles for sale near you.