2017 Lamborghini Huracan Expert Review
By Scott Oldham -- Contributing Editor
A 2-seat coupe or convertible, the sexy 2017 Lamborghini Huracan supercar isn't just a pretty face; it's also one of the fastest cars on the road. There are four models available, including two with rear-wheel drive (RWD). The others are all-wheel drive (AWD). Each is powered by a naturally aspirated 5.2-liter V10 engine, with up to 631 horsepower in the new Performante model, and a 7-speed automatic transmission with paddle shifters. The exotic boasts adjustable driving modes, including a Corsa setting you'd be foolish to use anywhere but a racetrack. Yet the luxurious interior and relatively tame Strada (street) mode, and good road manners contribute to a surprisingly livable supercar. Still, the Huracan sees stiff competition from the turbocharged Ferrari 458, Audi R8 and McLaren 720S.
You'll Like This Car If...
If you're looking for all-wheel-drive stability and all-weather traction in your mid-engine 200-mph Italian supercar, at about $200,000 the sexy 2017 Lamborghini Huracan is by far the most affordable. Ferrari's 488 is more powerful, but it's rear-wheel drive only, and Lambo's Aventador costs twice as much.
You May Not Like This Car If...
If you want the most power your stacks of money can buy, the new Huracan's V10 is light compared to the turbocharged Ferrari 488, Ferrari 512 and McLaren 720S. Even the supercharged Chevy Corvette Z06 and Dodge Challenger Hellcat offer more horsepower, and the V10-powered Audi R8 costs about $50,000 less.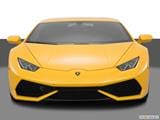 What's New for 2017
Updates for 2017 include a new model, the all-wheel-drive 631-horsepower Performante Coupe, which is the most powerful and best-performing Huracan in the lineup. The Performante's improvements include enhanced aerodynamics with a sizable rear spoiler for additional high-speed stability, lighter wheels and stickier Pirelli Corsa tires.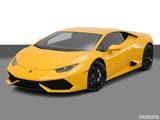 Driving Impressions
We don't need to explain the Lamborghini Huracan is fast; the name itself is enough. The V10 engine, with its 8,250-rpm redline, sends 602 horsepower to all...
... four wheels through a 7-speed dual-clutch transmission. It's enough to send the 3,400-pound Huracan coupe and Spyder to 60 mph in just over three seconds on its way to a top speed of just over 200 mph. But numbers tell only part of the story; experiencing it is quite another. Lamborghinis have long had the ability to seemingly defy physics, and the Huracan proudly continues to scoff at mortals' natural laws of motion. And that's all when the Huracan is in its (relatively) low-key Strada or street mode, which makes the Huracan relatively docile around town thanks to light steering, comfortable gear changes and a tolerable ride. But switch it to the racetrack-ready Corsa mode, and the world blurs.
V10 NATURALLY ASPIRATED ENGINE
Most automakers, including Ferrari, have turned to turbocharging or a hybrid system to make horsepower, but the big 600-horsepower 10-cylinder in the new Lamborghini Huracan does it the old-fashioned way. The naturally aspirated 5.2-liter engine revs to an awesome 8,250 rpm and sounds like Schumacher's old Formula 1 car.

12.3-INCH TFT INSTRUMENT DISPLAY
The big infotainment screen in the dash center has become ubiquitous, but Lamborghini never follows. The Italian automaker has masterfully combined the Huracan's instrumentation, navigation and infotainment data into a single sizable screen ahead of the driver and in place of the traditional gauges. It's a clean and intuitive execution.

2017 Lamborghini Huracan Details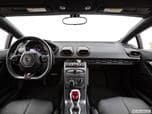 Interior
If you're expecting "Lamborghini Doors" which open up instead of out, don't. The Huracan's doors are as conventional as a Honda's. Climb inside and you'll be impressed with the high-build quality and luxury-car-worthy materials. This car is comfortable. Lamborghini is now owned by Audi, and its best-in-class interior sensibility makes itself known in the Huracan. There's an Audi-esque master dial and surrounding buttons offering easy control of navigation, audio and phone, but form is part of it too: The missile launch-style red cover over the engine start button, aircraft-like switches and exotic design befit an exotic at this price.
Exterior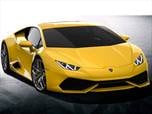 Lambos have always had a sinister quality to their appearance, and the 2017 Lamborghini Huracan looks like Lucifer himself designed its aluminum skin. Squat, with a wide powerful stance, the Huracan is smaller than it looks in pictures. At less than 46 inches high, it's nearly twice as wide as it is tall. These are proper dimensions for a supercar. The Huracan's combination of angles, vents and curves is pure Lamborghini, but it's more pleasing to the eye than the Gallardo, which it replaced in 2014. Cargo capacity is tight, with room for a small bag in the front trunk.
Standard Equipment
The "base" model Huracan is hardly a bargain-basement, stripped-down car, what with its price tag just north of $200,000. That sum gets you a voracious V10 engine, all-wheel drive, massive carbon-ceramic brakes, 20-inch wheels, full LED lighting, and a sophisticated chassis made from aluminum and carbon fiber. Amenities include dual-zone climate control, Bluetooth connectivity, 4-speaker AM/FM/CD/DVD player with USB and iPhone inputs, and partially power-operated seats. The convertible, which Lamborghini calls the Spyder, has a power top that cycles in just 17 seconds. The top-dog Performante model gets carbon-fiber seats, Alcantara upholstery and an additional 29 horsepower.
Optional Equipment
There are numerous options for the Huracan, all with ludicrous price tags. Want to show off your engine to the world with a transparent engine cover? Of course you do, and it'll only cost an extra $7,000. Lamborghini also offers a center-lock wheel-conversion kit, five brake caliper colors, a racing exhaust system and custom hand-painted wheel-center caps. . You'll also have to pay extra if you want navigation and even heated seats. Must-haves include a rearview camera, and a lifting system that raises the front axle more than an inch with the press of a button.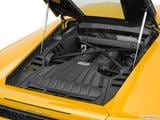 Three similar V10 engines are available in the 2017 Lamborghini Huracan. In the rear-drive models, the 5.2-liter engine puts out 571 horsepower, while in the all-wheel-drive coupe and Spyder, it offers 602 horsepower, and 631 horsepower in the Performante. It's similar to the V10 that powers its corporate cousin the Audi R8, but the Huracan's engine uses a dual-fuel-injection setup called Iniezione Diretta Stratificata (IDS) that has both direct and port-style fuel injection. The mid-mounted engine routes its power through a 7-speed dual-clutch automatic transmission; no manual transmission is offered. In a bid to save fuel, the Lambo comes with a defeatable start/stop system that cuts the engine at idle. Still, with a combined rating of 16 mpg, the Huracan cannot avoid a gas-guzzler tax.

5.2-liter V10 (RWD)
571 horsepower @ 8,000 rpm
398 lb-ft of torque @ 6,500 rpm
EPA city/highway fuel economy: 14/21 mpg

5.2-liter V10 (AWD)
602 horsepower @ 8,250 rpm
413 lb-ft of torque @ 6,500 rpm
EPA city/highway fuel economy: 14/21 mpg

5.2-liter V10 (Performante)
631 horsepower @ 8,000 rpm
443 lb-ft of torque @ 6,500 rpm
EPA city/highway fuel economy: 14/21 mpg
Note: Due to changes in EPA testing to more effectively reflect real-world conditions, some 2017 models show slightly lower fuel-economy scores than their 2016 versions.

Things start expensive for the 2017 Lamborghini Huracan, and go up from there. The rear-wheel-drive Huracan has a Manufacturer's Suggested Retail Price (MSRP) starting at about $205,000, including the $3,495 destination charge. The all-wheel-drive coupe starts at about $245,000, and the Spyder asks that you put $268,000 in your money bag. Options will easily push the price to well beyond the $300,000 mark. The new Performante model, which is available only as a coupe, starts at about $280,000. The Huracan is actually priced fairly against the likes of the Ferrari 488 and the McLaren 720S. An Aston Martin Vantage can be had for less, as can an Audi R8, and a Corvette Z06 for less than all of them. Might as well check out the KBB.com Fair Purchase Price to see what others are paying.
To compare current market prices, check out KBB.com's car classifieds to view the new and used Lamborghini Huracan vehicles for sale near you.