2017 Kia Soul Expert Review
By Keith Buglewicz
KBB Expert Rating: 8.7
The 2017 Kia Soul finally receives the one thing it's lacked since the first hamster-driven 5-door hatchback appeared on our streets: horsepower. The top-level 2017 Soul Exclaim now boasts a 201-horsepower turbocharged 1.6 4-cylinder that finally delivers the kind of driving fun the Kia Soul's funky styling and marketing long promised. Beyond extra power and better handling, the entire Soul lineup gets updated with available Apple CarPlay and Android Auto, blind-spot detection, additional USB inputs and more. It makes a 2017 Soul a compelling alternative not just to subcompact SUVs like the Fiat 500X or Mini Cooper Countryman, but also the Mazda3, Chevrolet Cruze and Honda Civic hatchbacks, especially with an excellent 10-year/100,000-mile powertrain warranty and a starting price of about $17,000.
You'll Like This Car If...
The 2017 Kia Soul is a compelling choice for anybody searching for a nifty-looking, fun-driving and feature-filled affordable compact car. It looks like nothing else on the road, and certainly isn't the kind of car you'll see on a rental car lot.
You May Not Like This Car If...
If you think a boxy-looking vehicle should have all-wheel drive, the Soul's front-drive layout will have you pointed toward the Jeep Renegade or Subaru XV Crosstrek. While the Soul Exclaim is definitely more powerful than ever, the Honda Civic, Mazda3 and others are still more fun to drive.
What's New for 2017
The 2017 Kia Soul wagon gets a host of upgrades in addition to the Soul Exclaim's new turbo engine. Other updates include available Apple CarPlay and Android Auto, an 8-way-power passenger seat, additional USB ports, HID headlights, and a new full-color information display between the gauges for the Exclaim.
Driving Impressions
The good news is that the 2017 Kia Soul Exclaim, with its turbo engine, is definitely quicker than ever. With sharper handling from revised suspension settings and 18-inch alloy wheels,...
... the Soul is suddenly as fun to drive as it is to look at. The quick and predictable steering still lacks the feedback of a Civic, but it's acceptable. Power the Soul through a corner and it responds admirably, with less body roll than you'd expect from a tall vehicle. The only real drawback is the 7-speed dual-clutch automatic paired with the engine. It's slow to shift up or down, and occasional odd surges of power make it feel like it's not always fully engaged, even with the Sport drive mode selected. This supposedly sporty model also lacks steering-wheel-mounted shifter paddles. However, paddles could be added at a later date, and the transmission's balkiness might be fixed with a software upgrade.
TURBO POWER
We'll freely admit that we're suckers for horsepower, and the new turbocharged engine under the hood of the Kia Soul Exclaim definitely gives the Soul more of its namesake. As a side benefit, fuel economy is actually better than the other engines, meaning you sacrifice almost nothing, aside from extra money.

APPLE CARPLAY AND ANDROID AUTO
Apple CarPlay and Android Auto are maybe the best thing to come along in in-car infotainment since speakers. With CarPlay you have access to everything your phone offers, including Apple Music, and with Android Auto you can use Google Maps, all on your car's infotainment system.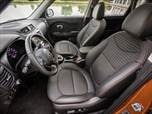 Interior
The 2017 Kia Soul offers 5-passenger seating, although four will be more comfortable. Upholstery and trim get notably better as you climb the model ladder, with the Soul Exclaim getting contrast stitching on its cloth and leather seats, plus a sporty D-shaped steering wheel. Available this year are dual USB ports so you can recharge one phone while the other is used for Apple CarPlay or Android Auto. The Soul's boxy shape provides very good headroom for all passengers, and offers good cargo space, especially when you fold the rear seatbacks down. The pulsating speaker lights are pure whimsy.
Exterior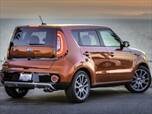 You'll still immediately recognize the 2017 Kia Soul for what it is, but there are a couple of minor tweaks to the exterior. Front and rear bumpers have changed a bit, with the Soul Plus getting body-color inserts, and the Soul Exclaim getting black. The Exclaim also distinguishes itself from its non-turbo mates with 18-inch alloy wheels, dual exhaust tips, HID headlights and LED fog lights. It all updates an exterior already known for a quirky blend of function and fashion. The upright styling offers good cargo and passenger space, and the vertical taillights are so distinctive they're practically the car's signature.
Standard Equipment
The 2017 Kia Soul comes in three models: Base, Plus (+) and Exclaim (!). Base models include 16-inch alloy wheels, a new drive-mode function, and an updated audio system. They combine with preexisting features: air conditioning, tilt/telescoping steering wheel, 6-way-manual-adjust driver's seat, power windows and door locks and Bluetooth wireless technology. The standard engine is a 1.6-liter 4-cylinder connected to a 6-speed manual transmission, making the base model the only Soul available with a stick. Higher-level models come standard with more, like bigger engines, better interior materials, and larger wheels, including 18-inch alloys on the Exclaim.
Optional Equipment
Options vary by model level, with base models with an automatic transmission offering a Convenience Package that adds an updated audio system with a rearview camera, and automatic headlights. Soul Plus models offer an upgraded audio package, and a Primo package that combines a panoramic sunroof, leather seats with power adjustments and heating and cooling in front, blind-spot detection, forward-collision and lane-departure warning, and a bunch of other features. Then there's the Exclaim, which along with the turbo engine offers a panoramic sunroof and a Technology package that adds most of what's in the Primo package, along with a harman/kardon audio system.
The Soul Base model gets a 1.6-liter 4-cylinder with a meager 130 horsepower, connected to either a 6-speed manual or a 6-speed automatic; to say it's sluggish is an understatement. The Soul Plus comes with a more satisfactory 2.0-liter 4-cylinder with 161 horsepower connected only to a 6-speed automatic. And of course this year there's the 1.6-liter turbocharged engine, with its 201 horsepower and 7-speed dual-clutch automatic. All Soul models are front-wheel drive and while all are fairly fuel-efficient, the thriftiest is actually the turbo, and not the base model. Absent from the powertrain list is the Soul EV; we haven't forgotten it, but Kia hasn't given details on its upgraded model yet.

1.6-liter inline-4
130 horsepower @ 6,300 rpm
118 lb-ft of torque @ 4,850 rpm
EPA city/highway fuel economy: 24/30 mpg (manual), 25/30 mpg (automatic)

2.0-liter inline-4
161 horsepower @ 6,200 rpm
151 lb-ft of torque @ 4,000 rpm
EPA city/highway fuel economy: 25/30 mpg

1.6-liter turbocharged inline-4
201 horsepower @ 6,000 rpm
195 lb-ft of torque @ 1,500-4,500 rpm
EPA city/highway fuel economy: 26/31 mpg
Note: Due to changes in EPA testing to more effectively reflect real-world conditions, some 2017 models show slightly lower fuel-economy scores than their 2016 versions.

The Manufacturer's Suggested Retail Price on the 2017 Kia Soul Base with a manual transmission is just under $17,000 including the $850 destination charge; add about $1,600 if you want an automatic. We suggest at least the Soul Plus, starting around $20,500 and which offers more power and options as well. If you want turbo power, you'll need $23,500 for the Soul Exclaim. Options add up of course, but even a fully loaded Soul Exclaim is less than $28,000, which is a pretty solid price for a very nicely equipped, uniquely styled, and fun-to-drive hatchback. It compares nicely with compact SUVs like the Honda HR-V and Fiat 500X, and against compact hatchbacks like the Honda Civic and new Chevy Cruze hatchback. Check the KBB.com Fair Purchase Price to see what others in your area paid for their 2017 Kia Soul, and note that resale value is generally very good.
To compare current market prices, check out KBB.com's car classifieds to view the new and used Kia Soul vehicles for sale near you.