Hyundai Ioniq Hybrid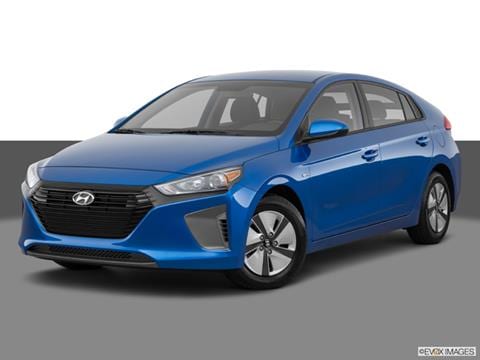 A smart and sporty 4-door hatchback, the 2018 Hyundai Ioniq gives environmentally conscious shoppers a choice among three affordable models; a hybrid, a plug-in hybrid and a pure electric vehicle. It takes on the popular Toyota Prius, as well as the Chevy Bolt, Chevy Volt, Ford C-Max and the similar Kia Niro in the growing market for electrified fuel-efficient small cars that offer real-world practicality.
New Features and Revisions
For 2018 Hyundai has added the new Ioniq Plug-in Hybrid to the lineup. This model works much like a Toyota Prius Prime or Chevy Volt. It can be driven up to 27 miles on pure electric power before a 1.6-liter gasoline engine turns on to drive the vehicle and charge the batteries. Total range is about 590 miles. Plug into a 240v source and battery charging time is just 2.5 hours.
Other Model Years
2017
‑

2017 Hyundai Ioniq Hybrid
(2017 model pictured)
New Features and Revisions:
The Ioniq is new from the ground up, on a dedicated platform. This gave Hyundai the opportunity to make the Ioniq exactly what they wanted it to be, which in this case is a highly competitive hybrid and an electric car and a plug-in hybrid.
See how style, options and other factors can impact pricing in your area.