This Week in Car Buying: Top deals; Interest rates to remain low; Lease returns raise concerns; Chevy to add a Cruze hatchback
by
Matt DeLorenzo
|
September 18, 2015 11:53 AM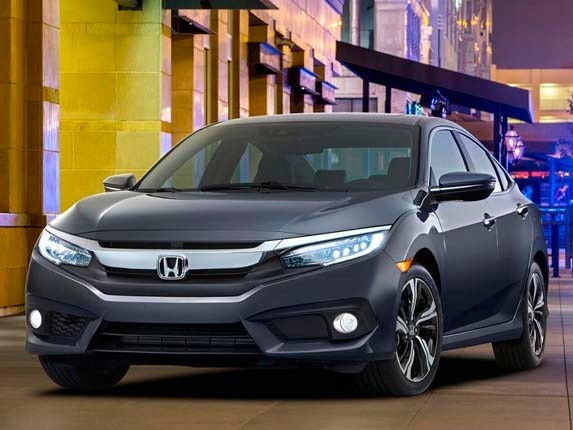 With the official start of the new model year just weeks away, manufacturers are stepping up on deals to clear out existing stocks of 2015 models. Commenting on the monthly list of top 10 deals compiled by Kelley Blue Book, Jack R. Nerad, executive editorial director and executive market analyst said "Exceptional post-Labor Day deals are still available, and our list includes two offers of $5,000 cash back and a $159-per-month lease deal."
One of those $5,000 cash back offers is on the 2015 Nissan Leaf, which has an MSRP of $29,860 and a KBB Fair Purchase Price estimate of $27,026. The other $5,000 cash back offer is on the 2015 Ford Taurus, which stickers at $30,360 and has a KBB FPP of $28,201.
Among the top lease deals is another Ford, the C-Max Energi, which is $159 per month on a 3-year lease with $3,089 due at signing. Other top lease deals include upscale models like the 2015 Buick Enclave for $323 per month on a 39-month contract with $1,823 down; the 2015 Infiniti Q50 for $309 per month for 39 months with $3,499 up front; the 2015 Lexus IS at $329 per month for three years and $1,499 down and the 2015 Kia Cadenza at $359 per month, also for three years and no money down.
The 2015 Hyundai Veloster alsoi is being offered with $3,500 cash back, while the 2015 Toyota Venza and 2015 Volkswagen Passat are eligible for $2,000 rebates plus 0-percent financing for 5 years.
Also: Class of 2016 -- New Cars Ready to Roll
Interest rates stable
The decision by the Federal Reserve Board to keep interest rates near zero means that consumer loan rates on new and used cars will continue to remain low for the time being. According to Bankrate.com, the average 4-year auto loan has a rate of 4.23 percent, while a 5-year loan is at 4.28 percent. Both have held steady since dropping 0.1 percent at the beginning of September. The average rate for a 3-year used car loan is 5.15 percent, which has also been holding steady.
The Fed had been telegraphing that it may raise rates sometime this year, but the move to hold rates close to zero means that the next opportunity for the central bank to raise rates would be either in October or December, when the Federal Open Market Committee meets again. There are reports that the committee is considering an increase in rates of at least a quarter percentage point with the goal of pushing rates as high as 2.6-percent by the end of 2017. Typically retail loan rates are 3-4 percentage points higher than that prime rate, which would translate into car loans in that scenario running in the 6-7 percent range.
Leasing impacts loom
The growth in vehicle leasing is one of the reasons why new car sales have remained strong, but the industry is closely watching the practice because of its potential to flood the used car market with low-mileage late model cars, which could in turn undermine new car sales and margins.
According to Experian Automotive Data, leasing reached a high of 27 percent of all new vehicle sales in July, a reflection that as average transaction prices rise, buyers are opting for the lower monthly payments of a lease rather than the more expensive monthly payments of an installment loan. Bruce Clark, senior vice president for Moody's Investor Services told Automotive News that "We need to maintain balance and don't want to artificially boost demand through leasing."
Experian's data shows that the average lease is only 36 months compared to the average loan of 67 months. Some point to the shorter terms as a way of keeping a steady flow of customers coming into the new car market as their leases expire. Still, as the practice grows overall, that also means there is a larger pool of used cars coming into the marketplace, many of which are sold as Certified Pre-Owned by franchised dealers. Joe Derkos of J.D. Power & Associates predicts that there will be an 800,000-unit increase in off-lease cars next year, and that number could have huge impacts on both used car values and new car pricing. Still, Derkos believes that this pool of vehicles and CPO programs in general provide a tremendous business opportunity for new car dealers to build a loyal owner base who someday may turn from a CPO purchaser into a new car buyer.
Also: Kelley Blue Book Best Buy Awards of 2015
Chevy Cruze to get a hatchback
Chevrolet will be adding a hatchback version to its 2016 Cruze lineup, according to presentation given to analysts by GM CFO John Stapleton. Chevrolet showed the revamped Cruze sedan earlier this year and it appears there will be a 5-door hatchback version that will be introduced after the sedan goes on sale early next year. GM showed a redesigned Opel/Vauxhall Astra this week at Frankfurt in 3-door hatchback and a 5-door wagon. That all-new vehicle could provide the basis for the new Cruze hatchback, although there has been some speculation that the Astra models could be marketed as Buicks in the U.S. similar to the Opel Cascada convertible which GM's premium division will begin selling next year. The 2016 Chevrolet Cruze hatchback will compete with the Ford Focus, Mazda3, VW Golf and the new Honda Civic hatchback.
The rundown
Honda revealed another model in its 2016 Honda Civic lineup, showing the sedan version as a follow-up to the coupe's unveiling in April at the New York Auto Show. In addition to taking the wraps off the sleek sedan's shape, it offered additional technical information on the company's first turbocharged offering.
While its long term future remains in doubt, the 2016 Chevrolet SS sedan has gotten a facelift for the new model year. In addition to equipment changes and an edgier face, the SS also benefits from a new dual mode exhaust system that's quieter at low speeds.
The big news of the week centered on the Frankfurt Auto Show where the big surprise was the 600 horsepower all-electric Porsche Mission E concept.
These days, safety features like airbags and anti-lock brakes are a given. We dig a little deeper to find our five favorite new safety features ranging from back-up cameras to blind spot warning. Check out our list and see what features you may want to add to your next new car.
POPULAR AT KBB.COM