This Week in Car Buying: The return of rebates
by
Matt DeLorenzo
|
September 11, 2014 11:37 AM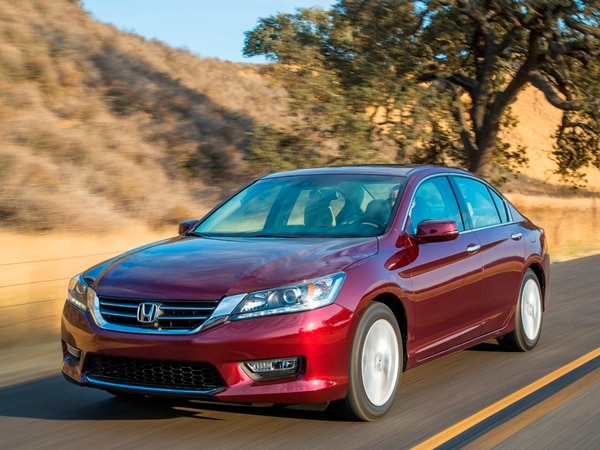 With the big Labor Day selling weekend behind them, auto manufacturers are focusing in on their slowest selling segments in order to clear out stocks before the 2015 model year gets underway in earnest. Broad, across-the-line programs have all but expired, but targeted rebates and lease deals remain in place for slow selling categories. Smart buyers can look to capitalize on these closeout deals in the traditional sedan categories from compact up through full-size 4-doors. Bargains can also be found in the entry luxury categories.
Crossovers still hot
Buyers will have less luck finding deals on crossover SUVs, as these car-based sport-utes continue to be the hottest vehicles on the market, especially in the compact through mid-size categories. Low inventories, high transaction prices and the lack of incentives means that if you want a crossover, you will be likely paying more than if you opted for a more traditional family conveyance.
According to data collected by Kelley Blue Book, inventories in traditional sedans ranging from compact up through full-size have grown from 10 to 22 days over the past year. What this means is that the selling rate for these vehicles has slowed down dramatically, meaning that there is more room for buyers to negotiate a good deal on these vehicles. While manufacturers look at a 60-day supply as the industry norm (in other words, it would take two months to sell every vehicle in dealers' lots to completely deplete the number of vehicles built), right now full-size family cars are at a 105 day supply, up 22 days from a year ago. In other words, look for deals on cars like the 2014 Toyota Avalon, Chevrolet Impala, Chrysler 300 and Ford Taurus (we'll get to these deals on these cars later).
Mid-size car inventories (think Toyota Camry, Honda Accord, Chevy Malibu and Ford Fusion), have grown from 56.6 to 76.2 days from a year ago. Entry level luxury cars have also grown to 88.8 days. Compact car inventories have also jumped up from the industry norm of 60 days to 70 days. Meanwhile, supplies of crossovers, especially in the compact and mid-size range have dropped from year ago levels, a testament to their popularity. Luxury mid-size inventories in particular have dropped from a tight 50.2 to a 40.6 days' supply.
The deals
Since most of the August/Labor Day selling incentives have expired, the carryover programs testify to the fact that cash is king when it comes to luring in potential buyers. The top deal according to Kelley Blue Book best deals is the Ford Taurus with a $5,000 rebate, further evidence of the lack of interest in full-size family sedans especially those that are nearing the end of their product cycles. While the lease deal on the Taurus has an attractive $259 monthly payment on a 24 month contract, it requires an upfront of $3,279 and a 0-percent 5-year deal with $2,000 cash, our figures show over the same period you'd own the car for $406 a month by just taking the cash, $430 a month with the APR deal, and not owning the car after a two year lease of $395 a month.
Also: The Class of 2015 -- New Vehicles Ready to Roll
Ford is also tops in offering cash across the board from $3,500 on both the Focus and Fusion to $2,500-$3,000 on the C-Max. Also offering a lot of upfront cash are Fiat $3,250 on the 500 hatchback; Mazda with $3,500 on the CX-9 full-size crossover SUV; Dodge with $3,250 on the mid-size Journey crossover; Nissan has $4,000 on its Maxima; Ford continues with its $6,000 cash back on the full-size Expedition SUV; Jeep has $3,000 on its compact Compass SUV and Dodge is looking to clear out stocks of its 2014 Charger ahead of the 2015 facelifted model with $4,250 on the hood and its discontinued Avenger mid-size sedan with $3,000.
Lease deals on compacts/hybrids
The best lease deals continue to be on compacts and alternative vehicles, due in part for the tighter margins on these vehicles as opposed to their larger and more expensive counterparts. Among the top lease deals are the Acura ILX compact, which has a $270 monthly payment over 36 months with no money down. Dodge continues to push its $99 a month program for its compact Dart, but that 24 month contract requires $2,039 up front. Cash buyers can count on a $2,000 check from Dodge. Chevy's Cruze is going for $159 for 36 months with $1,819 down or $2,500 cash upfront.
On the alternative fuel front, Nissan continues with its $199 monthly offer on a 36 month lease with $1,999 cash upfront, Chevy's Volt is going for $269 a month for 3 years with $2,859 down and the Toyota Prius Plug-In goes for $349 for 36 months and $999 down or a $3,000 rebate. Chevrolet also has a $199 deal on its Spark EV with $1,119 down.
While compact and luxury crossovers remain popular, there seems to be some softness in the full-size family oriented segment as evidenced by the deal on the Mazda CX-9 and the deals on the Chevy Traverse which has a $2,500 rebate or a lease deal of $259 a month and the Toyota Venza, which offers $1,000 cash or $250 per month with just $999 for 36 months.
Even exotics aren't exempt
Slow selling product is not just the problem when it comes to standard sedans. Manufacturers of exotics are feeling a bit of a pinch. While newly introduced high performance cars like the Chevrolet Corvette Stingray continue to sell well, the Dodge Viper has proven to be more problematical in finding its mark. Originally priced at $100,000 plus, sales have languished and Dodge has been forced to idle its Detroit assembly plant while it attempts to clear out over a year's supply of the 2-seat V10 sports car. This week it took dramatic steps by dropping the price of the entry-level model $15,000 and issuing certificates in that amount to existing owners towards the purchase of their next Viper. In the meantime, it will continue its hiatus on producing the top spec GTS and TA trim levels, which have prices north of $100,000. While Dodge rightly says the Viper is more of an exotic with limited appeal compared to the more mass market Chevy Corvette of which more than 23,000 have been sold so far this year, only 438 Vipers have been sold so far in 2014 against hopes of selling about 2,000 or so per year.
Clouds on the horizon?
Even as the industry topped an annualized rate of 17.5 million vehicles over the August and Labor Day sales period, there are concerns about the natures of the deals that are being made, particularly in the length of the contracts for straight up sales. No less than Ford chairman Bill Ford raised the red flag by saying that the increase in 6-year loans is not a healthy trend for the industry. While the longer contracts may provide lower payments to the consumers, it also serves to keep them out of the market for a longer period of time. Also, the fact that the length of contract works against building equity in a depreciating asset may end up with buyers being upside down in their deals.
According to date from Experian Automotive, nearly a quarter of all auto loans are now from 73 to 84 months (6-7 years), up from just 10 percent four years ago. "I think we have to be careful because we don't want to get into a situation like we did before, where consumers are over-extended," Ford told CNBC in an interview. "That doesn't do anybody any good."
A pullback in the market because owners are on longer buying cycles or there are more defaults due to sub-prime lending, there is the possibility that inventories will grow at a much faster rate if manufacturers do not trim production schedules. Higher inventories and high incentives may put the industry in a bind, but will work to the advantage of qualified buyers looking for a deal in the months ahead.