This Week in Car Buying: Sales up, cars more expensive, prices change
by
Matt DeLorenzo
|
January 8, 2015 12:01 PM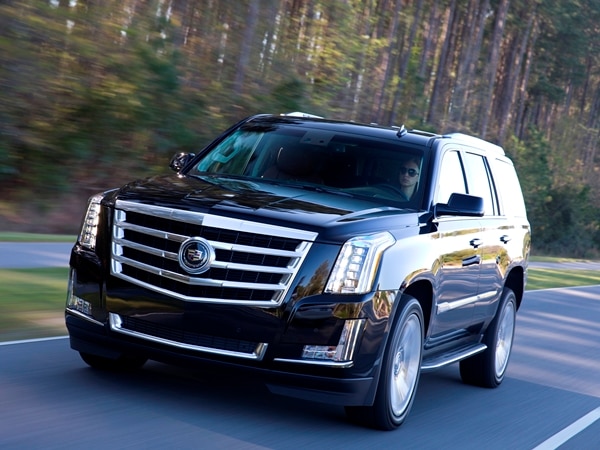 The 2014 calendar year closed out with new vehicle sales reaching levels not seen since before the start of the recession in 2008. The industry posted just over 16.5 million sold as it closed out a year that also saw average transaction prices reach new highs, according to KBB data.
Buyers in December paid a record $34,367 on the average transaction, a 2.5-percent or $842 increase over the average paid a year earlier and 1.6-percent or $556 more than in November.
"Pricing is strong across most of the industry with the exception of the hybrid/alternative energy segment, which dropped 1.2 percent as gas prices hit a five-year low," said Alec Gutierrez, a senior analyst for Kelley Blue Book. "Lower gas prices will further help the market for trucks and utilities, which are traditionally popular in December."
Fuel prices continue to drop
Speaking of fuel prices, they continue to drop as oil falls to about $50 per barrel. Although some regions of the country have seen regular prices below $2 per gallon, the national average for all grades of regular dropped to $2.21 per gallon, according to the U.S. Energy Information Agency, down from a peak of $3.94 per gallon in April of 2012. Diesel is now $3.14 per gallon nationally, down from its peak of $4.15 per gallon also in April 2012. The nearly dollar per gallon spread between regular and diesel doesn't bode well for manufacturers who are counting on increased diesel sales to help them meet their Corporate Average Fuel Economy goals.
BMW prices up, Cadillac down
Record average transaction prices notwithstanding, BMW announced that it is increasing prices on 2015 models from $250 to as much as $1,000, the increases affecting the 4 Series coupes and X1 and X5 crossover SUVs. In the 4 Series range, the base 428i sees its $41,450 MSRP rise to $41,700, while the range topping 435i xDrive Coupe also gets a $250 bump from $48,950 to $49,200. The X1 model range goes up $300 with the least expensive model, the X1 sDrive28i going from $31,850 to $32,150 and the most expensive X1 sDrive35i increasing from $39,750 to $40,050. In the X5 range, the sDrive35i, xDrive35i and xDrive35d have been increased $700 each with new respective MSRPs of $54,850, $57,150 and $58,650. The range-topping X5 xDrive5.0i is up $1,000 to $71,050.
Also: The Class of 2015 -- New Vehicles Ready to Roll
While Cadillac President Johann de Nysschen said that there's no need to roll back prices on his lineup to combat sales that have slumped 4 percent in a market that has seen a 7-percent expansion in luxury car volume, Automotive News reports the division will be dropping prices by as much as $3,000 on its CTS sedan. The trade journal said dealers received a memo that 2015 Cadillac CTS models will be reduced from $1,000 to $3,000 as well as adding more content to some trim levels. The CTS, which was totally redesigned for the 2014 model year, saw sticker prices climb anywhere from $6,000 to $15,000 over previous models.
As a result of the pricing moves, a Premium Collection 3.6-liter V6 CTS is now $62,765, down from $65,767, while the Performance Collection model below it decreases from $61,365 to $58,365. Models equipped with the 2.0-liter turbocharged 4-cylinder engine are now $2,000 lower with the Performance Collection model clocking in at $56,665. Base model pricing remains unchanged at $46,340 as does the vSport twin-turbo V6 at $71,880. As for additional content, a sunroof package with Bose sound system upgrade and navigation, a $2,155 option, is now standard on Luxury models.
Incentives expire, but interest rates drop
Holiday sales event season has drawn to a close along with calendar year 2014 sales as most programs expired Monday, January 5, though dealers may still be willing to cut some slack given the natural slowdown in traffic and sales. There will probably be a short lull until the next go around in incentives are announced and while auto executives like GM ceo Mary Barra expect robust sales to continue predicting 2015 volumes in the 16.5-17.0 million range, the increased pressure to match last year's performance will most certainly result in cash back, lease and subsidized financing programs to continue well into the 2015 model year.
A harbinger of that continued momentum can be seen in interest rates, which dropped 6 basis points to a 4.06 percent average rate for 60-month new car loans. According to www.bankrate.com the average rates for 48-month and 36-month new car loans fell 4 basis points to 4.03 percent and 4 percent, respectively. Meanwhile used car loan rates fell even further, decreasing 12 basis point on both 36- and 48-month contracts to a respective 4.9 and 5.07 percent. These lower rates will help keep monthly payments lower, helping to sustain new car sales volume