This Week in Car Buying: Sales continue to sizzle, but may be at peak; GM quickens product pace as Chrysler retrenches; Ford looks to car sharing for growth
by
Matt DeLorenzo
|
June 26, 2015 12:57 PM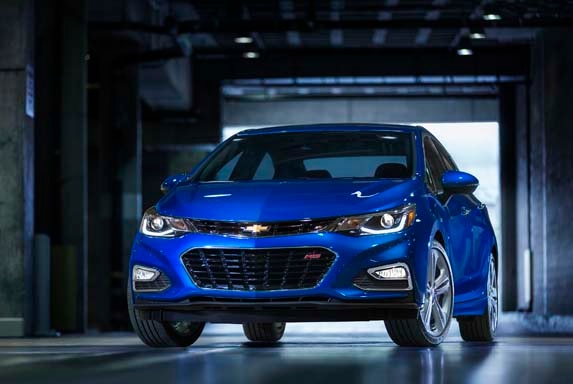 Car sales are expected to grow by nearly 6 percent over year ago levels, according to data released by Kelley Blue Book. The annual adjusted sales rate as the result of this blistering pace is more than 17 million units for the calendar year.
"With another month of new-car sales growth in June 2015, the 16th in a row, the auto industry continues its incredibly strong momentum," said Alec Gutierrez, KBB senior analyst. With a 17.3-million projected SAAR for June, it would the third month above 17 million out of the past four months. However, heading into the summer months, sales should flatten out at a more sustainable pace."
Expected sales of 1.5 million units in June will bring the first half sales total to 8.53 million, a 4.7 percent increase over the first half a year ago. Among the makers making the most gains, Fiat Chrysler is up more than 10 percent over a year ago for a solid 12.6 percent share of the market largely on strong Jeep and Ram sales.
By segment, SUV sales are up nearly 12 percent, while traditional mid-size sedans while up slightly in overall volume, has seen their share of the market decline by nearly a half-point. Non-luxury vehicles are also seeing a decline of about 5 percent.
Have sales hit a peak?
Forecasters looking at the global auto maker believe that U.S. new car sales could drop to 15 million from its current levels by 2019 as a result of higher interest rates and lower used car prices. The data from AlixPartners is predicting that U.S. car sales will peak at 17.4 million in 2016. Low oil prices are cited as one of the reasons why U.S. sales will be above 17 million, the firm said.
Global vehicle sales will grow to 103.2 million in 2021 from the current 87.9 million projected for 2015, an expansion largely fueled by the Chinese market, which is expected to continue to add units at a 5.2 percent annual clip through 2018.
GM quickens product cadence, Fiat Chrysler slows it down
Following last week's news of faster mid-cycle refreshes at Nissan for both the Sentra and Altima comes word that GM is also quickening the pace between vehicle refreshes in an effort to increase margins on popular models in competitive segments. Two models next in the lineup on these new short cycles are the 2016 Chevrolet Malibu and Cruze, both of which are slated to bow late this year or early next year with just two years since their last makeovers.
Also: The Class of 2016 -- New Cars Ready to Roll
Automotive News is reporting that while much of the attention has focused on core car models like the Malibu and Cruze sedans, focus is shifting to shortening the cycles on crossover SUVs, which have traditionally had longer cycles, higher margins and growing sales. But with a new spate of competitors hitting the market, like the 2016 Honda HR-V, GM is looking at a quicker turnover for the Chevy Trax and Buick Encore. And GM's full-size crossovers, the Buick Enclave, Chevrolet Traverse and GMC Acadia, have gone 8 years with only one facelift.
Meanwhile, crosstown rival Fiat Chrysler Automobiles (FCA) reportedly is slowing down its product cadence on its next generation full-size Chrysler 300 and Dodge Charger sedans, pushing back product programs at least a year. Jeep is doing likewise with the next Grand Cherokee, delaying its replacement, which was expected as early as next year, until 2017. And it has also decided to keep the current Dodge Grand Caravan in production for fleet sales through the 2017 model year as its tools up a replacement for the Chrysler Town & Country. The slowdown in these redesigns may be due in part to a reallocation of resources to Alfa Romeo, which will be launching eight new models by 2018, the first of which is the all-new Giulia introduced this week in Italy. Analysts believe the change reflects the fact that FCA can derive higher margins from the luxury performance models sold under the Alfa Romeo banner than from mainstream Chrysler and Dodge products.
Ford to offer car sharing
Ford Motor Company is looking to get into the car sharing marketing by allowing owners who financed their cars through Ford Credit to rent out their cars as a way of reducing their monthly payments. Called Peer-2-Peer Car Sharing, the program has invited 26,000 Ford Motor Credit customers in six U.S. cities and London to rent their vehicles to others for short term use, according to Automotive News.
"It can be anything as short as a hour. Or it can be a day. Or it could be up to a week," David McClelland, Ford Credit's vice president of marketing, told the trade journal.
Eligible cars include 2005 models and newer with less than 125,000 on the odometer. Ford owners can register their cars with Getaround, a car sharing app, and determine when they want to make their vehicles available for rent and how much they want to charge. Getaround is expected to absorb 40 percent of the fee to cover scheduling, administration and insurance costs.
This is part of a larger effort of the automaker to expand beyond its core automotive business to offer services in automotive mobility, both self-driven and autonomous, connectivity and customer experience.